13 Affordable Home Improvements to Make Your Home a Buyers' Magnet
Posted by Danny Margagliano on Thursday, September 17, 2020 at 5:25 PM
By Danny Margagliano / September 17, 2020
Comment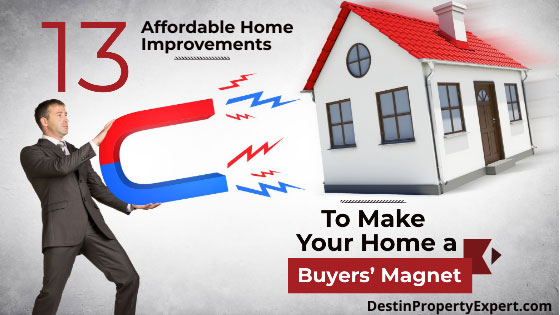 Are you planning to put your home on the market? Want to make your home look appealing to potential buyers? Then you have found the help you need!
The real estate market is tricky to navigate. If your home remains on the market for a long time, it probably won't fetch the asking price as buyers may assume something is wrong with it. You have to present your home in the best light to attract buyers and get it off the market as soon as possible.
Most of us believe that home improvement means saddling ourselves with expenses. However, now you can relax as we have picked some affordable home improvement hacks that will make your home a buyer's delight!
Here are the 13 affordable hacks that will turn your home into the buyer's paradise:
#1. DIY Repair Hacks For You
There are many simple changes that you can make around your house without breaking a sweat! Retouching the chipped window paint, replacing the torn screen door, replacing outdated hardware, and more are all simple DIY hacks that will help your home sell. All this can be done quickly at home, and it will make your home look polished and inviting.
#2. Show Off The Green Thumbs
One of the quickest ways to refine the look of the house is to go green! Unkempt lawns with dried up shrubbery will adversely impact your home's curb appeal. Bring your outdoors back to life by improving the landscaping.
You can turn to the art of gardening to improve the aesthetics of your house. It would be best if you considered hiring a landscaper to spruce up your lawns. If you are clueless about landscaping and have a limited budget, you can always get a few flower pots to experiment with your house's look. Besides, the presence of flowers is a bonus.
#3. Cleanliness Is A Virtue
A messy place is a stressful place! This mantra can keep you a step ahead. Declutter your house and clean even the deepest and the darkest corners of the house. It might not seem like much, but it can instantly change the look of your place and help you highlight your property's true potential. Put on those cleaning gloves and get with it to jazz up the place.
#4. Make Your Roof A Talking Point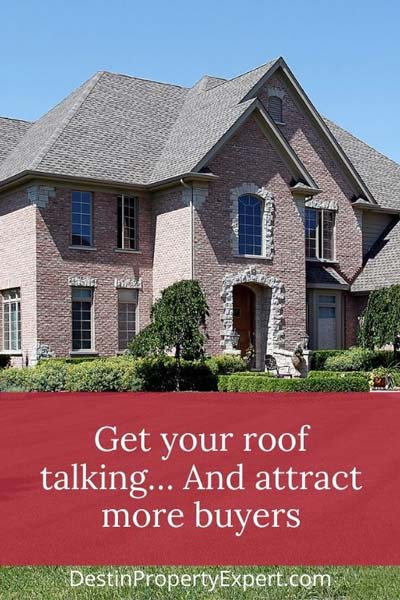 Always remember when it comes to selling the house, the first impression is everything! Just like a first date, you have to make sure the appearance is in order. So, your roof's appearance also plays a key role. In addition to appearance, the roof is crucial for protecting your home from harsh weather and external elements. But as it's usually not in our direct vision, most of us are guilty of ignoring this portion of the house.
Would you want to buy a house with a worn-out or leaking roof? Probably not. The simplest way to amp up your house's look is to get in touch with roofing contractors and get advice on whatSteps you can take to getting your roof for tiptop shape.
Homebuyers will also be interested in what type of material is used on your home. For instance, a metal roof will outlast shingles by nearly 25 years and some circumstances. Yet, in some areas, although expensive and long-lasting, terra-cotta roofs may look out of place.
#5. Say It With Paint!
Are you putting your house on the market with chipped paint and dull colors? No wonder you are not getting any offers! A fresh coat of paint can transform your interiors and lend it a feeling of newness. You can quickly put on a pair of overalls, get ready with a paint can, and rollers to paint the rooms. Many online videos can help you get started, so what are you waiting for?
#6. Kitchen Makeover
The kitchen is an essential space in a house for most home buyers. If you can afford it, you should undoubtedly think about replacing outdated appliances with newer, energy-efficient appliances.
Even if you can't afford to invest in the kitchen's complete remodel, you can do a few basic things to turn things around. Firstly, repaint your cabinet and change your tiles. This will give your whole place a refreshing new look. You might also like to chip in for new cookware for aesthetic purposes purely. Remember that you have to create a place a buyer can imagine themselves being in. So chop-chop, get on with the task!
#7. Brighter The Colors, Better The Chance
This is possibly the easiest thing you can do to improve the chances of selling your house. Try to use brighter colors in your home in cushion covers, bedcovers, paintings, fabric, and much more. Bright and vibrant colors are much more pleasing to the eye. Let's face it; no one wants to come back to a home that appears dull and dark. Positive and chirpy vibes -- that's all everyone is looking for, so make sure that's what your home says on the first impression.
#8. Light Up Outdoors
A poorly lit porch or a dark driveway won't make your house feel inviting or safe. Homebuyers are always looking for a house that offers privacy and safety. All you need to do is put up some garden lights, repair fences, and illuminate your porch to create a welcoming and safe ambiance. To take it a step further you can install some smart home lighting options. Modern technology allows for some very cool ways to manage your entire home. Use some tech gadgets for lighting throughout the house and buyers will be impressed.
#9. Boost the Exterior
In addition to decluttering the interiors, it is also important to clean the exterior of your house. From the driveway and walkways to walls and guttering systems, scrub and pressure wash everything to make them visitor-ready.
#10. Upgrade Front Door
The front door is the focal point of your home. Apart from enhancing the visual appeal, it is also a representation of security. That's why it's crucial to revamp your front door to catch a buyer's eye. You can either repaint it or replace it with a new one. It would help if you also styled the front door with a new doormat and a couple of thriving potted plants.
#11.Dress Up Your Interiors
You want to help a potential buyer envision their life in your house. Start by depersonalizing the space. Remove personal photographs and eliminate personal items from bathroom counter spaces. It's also a good idea to take down any religious objects. When you're repainting the house, it's better to stick to a neutral palette. You may prefer bright wall paints, but the same may not align with potential buyers' tastes.
#12.Rearrange Furniture
Make your house spatially efficient by functionally rearranging the furniture. Visitors should be able to move around and explore the house quickly. This is a cost-free and straightforward technique to make your home look spacious. Staging your home correctly can make a difference between selling it quickly are having it sit on the market for a long time. It's also a good idea to remove excess furniture and home decor and keep it in a storage unit to create some extra room.
#13.Highlight Best Features
Is your home equipped with a magnificent window? Does your home have plenty of storage? You want to implement staging techniques to highlight such features. If your home has a lovely hardwood floor, then roll up the carpet to showcase the flooring in all its glory. Similarly, you can highlight storage by emptying your closets or arranging everything neatly.
Conclusion
You can now apply these hacks and watch your home transform into a buyers' magnet. Let your buyers know that you've put in all the hard work. And you can also let us know how you used these tips to enhance your place.
Additional Real Estate Resources
Bill Gassett talks about home improvements that could actually lower the value of your home. Who would've thought it's possible? So make sure you're not losing money hand over fist.
Conor MacEvilly discusses what type of home renovations buyers want from green homes.
Joy Bender goes over 15+ home renovations tips that will make a large impact on how your home looks and it's value.