30a Community Map & Things To Do
Posted by Danny Margagliano on Thursday, May 28, 2020 at 8:20 AM
By Danny Margagliano / May 28, 2020
Comment
A little bit about the 30a neighborhoods of South Walton Beach
30a, otherwise known as Scenic Hwy 30a is not just a 24-mile long road. It's an area, a lifestyle, and a culture that encompasses 12 main neighborhoods.
Below you will find a 30a and Destin Florida map. You can click anywhere below this 30a map on one of the community names and find out more information about each of the neighborhoods including real estate for sale, restaurants, fun things to do, shopping, and general neighborhood details.
The area that is considered the 30a corridor is from the Santa Rosa Beach area and stretches all the way east to Inlet Beach. Along 30a there are many iconic neighborhoods that are best seen in person. If you're interested in learning more about South Walton Beach then keep reading to find out a little bit about each of the 30a neighborhoods.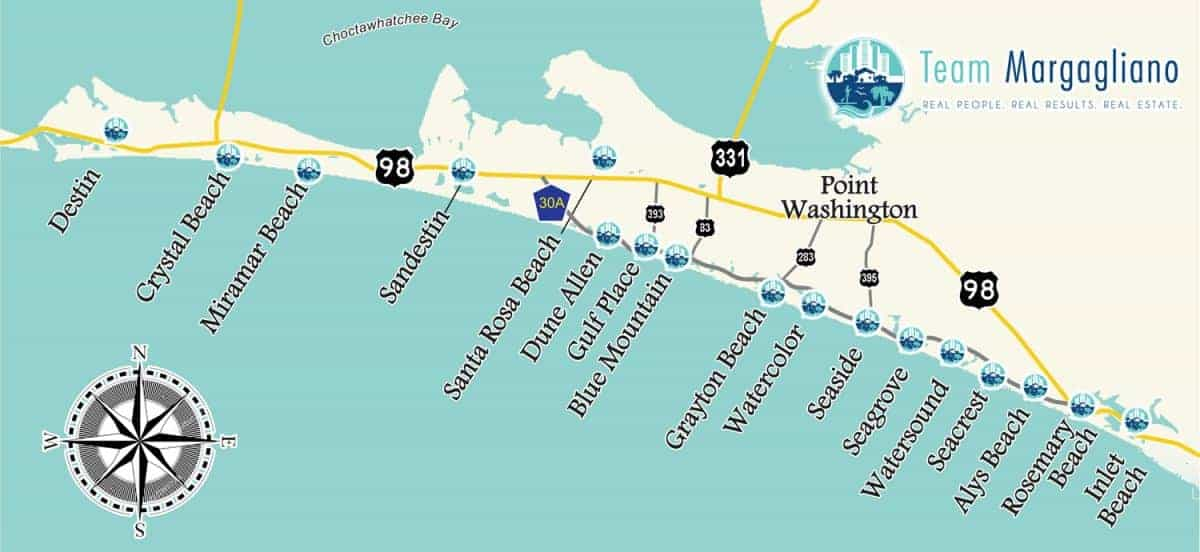 Featured South Walton Beach, 30a, & Destin Communities
The 12 neighborhoods of 30a, FL
Located in South Walton County, Scenic Hwy 30a follows along the beautiful coastline of the Gulf of Mexico. One can enjoy taking a lazy drive from one end to the other making stops at each vastly different 30a neighborhood. Starting out on Hwy 98 about 1 mile east of the Santa Rosa Beach Walmart is the beginning of the 30a corridor.
The first neighborhood on the extreme west end of 30a is Dune Allen. Dune Allen Beach is home to one of South Walton Beach's most popular restaurants, Stinky's Fish Camp.
Stop by Gulf Place for a round of golf at the Santa Rosa Beach Golf Club or walk around and take advantage of some great shopping and restaurants and Gulf Place Town Center.
On a hot summer day there is no better place to grab ice cream then the Blue Mountain Beach Creamery in Blue Mountain Beach.
Listen to live music at the Red Bar in Grayton Beach. There is only one place you can drive your vehicle on the beach along 30a and that is Grayton Beach. Please remember two things. First, you must have a beach pass from the county to drive your vehicle on the beach. If you don't have 4 wheel drive you will get stuck. Second, take it easy and drive slow. There is no read to rush. You have arrived in paradise.
Take a bike ride through the nearly 2 perfect communities of Watercolor or Seaside with white picket fences and winding bike paths. You may get lucky enough to catch a live concert or play at the seaside amp theater.
Next, get back in the car and take a slow drive up and down roads such as Dogwood Street and Nightcap Street where you will be awed by the natural beauty of homes surrounded by mature oak trees, pines, and Magnolia trees.
You may not get to see Watersound unless you have a friend…. This exclusive neighborhood is completely gated and has some of the most spectacular sand dunes on the Emerald Coast. Watersound is filled with luxury homes with a Cape Cod feel.
Seacrest Beach is a fun and upbeat community in 30a east. Seacrest is known for beachy named streets, huge resort-style community pool, and Peddler' s Pavilion.
You'll know when you have arrived at Alys beach when you see its palm tree-lined street on 30a. In a league of its own, Alys Beach is known for nearly indestructible concrete poured homes with luxury price tags. Alys Beach is also home to the one-of-a-kind Digital Graffiti art festival.
Rosemary Beach is nationally known and one of the most luxurious communities along 30a. Rosemary Beach homes average price per square foot is between $1000 per square ft. to over $2000 per square foot for beachfront homes.
Finishing up your tour of 30a just before reaching Panama City Beach you will be in Inlet Beach. One of the fastest-growing communities in South Walton Beach, Inlet Beach has plenty of new construction. From the new 30 Avenue upscale shopping and restaurants to brand-new construction homes, Inlet Beach is quickly becoming "the place to be".
Fun things to do on 30a – South Walton Beach
No matter which of the 30a communities you are in there are some things that they all have in common. The beaches in the Gulf of Mexico are second to none.
Standup paddleboarding is one of the top activities to do along 30a. There is a good chance that you will see someone on a standup paddleboard when looking at either the Gulf of Mexico or one of the coastal dune lakes. You're sure to see some amazing things when standup paddleboarding. Exploring the coastal dune lakes is a great way to see some of the untouched larger sand dunes and to practice on the smoother water.
Not as common in the summertime, surfing is another popular sport that is often done by many of the locals in South Walton Beach. Summertime has calmer surf and is better for beginners and those trying to learn.
There are numerous golf courses around the Emerald Coast in Panama City, Santa Rosa Beach, and Destin. Within a 30 – 40 minute drive you can have your choice 7 or more golf courses. There are also a few golf course communities.
You will see lots of people riding bikes and running along the 30a bike path. There are various races throughout the year including the 30a 10K and the Seaside half marathon.
There are numerous walking trails on and around 30a. It is said that there are actually over 200 miles of walking trails in South Walton Beach alone. There are 27 total hiking trails available to explore along 30a.
For water enthusiasts, you can either swim out and snorkel or scuba dive on the Grayton Beach artificial reef system.
There's plenty of arts and culture along 30a from small artist studios to the nationally known 30a Songwriters Festival. There were various festivals and annual events that take place all through the year making 30a one of the best places to be in the United States.