4 Reasons Santa Rosa Beach Homes Are More Affordable Than You Think
Posted by Danny Margagliano on Friday, June 19, 2020 at 4:19 PM
By Danny Margagliano / June 19, 2020
Comment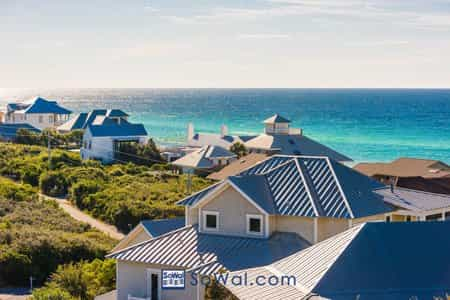 A 17-mile long sea-facing stretch on Emerald Coast, Santa Rosa Beach is known for its rich history and heavenly turquoise water. It was established in 1910 and won the Best eCity of Florida in 2013. From luxury beach homes to upscale restaurants, you'll find everything in Santa Rosa Beach. Houses are not nearly as expensive as other areas, like Marco Island real estate, which is the reason why it has become a popular vacation home investment destination for young families.
The 4 Reasons Your Santa Rosa Beach Don't Cost as Much as You Think
1. The Abundance of Builders and Projects
Even though Santa Rosa Beach is an old city, there is a boom in the real estate industry. Because of the very same reason, there are a lot of new projects in the area that haven't been sold yet. If you are planning to purchase a property in Santa Rosa Beach any time soon, you need to start looking at listings because there are several enthusiastic buyers already in line.
2. Old establishments
Another reason why real estate is so affordable in Santa Rosa Beach is that you can still find homes. Many of them were constructed during the 1970s and hadn't been remodeled. The majority of people prefer to invest in newly established homes because older ones need a lot of work. However, if you are looking for an older house at a cheaper rate, you may want to see if it is worth a visit. You'll find a lot of different style houses in Santa Rosa Beach that have a strong foundation.
3. Rental Income
Most purchasers don't plan to actually live in the home full time. However, when looking at homes they rarely calculate the additional rental income that comes from purchasing.
4. Pressure From Surrounding Areas
Santa Rosa is beautiful, but so are places like Destin, Fort Walton Beach, or Eglin. These areas have many options as well and if you're coming from out of state then you might consider the entire coastline.
Here are some more reasons to choose Santa Rosa Beach over other areas
World-class amenities
Santa Rosa Beach has a 17-mile long white sandy stretch that is lined with a pedestrian path for jogging, cycling, and walking. When you become a member of Santa Rosa Golf and Beach Club, you and your family get access to the 18-hole golf course that you can visit any time you want. The shiny blue water makes boating, kayaking, recreational fishing, and other water sports so much fun.
It also is a great spot for hiking, biking, and hunting as areas are maintained for safe wildlife sports. The Point Washington State Forest is very close to Santa Rosa Beach. It is a 15,000 acres big enclosed area that is filled with beautiful animals, plants, and trees. You also get to see migrating birds during the migration season.
Long-term investment
The real estate industry is booming, so if you are looking for a long-term investment, Santa Rosa Beach is the right choice. You can sell the property after a few years when the price increases.
Growing tourism culture
Florida has always been a favorite among Americans for traveling all year round. Until now, Santa Rosa Island didn't do quite well in the tourism sector (which could be a huge plus), but due to recent infrastructure refurbishments and booming real estate, many are starting to appreciate its beauty.
Consider Santa Rosa Beach as a great location for purchasing a vacation home. You don't have to worry about finding house rentals and hotels but simply get in the car and drive for a quiet weekend.