5 Things to Address in Your Real Estate Recruitment Scripts
Posted by Danny Margagliano on Friday, July 3, 2020 at 2:10 PM
By Danny Margagliano / July 3, 2020
Comment
5 Things to Address in Your Real Estate Recruitment Scripts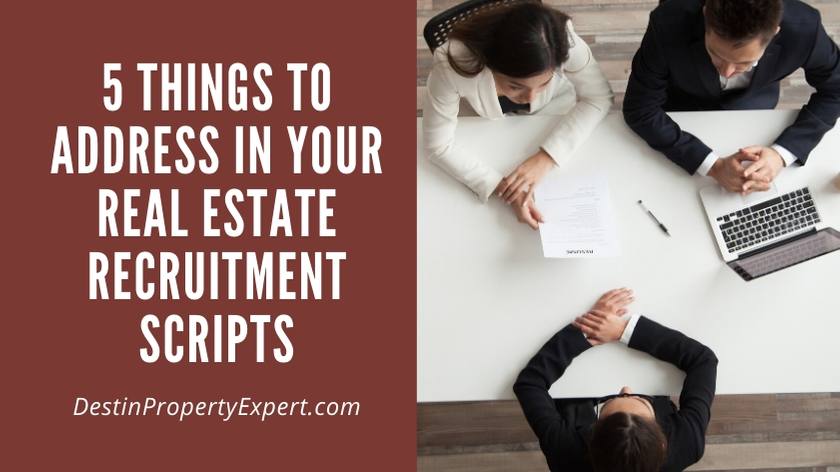 Part of real estate recruitment is formulating a "script" to sell a brokerage. Obviously, a script doesn't have to be formulaic to the point of sounding robotic. Moreover, a recruitment script doesn't have to be flowery or overpromising. Remember, you're talking to real estate agents, who themselves are salespersons. They'll know that they're being buttered up or lied to.
However, it's also true that real estate agents have a lot of "fixed" concerns. These are the things that you have to clarify right out of the gate to help candidates decide to join your client's firm. As a recruiter, you probably already have a list. However, it pays to go over each and every detail to make sure you can answer any follow-up questions.
That being said, here are the things that you need to address in your recruitment scripts when hunting for top real estate agents:
Compensation Plan or Breakdown
Different brokerages have different compensation plans, although the main thing you have to clarify is the agent-broker split. Beyond this, there are also other compensation items and various fees associated with real estate. These include commission splits, referral fees, training fees, desk fees, and the like. Make sure to explain everything that's included in the compensation plan. There are times when agents may not ask (especially those who are new to the industry); nevertheless, it's still best to be ready to explain each item.
Tools and Training
Another thing that agents want to know before signing on with a brokerage is if the brokerage can help them achieve their goals. For recruiters, this is the perfect opportunity to share the different tools that the company can provide. CRM tools such as Brokerkit are particularly important. They make scheduling, client monitoring, and campaign tracking, among other tasks, so much easier. Other important tools include task management, sourcing, and email optimization.
Proper training is also essential in the real estate industry, especially with a rapidly changing landscape. Aside from mentoring programs, agents are also looking for other ways that they can expand their knowledge and expertise in the field. In your recruitment script, let agents know that there are a variety of training programs offered. Ideally, the fees for these programs should be covered by the brokerage. Technology training is also highly valuable, as well as partnerships with schools that can provide continuing education courses.
The Size of the Company
Some agents prefer working in a smaller brokerage because they feel that the environment has more cohesion. On the other hand, there are those who like working with a big brokerage because of a more exciting vibe. Some benefits of smaller "boutique" brokerages include a less competitive and hectic atmosphere. They're also less about the numbers game, but more about ensuring that everyone lives up to their potential. After all, they don't have the same amount of resources as a big firm to bring in more people. Creative thinkers may also have more room for experimentation with a smaller brokerage.
Meanwhile, big-name brokerages can help an agent get more recognition. They can get a young hire more exposure, along with more opportunities for career growth and development. These companies also work at a faster pace, which can definitely be energizing to some real estate agents. With the sheer number and variety of clients coming in every day, big brokerages can also offer plenty of experience in a short amount of time. Simply speaking, let candidates know how the size of the brokerage can suit their working style and help them achieve their goals.
The Culture
Company culture is another important factor that real estate agents consider when looking for brokerages. As earlier mentioned, smaller companies may have more cohesion and feel more like a family. However, this doesn't mean that a multinational brokerage can't be a tight-knit group. The bottom line is that you have to be able to express what the company culture is to the candidate. This can make or break an agent's decision about joining the brokerage. If you can, invite a prospective hire to a company event like an open house so they can have a "feel" of this culture.
Employee Support
A new agent, especially a young one, will want to know if a brokerage provides management support. They'd likely want someone who can help them, someone accessible who can provide them with advice based on experience. Agents may also be curious about the level of administrative support that a brokerage can give them. Paperwork is a particular concern, especially since real estate inherently deals with plenty of documentation. Finally, training and mentorship may also fall under this category. Make sure to inform the applicants that they have access to learning opportunities. Let candidates know that they can count on the brokerage to provide the support they need to ensure productivity and personal success.
Beyond these concerns, real estate agents may also want to know about the location of the brokerage, team structure, and covered expenses. Leave no room for misinterpretation. With a clear picture of what the brokerage can offer, your real estate recruitment scripts will be more successful in attracting talented people.