5 things to consider before flipping a house
Posted by Danny Margagliano on Friday, June 19, 2020 at 10:38 PM
By Danny Margagliano / June 19, 2020
1 Comment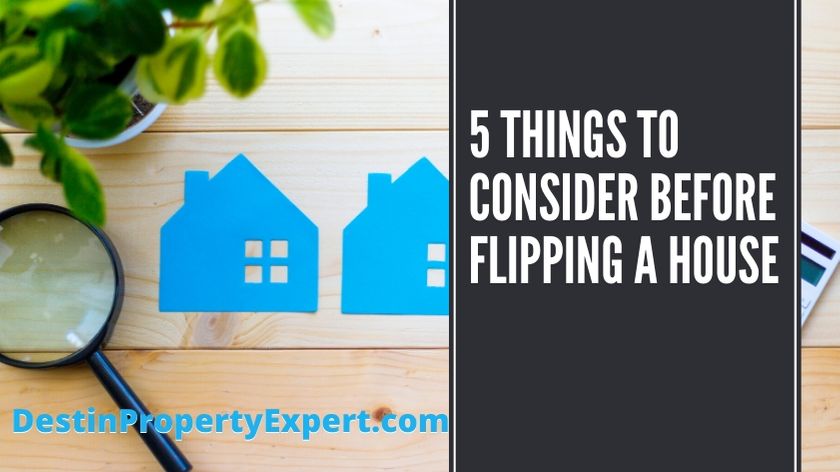 When clients come to me looking to purchase a new home, they may be confused by the many options before them. Santa Rosa Beach real estate offers excellent potential, from new construction to turnkey houses to older homes that need renovation. You may have an idea of what you want, but you need to fully understand the options before you can make the best decision. With the advent of popular television shows that make house flipping popular, many investors may be interested in buying a home that needs remodeling. While this can be a great option in some situations, you need to make sure you are financially and mentally ready to take on a renovation. In some cases, you may be happier buying a house that is move-in ready.
Be Aware of the Costs
You may be looking at a fixer-upper house with dollar signs in your eyes, imagining all of the money you may make off your investment. While there is money in flipping houses, make sure that you are aware that the costs of renovations are expensive as well. Both the costs of labor and materials are currently at high levels, so while there is money to be made, you can also plan to put a lot of money into your investment. It is important to weigh out the costs of labor and materials with their potential profit.
It is also necessary need to understand that financing a home may work differently if you plan to flip it. Most of the time you may get lower interest rates on a mortgage if you are not planning on selling.
Consider the Necessary Renovations
If you are looking at a home you are thinking of flipping; you need to figure out exactly what renovations will be required to make and what those renovations will cost. Cosmetic improvements, such as thorough carpet cleaning or painting the walls are inexpensive, while other renovations, such as replacing plumbing or repairing foundation issues can get quite costly. You will want to hire an inspector and a construction supervisor to walk through the house to help them figure out what will need to be done.
Patience is Required
You may think that the renovation process is simple, but it can be a long and arduous process. You need to be aware going in that it may take longer than a few weeks or even a few months. There may also be hidden costs that crop up along the way. Be prepared to spend more money than you initially think, because it is inevitable that things will go wrong and there will be issues you did not foresee. If you are looking for a smooth and stress-free process, then you are better off buying a turnkey house.
Aim for a Lower Price
If you are considering a fixer-upper, you need to make sure you are getting a great deal. With the cost of renovation, a low selling price is a must if you want to maximize profits. Just remind yourself that a great deal is not everything. If the house is in a neighborhood where sales are low or if the cost of renovations is simply too great, there will be no potential for a profit.
When a Move-In Ready Home is the Better Option
If you need a home immediately or if you have a lot of other stressful situations going on in life, then you are probably not ready for a fixer-upper. Additionally, if you're you are on a fixed budget, then you should buy a turnkey home, as fixer-uppers almost always have extra costs. When advising your clients on the type of house to buy, you want to make sure you understand and consider all of your options. If you are considering a fixer-upper, you want to make sure you are ready for the challenge it requires in addition to the potential profits.