6 Different Ways to Invest in Real Estate
Posted by Danny Margagliano on Wednesday, April 21, 2021 at 3:45 PM
By Danny Margagliano / April 21, 2021
Comment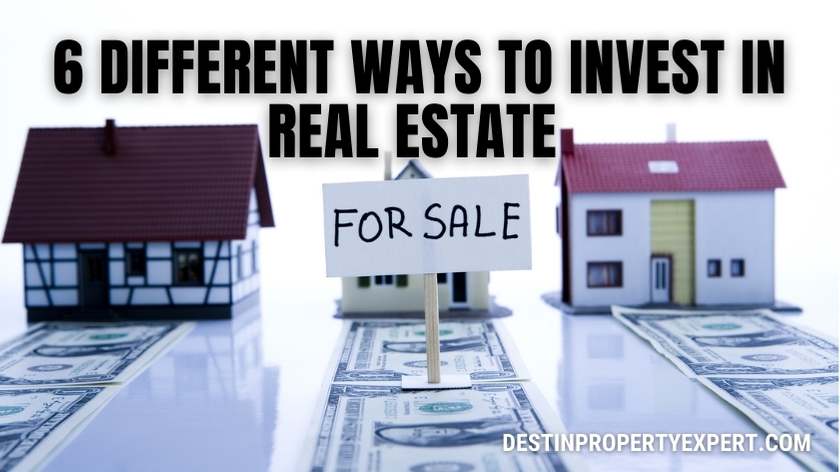 Most people think of their landlords when it comes to the concept of investing in real estate, companies that buy houses don't always purchase them with the intention of holding them long-term. Certain investors will flip houses quickly after doing a renovation. Of course, selling a house fast comes with benefits. For example, your holding costs be as expensive when you hold the property for a short amount of time.
Other real estate professionals take their time when doing renovations. There are countless ways that you can invest in real estate, some of which are not as straightforward as others. In this post, we take a look at some interesting ways to invest in real estate.
1) Investing in Property
The most common approach to getting started in real estate is to purchase an investment property, such as a residential or commercial property. Owning investment properties is an excellent way to get started in the real estate market as it enables you to build wealth and generate income. However, purchasing an investment property comes with its own set of barriers.
The first of which is a financial barrier. Most lenders want a minimum of 25% down and most experts agree that you should have enough capital to cover several months' worth of expenses. Another barrier is the time commitment it requires. Owning a rental property can prove to be a time-consuming method of making money in real estate investing.
2) Crowdfunding Platforms
Crowdfunding is a relatively new way to invest in the real estate market, that more and more investors have been gravitating towards. The idea is fairly straightforward. A reputable real estate developer strives to identify various investment opportunities. Typically these types of investment consist of a commercial real estate asset that requires a value-adding modification. This modification can be as complex as undergoing a total renovation or it could be something as simple as restructuring the asset's debts.
Developers usually establish an end date that they plan to refinance or sell the property. As opposed to using their own funds to cover the entirety of the project, the developer raises the capital they need from investors, in exchange for an equity interest in the asset.
You can easily find crowdfunded related real estate investment opportunities through online platforms such as CrowdStreet and Realty Mogul. These online platforms operate like bridges that connect established real estate developers(sponsors) with investors. In addition to that, crowdfunding real estate investment platforms ensure that the investments listed are in fact legitimate and of a certain quality as set by the platform. Some prime examples of real estate crowdfunding platforms include:
Acretrader
GotoCrowd
Boomtownroi
DiversyFund
Fundraise
3) House Hacking
House Hacking is a finance terminology that's used to describe the process of purchasing a home as to which you would use it as your primary residence and as a rental property at the same time. This can prove to be an ideal option for newcomers who do not own a home themselves. By using the house hacking strategy you would acquire a residential property that has 2-4 units. The idea is to live in one of those units, while you rent the remaining units out.
House hacking also consists of purchasing a single-family home as to which you would rent out one or multiple rooms. For example, let's say that you purchase a quadruplex (4 units) for a total of $200,000. And let's say that your mortgage payment is roughly $1400 per month. In a scenario like this, you would live in one unit, as you rent out the other 4 units for $650 each. Not only will you be able to live for free since the rent will cover your mortgage payment, but you will also be generating positive cash flow on a monthly basis.
4) House Flipping
House flipping is regarded as being a method that's reserved for people with a significant amount of experience in real estate valuation, renovation, and marketing. House flipping requires a large amount of capital as well as the ability to conduct or oversee repairs per the property's requirement. House flipping is regarded as being the proverbial 'wild side' of the real estate business sector.
Depending on an investor's strategy, their focus and intention behind buying a property can be different. For instance, house flippers typically look forward to profitably selling undervalued assets in less than 6 months from the date that they purchased them. Long-term goals are very different from short-term.
5) Real Estate Investment Trusts
Real Estate Investment Trusts (REIT) are ideal for professional home buyers who want to invest in the real estate market, without holding physical property. REITs are essentially companies that finance real estate assets across a wide range of different sectors such as medical, residential, and commercial. REITs give investors the opportunity to own real estate and provide opportunities to gain dividend-based income and returns. Stockholders of REIT earn a percentage of income that is provided by the underlying real estate investments of the REIT.
6) Real Estate Investment Groups
Real Estate Investment Groups (REIGs) operate like mutual funds that invest in residential and commercial rental properties. The typical setup of a real estate investment group consists of a company that purchases or develops a set of condos or apartment blocks, as to which they allow investors to purchase through them. Once an investor does this, they essentially join the real estate investment group. This option is ideal for people who want to physically own real estate but would prefer to not deal with the hassles of maintaining it.
REIGs give investors the opportunity to own one or multiple units. However, the company is tasked with managing all units for each investor, which includes maintenance, advertising vacancies, and conducting background checks on tenants. One of the major benefits you stain to gain by using this option is the way real estate investment groups approach vacancies. A typical real estate investment group lease is made in the investor's name and, all investors, pool a portion of their rent, to protect each other against vacancies. Meaning, investors are able to receive income, even when their unit experiences a vacancy.
In conclusion
Investing in real estate is not limited to buying a house and renting. Although this may be the most common and recognized form of real estate investing you should have learned from this article it's not the only way. Real estate is one of the best investment opportunities known. It typically outperforms the stock market and other investment opportunities. To find a way to get involved in real estate investment. It's sure to pay off!