8 landscaping improvements to increase property value
Posted by Danny Margagliano on Wednesday, October 7, 2020 at 9:43 PM
By Danny Margagliano / October 7, 2020
7 Comments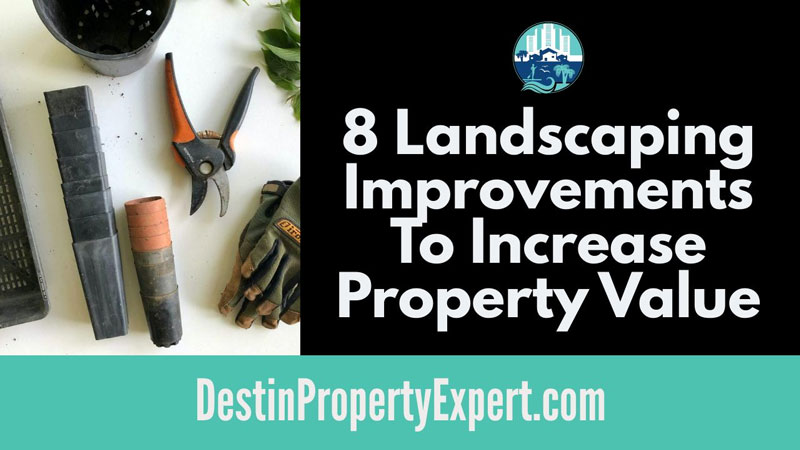 If you're looking to sell your property, then landscaping is one of the few ways of increasing the value of the property. One of the good things about landscaping is that it improves the home and immediately increases the value. It also ensures that the value continues to rise over years. Interior design and decorations can become stale and out of style, while mechanical systems can also wear down. But plants only become more robust and grow fuller with the going years. Hence they add more beauty to the property and increases its value.
First impressions also play a significant role in getting the buyers to pay your asking price. Your home should be appealing to them and give them the idea that you have taken proper care of it. This will convince them that it is worth your asking price. However, the most effective way to ensure that your land looks well-taken care of and increases the property's value is by landscaping. So, a well-landscaped house has some advantages (pricing) over a similar home that is not landscaped. Depending on the house's original value and type of landscape, its price advantage can be between the ranges of 5.5% to 12.7%.
If you are already thinking of ways to carry out your landscaping, and are even considering speaking to landscape designers to get the details sorted, you can look toward some of these landscaping improvement tips.
1. Make sure the grass is well cut and edged
You will be able to do this by yourself if you possess an edger and mower. Otherwise, it might cost you around $30 or $80 to mow your lawn, which depends on the square foot. You will also pay a little extra for edging as well.
It is also essential that you ensure that the grass is not too short, and you don't cut it too often. Otherwise, it might lead to brown patches, and the weeds will get more sunlight and start to sprout. Make sure that the grasses are dry before you mow, as this will cause fewer clumps.
2. Update the walkways
The kind of perception that your home has will depend largely on the walkways. They always have a considerable impact on the visitor. Having the walkway lead directly to the house's front door can, in fact, boost the potentials of your home and the possibility of them buying it. Keep your walkways clean as well. It will give them the wrong impression of your house before seeing the other parts of the walkways are dirty, chipped, or cracked. So, you might have to resurface or reroute it to improve the external appearance of the house. Lastly, make sure do you have your walkways weld that. An easy way to do this is using solar-powered lights that cost between $2 and $15 a piece.
3. Trim the shrubs
Shrubs can add a different level of beauty to your house, but leaving them to overgrow can be equally detrimental in the same way they are beautifying. When the shrubs are left to overgrow, they can block the walkways and windows and prevent the house from being seen from the street. In some cases, it is even possible for shrubs and trees that are growing unchecked, block all the light that is supposed to come into the property. This will make the property appear a lot darker than it is in reality and give it a feel that it has reduced maintenance. This is to add to the fact that shrubs generally don't look beautiful when they are left to overgrow. So, it reduces the beauty of the property and adds a gloomy appearance to it.
4. Plant more trees
Planting more trees is one of the best ways to ensure that you can increase your property's value through landscaping. The presence of trees in the environment also comes with plenty of benefits to the property beyond beautification. Even after other plants have outlived their peaks, trees continue to add economic value that is very sustainable for everyone. Trees also help to absorb pollutants in the environment making surroundings cleaner and less toxic. They can improve the air quality in the vicinity, and the root system also gives nutrients to the soil.
Above all that, trees help to prevent erosion on your property, acting as an anchor to your landscape. If your building is situated by a river, for example, the trees will hold the land in a solid-state with their roots, protecting it from the river flow. We can go on and on about the importance of planting trees for the financial, environmental, and health benefits during your landscaping, but let us go to the next point.
5. Make it easier to maintain
This has to do with doing anything capable of making the lawn and landscape maintenance much more comfortable to accomplish. This easy maintenance is an added advantage for the buyers as they wouldn't want to struggle to maintain the landscape after buying the property. This means that they will be willing to pay more for it if you make it easy to maintain.
You can add an automatic irrigation system, for instance, to make maintenance easier and consequently improve the value of the property.You can also raise flower beds as it will retain the moisture and reduce the tendencies to find weed. You may also opt to build steel retaining walls since these are generally considered to be low maintenance. Steel is a durable and long-lasting material that is resistant to corrosion and decay, so it requires little upkeep over time. Supply the yard with maintenance tools and keep every task obviously simple.
6. Reduce environmental impacts
Building for pedestrians also means that you are building for bikes. Increase the health benefits that they can get from the storage areas, racks, and bike paths that reduce your pressure. You can refresh the built elements with some lumber and masonry. You can also use high technology digital systems to monitor water use, prevent problems with erosion, control drainage, improve groundwater quality, etc. It goes without saying that you should get rid of any garbage that could have been accumulated on your property.
7. Pay more attention to privacy
Privacy is attractive to many people, especially in their homes. Some people want to take a break from the outside world when they go into their homes. Privacy to these people is essential, and landscaping can help with this.
Landscaping allows you to seclude the backyards from the traffic and the neighbors, increasing your property's attractiveness and desirability. Also, planting tall shrubbery or trees can serve as a windscreen for them, and that is a bonus. This will make it easier for you to sell the property and could increase the value. But that doesn't mean that you shouldn't trim the shrubs before selling the property!
8. Boost the image
The first impression that everyone would have of your house will come from the exterior. Therefore, it is not anything to toy with. Make sure the exteriors look attractive and inviting with beautiful and vibrant trees and flowers. You can also use a mix of materials to pass a message of quality to both passersby and prospective buyers. Paint your fence, house front, walkways, put some dwarfs and other decorations in the garden, etc.
This, however, doesn't mean that the interior should not be as beautiful. It should be. But when it comes to passing the right message across, especially with the right first impression, then the exterior should not be neglected.
Conclusion
There are not many things that you can do to boost the value of your property. But if there is just one, then it has to be landscaping. Using it effectively will help you maximize your sales and make more money.
Real estate agents and landscaping experts believe that the way the outside of your home looks helps to build anticipation in the buyer for what is inside. If the landscaping is done very well, it has the same effect as love at first sight in relationships.
Additional real estate resources
Luke Skar delivers some excellent tips for making your home have popping curb appeal in the winter. From the obvious to the not so obvious you'll find something here that you can use.
Bill Gassett discusses any homeowner's landscaping nightmare, deer. Learn how to deer-proof your landscaping in his informative article.
Eileen Anderson is a realtor and garden enthusiast. She recently told readers in one of her posts the best way to landscape a small yard.
Joy Bender shows readers 15 examples of how landscaping can sell your house. Remember that the first thing buyers are going to see is the outside of your home. Take some of these examples and put them to use.

Sharon Paxon shows homeowners that landscaping doesn't stop with the flower bed and grass. When talking about complete home landscaping don't forget about decorating your garden to look more attractive.
Author's Bio
Leon Collier is a writer at an essay writing website where he delivers top essay writing services. His essay papers often cover topics such as pop culture, history, travel, self-development, education, marketing, etc. When not writing, you can find him reading or playing tabletop games with his friends. Follow him on Twitter @LeonCollier12.