8 Mistakes to Avoid When Selling Your Home
Posted by Danny Margagliano on Friday, June 19, 2020 at 2:14 PM
By Danny Margagliano / June 19, 2020
Comment
8 Mistakes to Avoid When Selling Your Home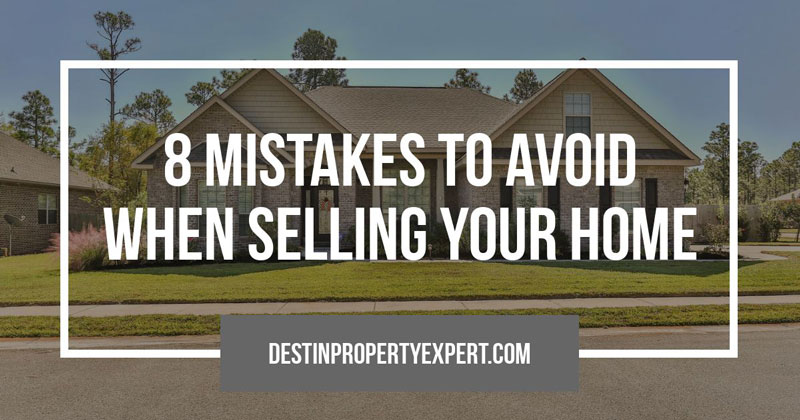 Selling your home is an exciting time because it signals the end of an era and the start of a new chapter in you and your family's life. However, moving isn't always the easiest of tasks, and it can actually be incredibly stressful if things start to go wrong.
Nevertheless, this doesn't have to be the case if you're smart, organized, and you plan ahead. With a careful bit of organization and scheduling, you can make things incredibly easy; but it's still possible for mistakes to be made.
Today, we're going to explore eight of the most common mistakes that are made when moving to a new house, detailing everything you need to know so you can avoid them!
#1 – Not Using Nice Photographs
Photos are so important because pictures speak a thousand words. When you're selling online, the pictures of your property are going to be the first impression anyone ever has on your house, so failure to use good photos will result in much less interest. This is even more important for Gulf view or beachfront properties in Santa Rosa Beach, Destin, and along 30a. People want to see detailed pictures of these beautiful properties and the beaches in front of them. Another reason why good photography is so important along the Emerald Coast is that most of the buyers live out of town or state. So don 't take the cheap route and try to shoot the photos yourself, hire a professional photographer.
#2 – Forgetting About Costs
Don't forget, it's not free to sell your home, and you won't get all the profits from selling. If you're using an estate agent, you'll need to pay fees, as well as admin fees, insurances, moving expenses, and everything else. Don't forget to budget. Plan all of these costs carefully and then decide on the best options for you.
#3 – Be Emotionally Attached
It doesn't matter how long you've lived in a house, it's easy to feel attached to it, as though it's a part of your life, which to a certain extent it is, but when it comes to selling this can't be the case. You need to look at your house through your buyer's eyes and look at both strengths and weaknesses. We understand that it's very easy to feel that your home in Santa Rosa Beach is worth more than it actually is. While you may love it as it is, someone else might want something different. Don't forget to also get it ready for showings by removing some of your personal items and decluttering.
#4 – Not Researching the Competition
It's so important that you're researching what's out there, so you can see what works and what doesn't work. Make sure to keep an eye on all new listings for sale. Look at your neighborhood and see what similar prices are. Check out similar properties and see how they're presenting themselves. Take what works and apply it to your listing. This is one of the best ways to get some design and cost tips
#5 – Creating a Poor-Quality House Listing
Not getting the views and calls you'd expect when marketing your house online, and finding it difficult to find a buyer? Perhaps the problem isn't with your house, but rather your listing. After all, would you be interested in a house where the listing is full of mistakes and typos?
Even if you're not a professional writer, you can still write a high-quality listing that gets results thanks to online tools. Here are some to get you started;
State of Writing / Academ advisor – Two websites with a range of editing and proofreading guidelines and tips to help you perfect your content.
Via Writing – Find tips and advice on how to use grammar properly, as well as checking tools.
Essay Roo – Online formatting tools to help you professionally format your house listing.
Study demic / Big Assignments – Use these online tools to generate content, such as keywords, subheadings, and headlines for your home listing.
My Writing Way – A professional, online proofreading tool and service.
#6 – Not Making Repairs
Of course, we're not asking you to completely repair everything in the house. For the most part, there's always going to be things to do; however, you'll want to be aware that this will affect your buyer's decision.
Think about going above and beyond in purchasing a home warranty for the buyer of your home. This will give them the peace of mind knowing that much of the home can be repaired or replaced for little to no cost.
Think about making a positive impression to your buyers by fixing the small things, or at least anything a home inspector is perhaps likely to discover. This could dramatically increase the chance you'll sell your property. Make some aesthetic changes and fix up the outdoors. Keep in mind that your property could sell for a better price if you do this.
#7 – Ignoring the Staging Process
Staging your home is a process where you organize and lay everything out to make it look like a functional house that helps to give viewers the impression that the house is liveable. It helps the buyer imagine themselves living there.
However, if you don't tidy up and set this up, you're not going to enjoy these benefits, and you'll have a decreased chance of selling. So, you should remove your personal items like the majority of photos, toys, and so on, especially from the living area. People need to connect with the house itself, not your life.
#8 – Not Pricing Correctly
Of course, you know how great your home is and how much you ideally want for it. What's more, you're going to want a fair, if not slightly higher price because you want to make money on it, but this might not always be the case.
If you want your home to sell the quickest possible make sure you know the true value of your home. The best way is to have a skilled local 30a real estate agent doing a valuation for you. Then you can decide with the best course of action is to come up with the best list price
There are so many factors that go into the price, ranging from the condition of the property itself, the neighborhood, the location, the local facilities, and more, and pricing your property too high may result in no offers. Be fair.
However, don't go too low either. Make the price right for the value your house has – the best thing to do is to have someone evaluate your property before you start guessing blindly.
Summary
It's safe to say there are lots of things you need to be thinking about when it comes to selling your home, so you need to make sure you're on the ball and looking at all options available to you. Be organized and aware of what's going on with the market, and you can get the quickest and fairest sale!