A Complete Closing Checklist for First-Time Home Buyers?
Posted by Danny Margagliano on Friday, June 19, 2020 at 1:54 PM
By Danny Margagliano / June 19, 2020
Comment
A Complete Closing Checklist for First-Time Home Buyers?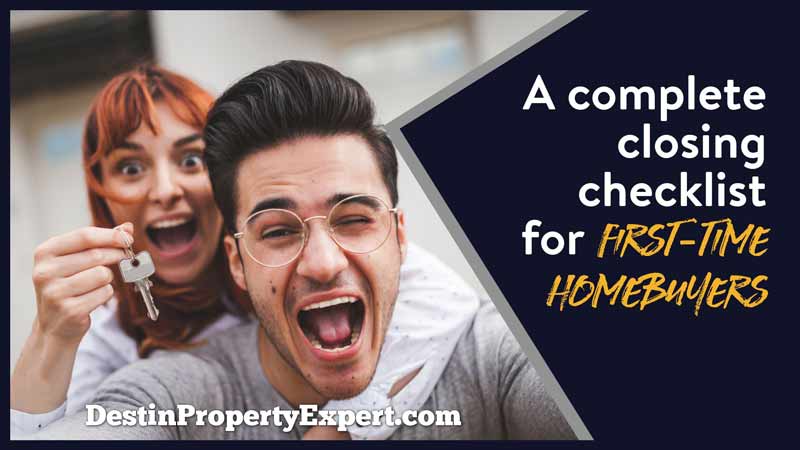 As a first-time home buyer, be prepared for a lot of paperwork and a lot of due diligence when investigating properties, applying for your mortgage, and closing on your home. Use this checklist as a guide to make sure you have completed all of the necessary steps to properly close on your first home. It will offer a rundown of everything that needs to be performed before you close such as what documentation needs to be completed and what actions need to be taken to ensure that everything goes according to plan before you obtain the keys to your first home.
Finalize Your Contingencies
When you purchase a home, there will be a handful of contingencies that need to be dealt with. These contingencies include things that must be done before your home purchase is finalized, such as a home inspection, an appraisal, and financing.
Home inspection
A home inspection is one of the most important contingencies that need to be performed to ensure everything is up to code and that there are no surprise repairs that will need to be made after you've closed. A home inspection usually costs between $300–$500, but it's worth it to understand what repairs need to be made. You may be able to negotiate with the seller of the home or even your real estate agent to have a home warranty gifted to you as part of closing. This will allow you to have the peace of mind that everything in your home is in working order, and if an appliance stops working, you have the warranty to repair or replace the appliance.
Appraisal
An appraisal contingency is when an appraiser comes to the home to ensure that the price you are paying for the home is considered fair market value. If the appraisal comes back lower than the agreed-upon price, you are allowed to back out of the deal and get your deposit back if an earnest deposit has been already placed.
In most cases, the buyer and the seller will renegotiate the price. Sometimes the seller will lower the price of the home to the appraisal price. Another common solution is the seller will lower their price a little bit and the buyer will have to put a little bit more money down. If the buyer will be paying more then the appraisal their lender may require a larger down payment.
Financing contingency
A financing contingency allows you to have the right to forfeit a sale if your mortgage approval falls through. This clause is typically used to establish a period of time to apply for a mortgage or close on a loan.
Obtain Your Title
When you purchase a home, you are also obtaining the "title" to your home. This verifies that you are the owner of the home through public land records. One of the first steps in this process includes clearing the title to ensure no distant relatives or ex-spouses of the previous homeowner appear to claim ownership of the home.
Doing a title search and obtaining a "clean" title is one of the first things that will be done once you are under contract. The good news is this is a step that you actually do not have to do. The title company that you choose when making an offer will take care of the title search.
As the new soon to be homeowner, you can choose any company you'd like to get your title, regardless of where the title was originally obtained from. If you're unsure what company to choose, your real estate agent should be able to offer up recommendations.
Get Approved for Your Mortgage
More often than not, you probably started your home search with a pre-approval letter. Now that you have chosen the home you'd like to buy, it's time to finalize your mortgage approval. This starts by going to your mortgage broker, lender, or bank to fill out all of the correct paperwork and documentation to secure your mortgage.
Keep in mind that underwriting usually happens right before you close on your home, so be sure to not do anything that could hurt your credit Taking out a line of credit on a car loan, making large credit card purchases or making any other large purchase before closing could affect your loan. To be safe, don't make any purchase that needs to be financed until after you close on your home.
Review Your Closing Disclosure
Also known as a HUD-1, your closing disclosure will include all of the pertinent information about your mortgage. In your closing disclosure, you will see an outline of your mortgage that includes your monthly mortgage payments, your loan terms (like your interest rate and mortgage duration), and any additional fees that you may need to pay. These additional fees are called your closing costs and can include an attorney fee, a courier fee, an application fee, a home inspection, and a survey fee. In general, closing costs will be anywhere from 2%–4% of the price of your home.
Before you sign your closing disclosure, be sure to compare your disclosure with the loan estimate you were originally provided so that you can request an explanation of any discrepancies you encounter.
Perform a Final Walk-Through of Your Home
Most contracts allow the buyer to do a walk-through of their new home 24 hours before closing. This will allow you to make sure the previous owner has completely vacated the home and that everything is in order before closing. If you have a rent-back arrangement with the home seller, then you have agreed to allow the person currently living in the home to stay for a set period of time.
As you perform this final walk-through, keep a close eye on repairs that were agreed upon before closing. If your home inspection came back with a list of issues with the home, then you would have been able to negotiate repairs to be made that will need to be verified before the final closing.
Make Sure Your Bring All Necessary Paperwork to Closing
The final closing is probably when you're going to have the most paperwork to review, provide, and sign. When you reach your closing date, you will need to provide proof of your homeowners' insurance, a copy of the signed contract between you and the seller, your home inspection reports, the paperwork from the bank that approved the home loan, and a government-issued photo ID. If you have recently married and changed your name, make sure that the name matches the property's title and mortgage.
Get the Keys to Your New Home
After you've completed the other items on this checklist and signed all of the necessary paperwork to your home, be prepared to collect the keys to your new home!
Additional real estate resources
How to Become a Homeowner via Bill Gassett
Common Contingencies When Buying a Home via Jeff Nelson
What to do After Closing via Michelle Gibson
Millennial First-Time Homebuyers by Paul Sian