Advantages of the Condo Lifestyle In Destin!
Posted by Danny Margagliano on Thursday, October 15, 2020 at 12:00 PM
By Danny Margagliano / October 15, 2020
Comment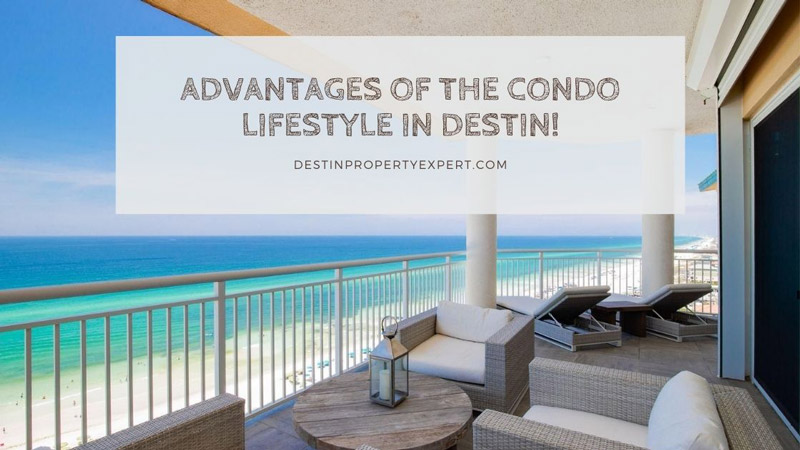 When people are looking to purchase real estate, they have a lot of options. They can search online, or even go for a walk or drive and see what is available in their city. In most cases, they will see a variety of different looks and price ranges.
While many will elect for a traditional house, others prefer a condo. They provide a unique living experience and provide a lot of value for your money in most cases. This is especially true in a city like Destin, Florida. Known for its amazing beaches, golf courses, and fishing, there is a ton to do and see in the city. Not to mention the Florida weather is very attractive to most people.
This makes it a popular place to visit and live as well. While there are many different ways to live and vacation in the city, many people elect to stay in condos. This article is going to touch on some of the many advantages of the condo lifestyle in Destin.
Incredible Convenience
When you live in a house, you often have to drive or walk decently long distances to reach the fun and exciting amenities that Destin (or many other cities) has to offer. This is especially true if you are in Destin during the busy season, where traffic can be quite outrageous. It can often take you an hour or so to travel only a couple of miles.
Thankfully, many condos have incredibly convenient locations right in the heart of town. This makes it very easy to go anywhere from a restaurant to the gym, to the grocery store, or even the beach. Not only will you get to these places easier, but also in only a fraction of the time. This convenience is one of the main advantages of the condo lifestyle.
Golfing, boating, and other activities will only be a few minutes away and easily accessible. You will save a lot of time and money related to commutes when you live in a condo in most cases. Less gas, shorter taxi rides, and a lot less wasted time. Not only that, but many communities will even have things like gyms, spas, coffee shops, and other amenities right on location, for even more convenience. Time is very valuable, and living in a condo in a great location can save you a lot of it.'
More Free Time
Many Americans are incredibly busy and work long hours. Add to that thing like cooking, working out, cleaning, and maintaining your home, and many don't have much time for anything else. Well, another great thing about living in a condo is that there is much less maintenance around the home to worry about.
While you still have to take care of things inside of your unit, the other work and maintenance that is generally required by a homeowner won't be required of you in most cases. You won't have to cut the grass, water the outdoor plants, or even repair the outside of your unit. Your condo fees will cover these and will ensure that all of this work is essentially done for you. Most of the simple maintenance-related tasks will be completely taken off of your plate.
This generally leads to much more free time to focus on things like your family, your friends, and your hobbies. Whether you decide to use this free time to pick up a new hobby, or simply lounge at the beach that is only minutes away from your condo, the choice is yours!
Great Safety Features
Another major benefit of the condo lifestyle in Destin, or any city for that matter, comes down to safety. No one wants to feel unsafe at home, and condos help to ensure that you don't have to. Unfortunately, when you live in a home, there is often only one locked door between you and whoever may want to enter or burglarize your home.
When you live in a condo, there are often extra security measures taken to keep residents safe. This can include locked entry points to buildings, intercom systems, cameras, and potentially even a security guard or other individuals on the premises. All are designed to keep you safe and secure so you don't need to worry as much about your safety.
There are many hoops for potential thieves or criminals to jump through when compared to a traditional house. Also, it is often easier to form relationships with your neighbors in a condo setting. This means you will have more people looking out for you and helping ensure you and your unit are safe, even if you aren't always around.
Better Social Life
Speaking of forming relationships with your neighbors, living in a condo makes it much easier to do that. Because many condos have shared amenities like gyms, coffee shops, lounges, rec rooms, and other locations, meeting others living near you is quick and easy. Simply walking down to one of these amenities could have you meeting several different neighbors. They are great places to spend with these new friends, as well.
You will often see the same people around, which can make it much easier to form bonds and create friendships. Of course, condos still offer a ton of privacy if that's what you want, but it does indeed make it easier to meet others.
The Views
While not every single condo will offer incredible views, it is certainly a selling point for condos that are located on high floors. As you could imagine with how beautiful Destin is, having a condo with a view is incredibly desirable. Many will also have some sort of outdoor balcony so you can enjoy the gorgeous weather along with the view.
Sure, living in a house is nice, but there is something special about being able to look out your window and see far and wide. Whether you like to be able to see the hustle and bustle of downtown below you, or like that your unit overlooks the beaches and water, the view is certainly something to love when living in Gulf view condos in Destin.
Living the condo lifestyle in Destin, Florida provides many different advantages for you to enjoy. This can include incredible convenience, more free time, and the ability to feel safer in your home. Of course, these are far from the only benefits and advantages that one can expect when they opt for the condo lifestyle in Destin.
Additional Real Estate Resources
Kevin Vitali has authored an article showing why condos are great properties to buy. He discusses everything from the cost to the security that you have when you own a condo.
Author bio
Wendy Dessler
Outreach manager
Wendy Dessler is a super-connector who helps businesses like The Urban Avenue to find their audience online through outreach, partnerships, and networking. She frequently writes about the latest advancements in digital marketing and focuses her efforts on developing customized blogger outreach plans depending on the industry and competition.