Affordable Decor Tips For A Trendy Look in Your Home
Posted by Danny Margagliano on Friday, April 29, 2022 at 12:42 PM
By Danny Margagliano / April 29, 2022
Comment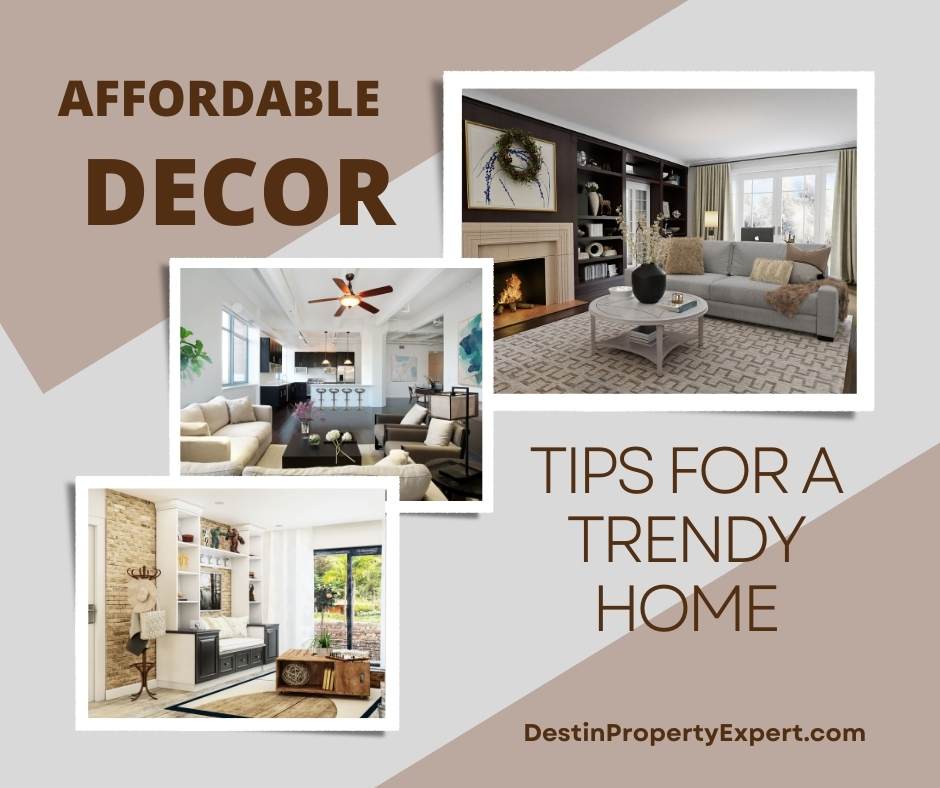 Home decor is a very personal thing. It's the way we make our house feel like a home. It's the way we express our personality. There are so many different ways to decorate your home, and everyone has their own style.
Some people prefer to keep their home very minimalistic, with only a few pieces of furniture and maybe a couple of decorative items. Others prefer to have every surface covered in knick-knacks and paintings and plants. There's no right or wrong way to do it, it's all about what makes you happy.
Your home should be a reflection of you and your personality. It's the place where you should be able to relax and feel comfortable, so it's important that it suits you. If your home doesn't feel like it's really yours, then it's time to start making some changes until it does. Start by adjusting the decor to fit your style, and see how that makes you feel. If you're not happy with something, change it. The only person who can make your home perfect is you.
One of the best things about home decor is that there are so many different ways to do it, and it doesn't have to be expensive. You can create a beautiful home without spending a lot of money. Here are a few tips for how to decorate your home on a budget:
Use Versatile Items
One of the best things about home decor is that you can create a beautiful space without spending a lot of money. A few simple tricks can make a big difference. One of my favorite ways to add some elegance to my home on a budget is to use versatile items.
For example, I like to use vases and pitchers in different sizes and shapes. They can add color and interest to a room and be used in multiple ways. You can fill them with flowers, or put candles inside them for a pretty, flickering effect. They also make great centerpieces for tables.
Another versatile item that I love to use is fabric. You can use it to cover furniture, or as Window treatments. Curtains and drapes can be expensive, but you can often find fabric for a fraction of the price. You can also use it to make your own pillows, throws, and tablecloths. It does not stop there. For all your fabrics needs, be sure to choose the right materials for each purpose. For example, you should choose linen fabrics for all your bedroom needs.
A good-quality linen sheet can really add a touch of luxury to your bedroom. Not only are they comfortable and soft, but they can also make your bedroom look elegant and inviting. Linen sheets are a great investment, and they will last for years if you take care of them properly.
Use What You Already Have
Don't go out and buy new furniture or decorative items until you've checked to see if you can use what you already have. There's no need to spend money when you can use things that you already have around the house.
One way to reuse things around the house is to use them as decoration. You can use old plates and bowls to create a unique wall display. You can also use old bottles and jars to create pretty centerpieces.
Another way to reuse things around the house is to turn them into something else. For example, you can use an old dresser as a bathroom vanity or use an old door as a headboard.
If you're creative, there are many ways to reuse things around the house to create a unique and stylish home.
Shop At Thrift Stores And Garage Sales
Another great way to save money on home decor is to shop at thrift stores and garage sales. You can find some really great bargains if you take the time to look.
Thrift stores and garage sales can be great places to find affordable home decor. You can find everything from furniture to decorative items. Here are a few tips for finding the best deals:
1. Get there early. The best deals are often found early in the day.
2. Check for quality. Make sure that any items you're considering are in good condition before you buy them.
3. Be prepared to negotiate. Don't be afraid to haggle a bit on the price.
4. Look for furniture that's in good condition. Thrift stores often have furniture that's in good condition, and you can often find pieces that are solid wood.
With a little patience and effort, you can find some great deals on home decor at thrift stores and garage sales.
Get Creative
If you're crafty, you can create your own home decor instead of buying it. This is a great way to personalize your space and save money at the same time. There are tons of great DIY projects that you can do to spruce up your home.
One simple example of a DIY project that you can do at home is to make your own curtain rods. All you need is a dowel rod, some finials, and some fabric. You can find all of these items at your local hardware store.
To make the curtain rods, start by cutting the dowel rod to the desired length. Then, attach the finials to each end of the rod. Finally, measure and cut the fabric to fit around the rod. Sew or glue the fabric in place, and you're done!
You can find tutorials for just about anything online these days, so there's no excuse not to try it out.
Final Say
As long as you're happy with your home decor, that's all that matters. So experiment with different styles and see what works for you. You may be surprised at how much you enjoy a certain style that you never thought you would.