Airbnb rental rules for Destin Florida
Posted by Danny Margagliano on Tuesday, June 16, 2020 at 10:16 PM
By Danny Margagliano / June 16, 2020
Comment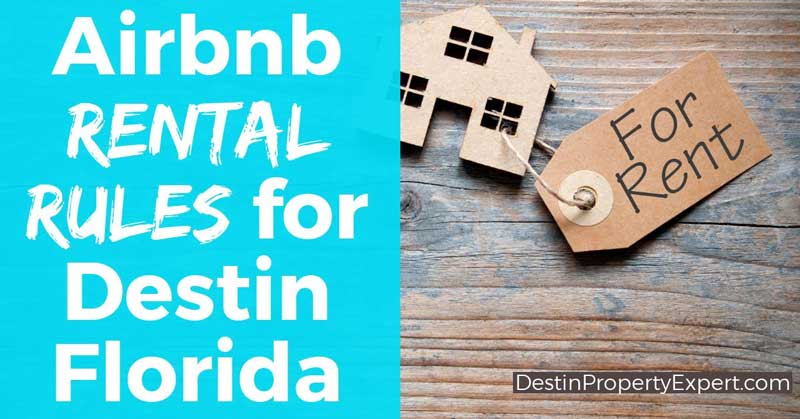 Destin, Florida calls itself "The World's Luckiest Fishing Village." With its crystal white beaches, sparkling emerald waters, warm sub-tropical climate, and world-class fishing, is it any wonder?
But don't think Destin is just about fishing and soaking up the sun. Visitors can golf, stroll the Destin Harbor Boardwalk, feed penguins at the Gulfarium Marine Adventure Park, and enjoy the nightlife, shopping, and eateries. For big and little buccaneers, you can even take a family-friendly interactive pirate cruise.
It's no surprise that thousands of people flock to Destin every year for vacation, or even to call Destin home.
It's also not surprising that many homeowners want to cash in by offering their homes as short-term vacation rentals on Airbnb (or similar sites) in Destin, which by the way (Airbnb) is an online platform for vacation rentals that have a revenue forecast to grow at an exceptional rate of 25.54% per year. As winter approaches here and northerners look for getaways, you need to make sure you understand the rules and regulations for Airbnb rentals in Destin before you rent out your home or condo.
NOTE: Condos and apartments do NOT require registration. Only single-family homes (including townhomes) are required to register.
Short-term rental ordinance Destin
Problems with parking, noise, and pollution have resulted in the City of Destin, putting strict regulations in place.
The first thing you must do is submit a registration for short-term rentals. You can find more information here:
What is the definition of short-term rental in Destin and South Walton Beach
Short-term rentals are defined as single-family residences (homes or condos) that are rented out for one day to six months.
What is a "responsible party" for Destin's short-term rentals?
Before registration, you must have a "Responsible Party" who lives within 30 miles of the proposed rental property and can respond within one hour for any issue. The responsible party must be available 24 hours a day, seven days a week, at the phone number listed.
Before registering your home
Before submitting your registration, you must also obtain a Tax ID number. See the above link for more information.
The registration fee varies according to the square footage of the rental property. The cost starts at $500 for homes under 2499 square feet and goes up from there. The property must be registered every year by January 1st.
You may register online or by paper for an additional $25 fee.
Sign, Sign, Everywhere a Sign
The City of Destin requires a clearly posted sign on the property with the name and contact information of the responsible party. You must also put the registration decal you will obtain from the city in the upper left-hand corner of that sign. The sign should be posted within seven days after registration. Signage must be 18″ x 18″ and state occupancy limits and parking information.
No guest may stay in the home until the sign is posted.
You must inform the county if the information changes during the year.
Best place to buy an Airbnb rental property
Take a look at homes for sale in Crystal Beach, which is considered to be part of Destin Beaches East. You can also find homes or condos for sale in Crystal Beach that make for good Airbnb rentals. Although, the most popular Airbnb rental properties are the beachfront condos in Destin along Highway 98.
Airbnb and Short-term Rental Regulations in Destin
In general, the property must be clean and safe. Also, you must have one trash can for the first three bedrooms and another trash can for every two bedrooms after that.
Additional rules are as follows:
You may have two (2) persons per bedroom plus four (4) additional people in the property.
A maximum of 24 people is allowed no matter how many bedrooms there are.
Parking needs to be on the property or in the garage. Parking areas must be paved with asphalt or covered in gravel. The garage only counts as parking if vehicles can fit inside.
Noise must be kept within lawful limits.
No garbage receptacle can put out at the collection point before noon the day before and must be put away after collection.
Tenants who refuse to leave after the short-term agreement ends can be prosecuted for trespassing.
You can't advertise swimming pools, hot tubs, or exercise facilities unless they are part of the rental agreement and available for use.
Registrations are not transferable. New property owners must apply for registration.
Besides the regulations Destin imposes, you should check with your HOA for any rules that may impact Airbnb or short-term rental agreement.
Collect the Cash and Avoid the Law
Renting out your property to vacationers and snowbirds is a fantastic way to make some cash. However, to avoid penalties and fines, make sure you know the rules, follow the rules and register your home. The city allows you to opt-out if you decide not to rent your home for a while, making it easy to rent it out some years and not in others.
If you're looking for properties to turn into short-term rentals (or to live in), contact us and see how we can help you!