Are Real Estate Sign Riders Necessary?
Posted by Danny Margagliano on Monday, July 20, 2020 at 4:20 PM
By Danny Margagliano / July 20, 2020
Comment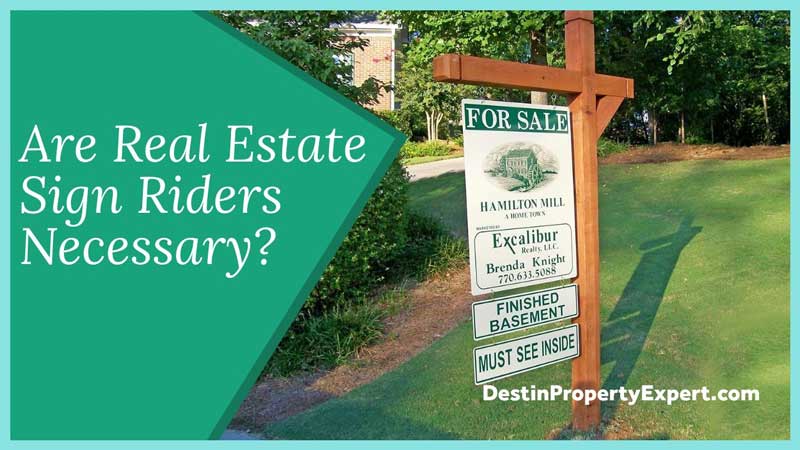 At a certain point in your real estate career, you have probably arrived at a professional crossroads in which you had to decide on where to invest your limited marketing budget. Should you lean heavily toward technology and spend time and resources on social media advertising or go on the traditional path of putting up yard signs left and right? Indeed, these questions have operational costs as an underlying theme. After all, you have to spend money to make money, right?
One of the things you can invest in are sign riders. These small sign attachments aim to provide additional information from a listing agent to a potential buyer, as well as give off the feeling of personalization. While some of you still see these as added operational costs, others look at it as a way to bolster their marketing campaigns. In this article, we will examine whether or not sign riders are absolute necessities in the industry. For more information about sign riders in general, go here.
Why You Should:
Easy and Limitless Customization
As mentioned earlier, a sign rider presents you with an opportunity to showcase your personality and creativity. The customization patterns on these are endless. If you are the type of realtor who often resorts to humor as a way of enticing would-be homeowners, then you can put a witty twist on your sign rider's message. Basically, you are only limited by your imagination and innovation.
Inexpensive Marketing
For newbie listing agents, it can be daunting to shell out cash for their very first marketing campaign. Fortunately, real estate sign riders are quite affordable, if you know how to be resourceful. While you need a bigger budget to incorporate customized elements to your material, almost anyone at any level in the business can spare the price of producing one. At the end of the day, your originality and ingenuity can take you far in the industry.
Definite Eye Magnets
Sign riders are relatively small in nature, yet they accomplish a ton of work for you when it comes to marketing a specific property. By putting your name, your message, or the listing's details on it, the probability of a prospective buyer to see it and react to it goes up exponentially. For this reason, it is really imperative for you to put a premium on making your sign as clear and as concise as possible.
Why You Should Not:
Additional Work
Making an actual real estate sign already involves time, energy, and effort, so you are practically adding another layer of work if you are to integrate a rider. Considering that some of you already have a lot on your plates, this task can be quite overwhelming. There is also the factor of dexterity, especially if you are not the do-it-yourself type. Ultimately, it is advisable to carefully think about these things during the planning stage.
Prone to Damage
Bearing in mind that real estate signs are placed outdoors and are constantly exposed to the elements, it is somewhat inevitable that they are subject to wear and tear. Think about it: if a property is up longer than expected, chances are you will need to produce and/or place a new set of signs. To put things simply, you want your brand to always radiate professionalism, cleanliness, and order.
Restricted Placements
Unfortunately, your sign riders cannot reach all your intended audience. For example, if you are dealing with apartment complexes and commercial properties, it is likely that most of them will not need sign riders. With this, it is absolutely important to research and understand your target market first before deciding on these.
Do You Really Need Them?
Without a shadow of a doubt, sign riders are excellent marketing tools for pro-active realtors like you. It is an effective and efficient way to reach your intended audience by providing them with sound information at a bat of an eye. Simultaneously, you can utilize this as a stepping stone to present your individuality to an untapped market.
As straightforward as these are, these property advertisements seem to never go out of style. They are proven marketing posters that paved the way to success for many industry professionals. So in terms of reliability, you can be sure that these timeless materials can truly get the job done.
Almost everything in this world has its pros and cons, and real estate sign riders are no exception. It all boils down to a number of factors that differ from person to person. There is no exact formula for your success as a realtor, which is why it is vital to take action and to learn from your experiences. We sure hope that with this list of advantages and disadvantages, you will have a clearer picture with regard to your marketing decision.
Additional real estate resources
Continuing on the same topic there's a great article discussing do for sale signs help to sell a property.