8 Benefits of Hiring a Vacation Rental Property Management Company
Posted by Danny Margagliano on Tuesday, June 9, 2020 at 10:47 PM
By Danny Margagliano / June 9, 2020
2 Comments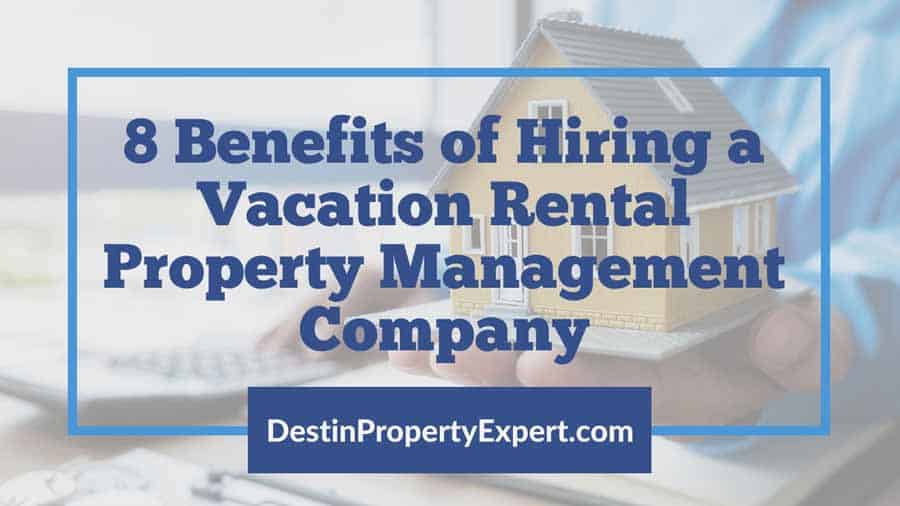 Over the past decade, following the housing crash, the vacation property rental market has experienced a noticeable level of growth. Investing in a vacation rental property can help you earn an additional income stream and also produce new wealth as a result of property appreciation.
Vacation rental property can be especially profitable in rapidly growing areas, such as Rosemary Beach, Florida, and other cities in the southeast. Not only do these properties enjoy year-round demand for renters, but increasing local populations cause these properties to appreciate at a rate well above the national average.
Once you have decided to invest in a vacation rental property, one of the first things you will need to do is hire a property management team. These teams, who can help you complete a wide range of responsibilities, including marketing, interacting with guests, and keeping your property clean, will help make your life significantly easier.
Though some vacation property owners will attempt to manage the property entirely on their own, the apparent benefits of hiring a property manager usually outweigh the costs. In this article, we will discuss eight benefits that can come from hiring a vacation property manager. By understanding why so many property owners choose to do so, you can decide if making the same decision is in your best interest.
1. Increased Property Exposure
The first—and perhaps most obvious—benefit of using a vacation property management company is something that will help significantly increase the number of people who are aware that your property even exists. Using social media platforms, Air BnB, local listings, and other outlets, the team will significantly increase your property's digital presence. Considering that more than 80 percent of bookings occur online, there is no denying that a strong online footprint can be very beneficial.
2. Maximum Profitability
In many cities, the most profitable vacation properties will be the ones that use a variable pricing model. Rather than charging the same rate every night of the entire year, these properties will charge premiums during busier times and offer discounts when business is slower. Weekends, major events in town, and peak vacation season will all increase the demand for vacation properties. By working with an experienced team that is familiar with the local market's natural ups and downs, you'll be able to maximize the amount you can charge while still ensuring the property is consistently being rented.
3. Emergency Support
Life happens, and vacation rental properties are not immune. If something were to go wrong, such as flooding, broken appliances, gas leaks, or anything else, it would be the property owner's duty to act quickly. Rather than always needing to be on call, you can hire a property management team that will effectively be on call for you. This will not only give you considerably more freedom, but it will also protect you from potential liabilities.
4. Improved Online Ratings
In addition to getting exposure online, you will also want to make sure that your property is consistently generating positive reviews. About 59 percent of people read reviews or visit property websites before booking their stay. Your vacation property management partner will help provide commodities and services that will help ensure your average rating remains high. With a high enough rating, your property will rank higher in some searches, and you will also gain benefits such as becoming an Air BnB super host.
5. Routine Cleaning and Maintenance
Anyone hoping to satisfy their guests (something that is very important in this industry) will need to make sure the property gets entirely cleaned between every stay. Rather than always having to clean your properties yourself, it is much easier to hire a firm that can do this for you. In the property rental industry, the cost of cleaning is added to each stay, meaning that hiring a cleaning service will not necessarily impact your bottom line. Rental property maintenance—including changing light bulbs, fixing leaks, and everything in between—will also be quite essential.
6. Better Guest Relations
If you want to attract repeat guests, you will need to go out of your way to communicate clearly with all guests. If a property owner takes more than a few minutes to respond to a message ("We're locked out!", "How do you turn the heat off?", "Are there any good restaurants nearby?") it may end up frustrating their guests lead to bad reviews. With a full team by your side, on the other hand, you won't have to worry about constantly checking your phone and making sure your guests are always happy. The team can handle all communications and will also know how to deal with complaints effectively.
7. Potential for Growth
Once someone has become a successful vacation property owner, they will likely want to begin investing in additional properties. However, if you are planning on handling all guest relations, cleaning, and marketing entirely on your own, there will be a natural limit to how many properties you can reasonably own. After all, there is only so much time in each day. Hiring a vacation property manager will allow you to continue growing your properties and increasing your earning potential.
8. Enhanced Bottom Line
The most common reason vacation property owners choose not to hire a rental company is that they want to avoid all additional expenses. However, when you do the math, you will see that hiring a company increases the amount you can earn each month. The combination of better marketing, a better guest experience, and superior management will help ensure you are maximizing your property's potential. In fact, some firms will not require any form of payment unless your property is rented.
Conclusion – Hiring Vacation Rental Property Management
Owning a vacation rental property will require some hard work, but when properly managed, this can be incredibly profitable. Hiring a property management company can help you avoid many of the stresses that come with property ownership and also increase your earning potential. While you will want to take the time to make sure you are choosing a partner that is compatible with your property ownership goals, it is clear that these firms can provide a substantial amount of value.