Best Furniture For Your Pool Deck
Posted by Danny Margagliano on Thursday, November 10, 2022 at 1:44:37 PM
By Danny Margagliano / November 10, 2022
Comment
If you're lucky enough to have a backyard pool, then you know that it's not just a summertime amenity—it's also a great place to relax and enjoy the outdoors all year round. Having the right furniture surrounding the pool is essential for maximizing everyone's fun in the space. Whether you're looking for a comfortable place to relax, somewhere to eat meals, or storage solutions for all your pool equipment, there are plenty of options. Keep reading to learn about some of the best pieces of furniture for your pool deck.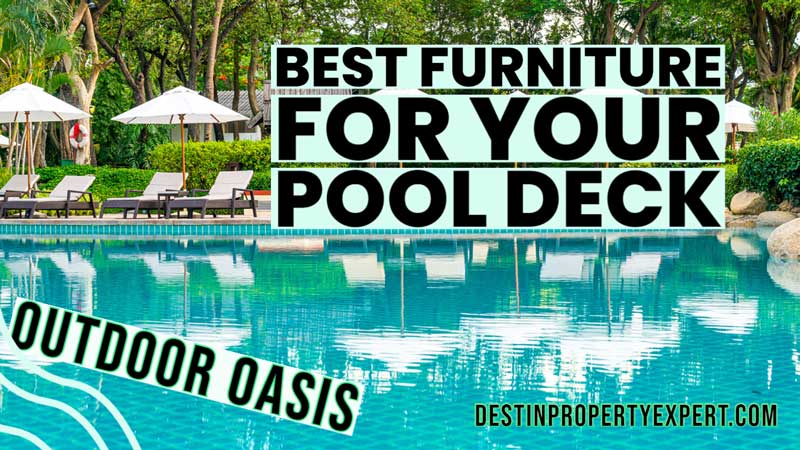 Lounge Chairs
Comfortable furniture is a key to outdoor living spaces, and few things are more comfortable than lounge chairs. They're a common sight at public pools, and for a good reason. They provide a great spot to work on your tan or just relax in the sun and enjoy the sounds of the pool, and they're just as valuable on your pool deck. The chairs are also great for taking a break from swimming.
Many different lounge chairs are available, from simple plastic chairs or wood to cushioned chairs. Some even have canopies! Cushioned lounge chairs in particular are a popular choice for pool decks, providing comfort and support. Most cushions are made from water-resistant materials, making them ideal for use by the pool. No matter what your budget or preferences, there's sure to be a perfect lounge chair.
Dining Set
Many people think eating outdoors is only for picnics and barbecues. However, dining al fresco can be a fun way to change your routine and enjoy a meal in a new setting. If you have a pool, eating by the water is a great way to enjoy the summer weather. To make dining by the pool more comfortable, you may want to invest in a poolside dining set.
Poolside dining sets typically include a table and chairs and sometimes an umbrella. The furniture is designed to withstand exposure to sun and water, so you can leave it out all season long. Whether you're hosting a party or just enjoying a quiet meal with friends or family, a poolside dining set will help you make the most of your outdoor space.
Hammock
Few things invoke the feeling of relaxation quite like a hammock. Lounging in a hammock on a warm day can transport you to a tropical paradise. A hammock on your pool deck can provide you with a relaxing retreat right in your backyard. Not only are they incredibly comfortable, but they also provide a way to enjoy the sound of "waves" of the pool and the breeze blowing through the air.
In addition to being a comfortable place to take a nap or read a book, a hammock can also add visual interest to your pool area. When selecting a hammock for your pool deck, be sure to choose one made from waterproof material and that can be securely anchored. With a little bit of planning, a hammock can help you turn your pool deck into your very own oasis.
Umbrella
An umbrella is a great way to enjoy the pool deck while staying protected from the sun. They can be placed over chairs or tables, providing shaded areas for people to relax or enjoy a meal. Some types of umbrellas are operated by a hand crank or push button, making it easy to adjust the angle of the canopy to get just the right amount of shade.
Umbrellas come in various sizes, so make sure to choose one that will provide adequate coverage. It's also essential to ensure the umbrella is properly secured, so it doesn't blow away in the wind. Thanks to its versatility, an umbrella can make the pool deck a more enjoyable place to spend time.
Accessories
Accessories can help to create a more functional and enjoyable pool area. Storage units can be used to keep pool toys and other equipment out of the way when they're not in use. If you plan to eat or drink near the pool, a storage cooler can keep drinks cold and within easy reach if you plan to eat or drink near the pool.
Fire pit tables are another popular accessory for pool decks. They create a cozy gathering space for nighttime entertaining. Whether you're looking for ways to increase the storage capacity of your pool deck or simply want to add some amenities for entertaining, there are a variety of options to choose from.
Best Practices for Outdoor Furniture
Outdoor furniture takes a beating from the elements. Over time, sun and rain can damage even the most durable materials. Don't forget that some of these pieces might catch a splash from the pool. That's why it's key to choose furniture specifically designed for outdoor use. Weather-resistant materials like wood, metal, and plastic are ideal for pool decks, patios, and other exposed areas. These materials are less likely to fade, warp, or rot when exposed to the elements.
Also, choose furniture that's easy to clean and maintain. Cushions and fabric seats can collect mold and mildew, so look for furniture that can be easily wiped down or sprayed with a hose. By following these simple tips, you can keep your outdoor furniture looking new for years to come.
Enjoy the Sun on Your Pool Deck
Outdoor furniture can be a great addition to your pool deck, allowing you and your guests to enjoy the fresh air. By choosing the right pieces, you can create a space perfect for relaxing in the sun or enjoying dinner with friends. There are many different types of furniture to choose from, so it's important to select the ones that best suit your needs. By following these best practices for pool deck furniture, you can create a paradise right in your own backyard. Now it's time to get outside and start enjoying your backyard oasis!