Best Movers In Destin, FL
Posted by Danny Margagliano on Monday, April 24, 2023 at 12:10:29 PM
By Danny Margagliano / April 24, 2023
Comment
If you are like most people out there, you probably dread moving. Chances are you are already tormented by mental images of small boxes just by thinking about moving. Packing up your life and moving to another place can be stressful and even scary.
Although, it's not all doom and gloom with moving. You get to discard all the clutter that adds no value to your life, model your new place to better fit your style, discover new things, and meet more people.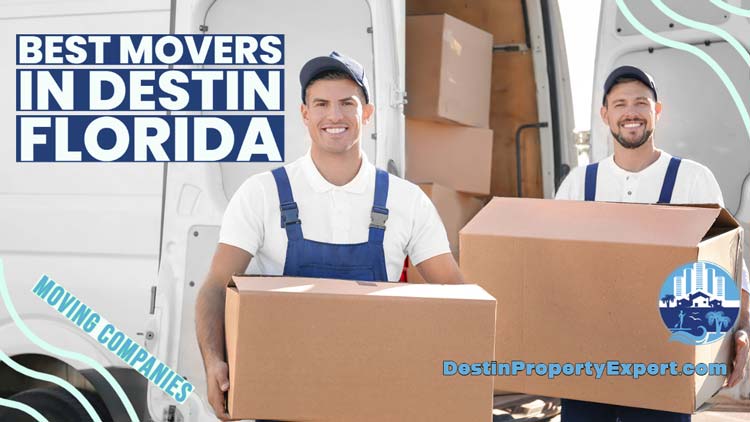 Despite the positives, moving is still hectic and extremely stressful. And a way to make moving easier is to hire a professional mover. With a professional move, you can rest easy knowing professionals are handling your belongings and that they will arrive at your doorstep on time and in good condition.
Below, we highlight the benefits of hiring a professional mover:
Peace of mind: This comes from knowing you are in good hands.
Fast and efficient: You can expect your belongings to arrive in a timely manner.
Safety: A professional mover will ensure your items are handled properly to prevent damage during transport.
No heavy lifting. Let the professionals handle that.
Best 5 Professional Movers In Destin, Florida
All moving companies aren't made equal. Some are simply better than others, and you should sign up with the best for an enjoyable and hands-free moving experience. There are a few bad players in the moving industry that charge for unworked hours, fail to properly protect your belongings against damage, arrive late, or refuse to honor estimates/quotes.
This makes it important to go for a reputable company that delivers on its promises while also being transparent in its actions. Below, you'll find some of the best moving services in Destin, Florida.
1. Three Movers
Three Movers is a Florida-based professional moving company with years of experience under its belt. One of the most impressive things about Three Movers is the wide area of coverage. They help customers move anywhere within and even outside the United States.
You can expect complete moving services that cover packing and unpacking services, van lines, as well as loading and unloading services. Three Movers also allow you to tailor their services to your unique moving needs.
Customer care services are superb, and you can get a free, non-binding quote from the company.
2. Across States Relocations
Across States Relations will help you relocate with ease within and outside Florida. Moving can be a very stressful event, and Across States Relations aims to make people's life easier, something it's able to achieve thanks to decades of experience.
Personalized solutions are available. You can expect a hassle-free and transparent moving experience. Their staff are top professionals and extremely good at their job.
3. Yellow Eagle Relocations
Yellow Eagle's Relocations' mission is simple - to provide high-quality services to their customers, something the company tries to achieve by striving to meet the specific needs of every client.
Customers are treated with utmost respect, and their belongings are handled with utmost care. Free estimates are given to customers regardless of the scale of the project.
4. Two Men And A Truck
Fear not, Two Men and A Truck moving company has more than just two employees and a truck for your moving needs. People using moving services for the first time can expect a good experience thanks to their simplified and personalized services.
Moving supplies are sold to consumers, and they can provide recommendations of the best storage facilities in Destin to customers. Overall, a good moving company.
5. Family First Moving and Storage
Family First Moving and Storage Inc has been providing top-notch moving services to Florida residents for over 20 years. Offering customer-centric service, the company specializes in local and long-distance moves.
Customer support is available round the clock, and you can transport anything from the most fragile family heirloom to the bulkiest furniture.
How To Choose A Professional Mover?
To avoid falling victim to some of the bad players in the moving industry scene, thoroughly vet a moving company before you sign up with them.
Start by researching shipping services in your area or ask friends and family members for referrals/recommendations. If you know a real estate agent, you can also ask them for the best professional movers in your location.
If you've done the above, you should have a number of shipping companies on your shortlist. Contact them for a free, non-binding quote/estimate, and watch out for potential red flags, including moving companies that seem hungry for your money or unable to satisfactorily answer your questions.
Verify that the moving company is licensed and insured. Also, ask about any professional accreditation and verify their address. Go online and read customers' reviews on independent sites like Google Reviews.
Ask the mover to declare any additional costs you may incur upfront. Some surcharges aren't reasonable; you can identify a reputable company from this.
Never sign a blank moving contract. Take time to read and digest your contract. Ensure that all your items are listed in the inventory, as a mover can't be held accountable for any item that isn't on the inventory list.