How To Plan Your Budget For A Long-Distance Move
Posted by Danny Margagliano on Friday, April 28, 2023 at 3:53 PM
By Danny Margagliano / April 28, 2023
Comment
Moving to a new city or state is undoubtedly exciting. But planning and executing a long-distance move can be daunting, especially the budgeting. Proper budgeting can help alleviate some of the stress of moving, but where do you begin?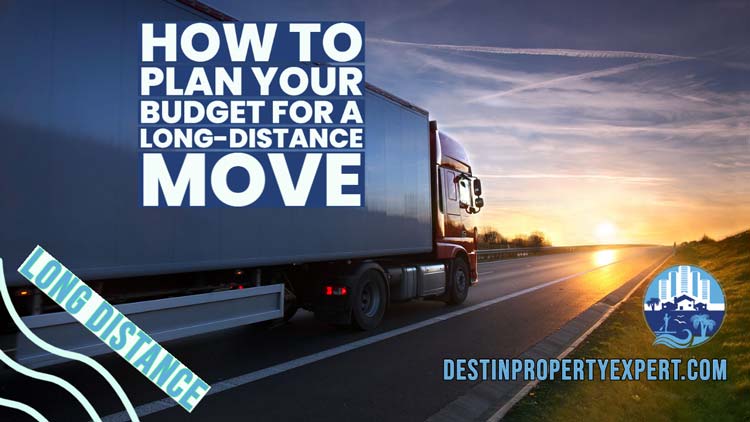 Let's walk you through planning your budget for a long-distance move, from calculating expenses to finding ways to save money. When you take the time to plan and budget, you can make your long-distance move a smooth and stress-free experience. Here's everything you need to know;
Take Inventory
Before anything else, determine what stuff you'll be moving to your new home. So, the first step is naturally taking inventory. This means listing everything you'll be moving from house A to house B—everything from furniture to clothes, kitchen utensils, and anything else you want to move.
The trick to taking inventory is you want to start with large pieces like furniture. It will also help if you create a list of things you plan on taking with you. Remember to include large items like appliances or workout equipment that might require special handling. After that, you want to care for clothes and other smaller items. Again, the best way to ensure everything is marked down is to go from room to room.
Once you have a comprehensive list, you'll better understand what expenses you'll need to budget. These expenses should include packing materials, moving labor and means of transport, and any storage fees.
Create a Moving Budget Template
One of the best tools at your disposal is a moving budget template. You can use many spreadsheet software online to create a template. Or you can simply take a pen and paper and formulate your moving template. Creating a spreadsheet makes working on your budget more manageable.
With a budget template, you can easily keep track of all the expenses that come with moving. From hiring a moving company to buying new furniture and any other costs, you might incur for your new home.
To formulate a moving budget template, set up categories for each expense: transportation, packing materials, and utilities. Allocate a certain amount for each. A budget template can help you plan your move down to the penny, giving you peace of mind and confidence as you embark on your new adventure.
How Much Should I Prepare?
Since most costs are estimates, creating an accurate budget can be tricky. Still, if you want a better calculation of your total cost, multiply the subtotal by at least 5%. This figure will give you a contingency cushion. Most importantly, when planning a long-distance move, you want to consider different strategies that can let you organize your finances and save money.
Planning means having an emergency fund for the unexpected. Moving long distances comes with many curveballs. For this reason, you want to have some money set aside for unforeseen situations.
As you get close to your moving date, you want to keep referring to your budget and updating the final costs. You'll also know where you are at. Remember that getting more estimates to add to your moving budget template will help you prepare for moving day.
Basic Moving Costs to Consider
Budgeting is an essential part of the move process that can help ensure you don't overspend and end up in a financial bind.
To start, consider the basic moving costs you'll incur. You'll want to hire pros to help you move, rent a truck, pack supplies, and other miscellaneous expenses.
Note that your moving cost will vary depending on whether you plan on moving yourself or working with a professional mover. Using the budget template you already set up, you can see what you'd want to cut back on and which option fits your situation best.
1. Professional Movers
Before you settle on a moving company, you must do thorough research. Take the necessary time to research and read reviews, and you might even want to give them a call to ask some relevant questions.
These companies operate differently, so you'll want to find a company that fits your budget and has an excellent reputation for service and reliability. Be sure to get quotes from the said company.
At face value, working with professional movers may seem expensive at first. But working with a moving company can save you money on time and overall moving costs.
If you choose to work with a moving company, you want to add then you want to consider these expenses:
Moving rates/fees
Moving insurance
Packaging services
Special item handling service for safes, artwork, pianos, etc.
Hidden fees for damages and claims, tips, etc.
Unpacking services
In most cases, movers charge by the hour. In that case, using your inventory checklist as a guide, you can identify areas where you can save time and money. You can achieve this by doing some of the work yourself, like storage, packing, and general prepping before the move-out day.
2. Moving Yourself
While moving yourself may seem like a great way to save money, it's not free. When setting up your moving budget, you want to consider how doing all the work by yourself instead of using professionals will work. This will help you determine if it's a financially viable option.
Remember, you can't put some things on paper, so the budget may not reflect the same. In that case, while budgeting, think of the time you'll spend getting ready to move and for D-day.
If this self-moving is an option, you want to consider these expenses:
Truck rental
Gas
Moving insurance
Furniture Insurance
Extra moving equipment
Packing materials (boxes, covers, tapes, and the rest)
Additional Moving Costs To Consider
It doesn't matter how you choose to move. There are additional expenses you must consider when setting up a moving budget.
Any budget must have a miscellaneous expense category. But what we are talking about has nothing to do with that. These additional costs are some of the most overlooked items in moving cost estimates.
Will you need to buy new furniture or appliances for your new home? Will you need to pay for storage if you can't move everything simultaneously? These extra costs can add up quickly, so include them in your budget. Add additional costs to your contingency total, or you can choose to cost them separately.
Here are a few additional costs you must consider:
1. Transportation
Distance doesn't matter in this case, but transport is essential for your final moving cost. When moving cross-country, your options for transportation can range from renting a moving truck to hiring professional movers.
Before deciding, you'll want to weigh each option's cost and convenience. Be sure to also factor in the gas price, tolls, and any unexpected fees that may arise during transit.
2. Lodging
Long-distance moving may require consideration of accommodation costs. You may also want to plan for temporary housing while waiting for your new home to be ready. You must factor in these costs in your budget. And if you have a child or pet, factor in their care expenses too.
3. Storage
Depending on your moving plans and how many items you need, you may want to consider storage. You should contact storage companies to get a quote if storage is needed. Research different storage facilities and find one that fits your budget and needs.
You may also want to consider how long you will need storage and if any additional fees may arise. Planning for storage will help you avoid any unexpected expenses and ensure a smoother transition into your new home.
4. Additional Costs
Most people overlook this part. But beyond the basic cost of moving, there are other expenses you should consider. For instance, if you are self-moving, you may take time off work to move. But if you are not paid on the days you are packing to move, you may want to compare moving costs during the working days and the weekend. The idea is to consider every possible expense you may incur when moving.
Moving Costs Checklist
So many things could go wrong. And if you are not careful, you can easily find yourself in a financial bind.
So, as you develop your moving budget, you can ensure you stay on track and within your budget using a moving expense checklist. Here's what you need for your checklist:
When working with professional movers, use this checklist to ensure you are within the cost. The list includes moving fees, packaging and unpacking services, specialty items packaging, moving insurance, and hidden charges.
Self-moving has its expenses. And to ensure you stay on track regarding these expenses, you want to have a checklist. Your self-moving checklist should include truck rentals, meals, moving equipment rental, packing boxes, packaging tapes, furniture covers, packing material, and transportation.
There are also other expenses that you want to track. Add these items to your checklist for the same:
Car maintenance fees
Car shipping company
Accommodation
Storage unit rental
Insurance
Cost of moving to and from the storage facility
Child and pet care
Final Thoughts
If you're planning a move across the country, the last thing you want is to run out of money halfway there. That's why setting a budget is critical. Start by figuring out how much money you must spend on the move, including any savings, income, or resources you can tap into.
Then, list all the expenses you'll incur during the move, from packing supplies to truck rental fees. Remember to factor in unexpected costs that may pop up along the way. Once you have all your expenses accounted for, you can create a realistic budget that won't leave you scrambling for cash.