How to Buy the Perfect Home in Florida ... Even as a First-Time Buyer
Posted by Danny Margagliano on Thursday, June 30, 2022 at 11:46 AM
By Danny Margagliano / June 30, 2022
Comment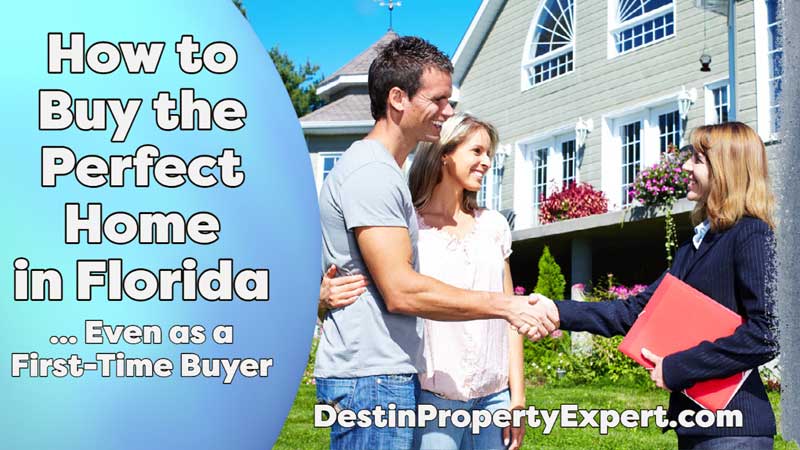 Buying the perfect home might be one of the most daunting processes you can ever go through. In addition, it is also one of the most emotionally charged and expensive purchases you can ever make in your life.
That notwithstanding, with determination and careful research, you can become a homeowner in Florida or anywhere else in the world. But before this, you need to consider several things.
It is important to ensure that you are ready for the purchase and can sustain all the payments.
In this guideline, we are going to talk about how you can buy the perfect home in Florida even as a first-time buyer;
How Much Can You Afford?
You might dream of owning one of the best beachfront homes on the Emerald Coast of Florida or living in the best neighborhoods, but if you do not know how much you can afford, then your dream will remain just that - a dream.
To know the amount of money you can afford to buy a home in Florida, you should start by seriously evaluating your monthly average budget. Check the things you spent most of your income on - everything you spend on - and then calculate the amount of money left after that.
That will be the amount of money you have after your monthly expenditure. It is this balance that you will be spending on home expenses as well as monthly mortgage. Make sure that these numbers add up if you want to afford a home in Florida.
While checking the amount of money you can afford for your perfect home, you also need to pay attention to the following;
Down payment: You need to evaluate your monthly income and determine the amount of money you can afford to pay as a down payment. A bigger percentage of mortgage loans in Florida require between ten and twenty percent of the total cost of the house as a down payment.
Credit score: This is very important when looking for a mortgage loan, not just in Florida but also across the globe. In most states, you might need a credit score of not less than 620 for you to secure a mortgage loan. The higher the credit score, the lower the interest rates you might get with your loan.
Closing costs: Closing costs can be defined as the final fees and costs you will need when buying your perfect home in Florida. Buying a home in Florida might require you to pay between two and five percent of the total cost of the home. For instance, you might need between $2,000 and $5,000 if the total cost of your new home is $100,000.
Homeownership costs: After securing your perfect home, you will need to ensure that it remains in a good condition. This means that you need about one percent of the home's total cost every year for maintenance.
Your Needs and Wants Should Be Prioritized
Sometimes, you are forced to make compromises, especially when you are on a budget in a bid to achieve something. To buy the perfect home in Florida, you need to make sure that you know what to consider and what your needs are.
This is going to make it easy for you to make decisions and narrow the options you have to choose from. You will even find it easy to make an offer after finding the perfect home that you have been looking for.
To succeed in this, make a list of all your wants and needs. You also need to include everything that you need or want in your new house. Take this list with you when looking for a house and choose one that ticks all or most of them.
Take Advantage of Florida's First-Time Home Buyer Programs
Those buying a first home in Florida might find every other detail overwhelming, especially when it comes to payments. Fortunately, you can get programs to help you afford to buy a home in Florida and ease your financing burden.
These programs come with easy requirements such as down payments and various perks that allow you to achieve your dream of owning a home faster.
Just like most first-time home buyers, your only challenge might be saving enough money for the down payment. However, if you get access to some of these programs, this challenge will be eliminated.
Check Mortgage Options
If you have enough money to pay for a house in cash, then well and good. That will be the best option for you. However, just like most home buyers, you might not have the cash, meaning that you will need a mortgage or loan.
A mortgage is a type of loan that will use your new home as collateral. This gives the lender rights to the home if you are not able to service the mortgage at some point in your life. This might vary from place to place though.
You, therefore, need to check the options you have when it comes to the types of mortgages available. The first thing you need to evaluate is your long-term plans. Do you want to own another home later, for instance? How much time do you need to service your mortgage? You can also shop around and see the best options available for home buyers in Florida.
When checking the mortgage options, you should pay attention to several things:
Terms and conditions: It is important to understand the terms and conditions of your mortgage loan. For instance, a bigger percentage of mortgage loans in Florida come with 15-year to 30-year terms. You can, of course, take the time convenient for you, but the longer the mortgage term, the longer it is going to take you to pay for it. Understanding these terms is important when it comes to choosing the right mortgage for your perfect home.
Interest rates: When checking the mortgage options available for your home, do not forget to check the interest rates for each one of the options. The best mortgage option is the one with low-interest rates. The lower the interest rate, the better it will be for you since it will help you save a lot of money over the years. The interest rate will also be dictated by your credit score.
Required down payment: Every mortgage loan will require a certain percentage as a down payment. When checking at the options you have, evaluate the ones with low down payments. First-time home buyers in Florida can qualify for mortgages with a down payment of about five percent of the total price of the home.
Choose a Real Estate Agent
This does not mean that you cannot buy your perfect home in Florida on your own. However, it is always better and easier for you to work with a person who understands the real estate industry well.
You, therefore, need a professional - a real estate agent - and make sure that you are presented by a realtor. When evaluating real estate agents, you need to ensure that the one you choose has experience working in Florida's real estate market.
The best real estate agents know where the best houses are, understand the needs and requirements of their customers, and can make suggestions when it comes to things like lawyers, escrow companies, and lenders, among others. They make sure that you get the best deal that matches your requirements.
Here are some factors to consider when evaluating real estate agents in Florida;
The number of years of experience they have working in the real estate industry in Florida. Your preferred real estate agent should have at least three to five years of experience.
Check review sites. Visit the most common real estate review sites in Florida and see how your preferred real estate agent has been performing. If other customers appreciate their services, then you are making the right choice.
The number of transactions. You also need to see the number of transactions the real estate agent you are working with made in the last year. The higher the number of transactions, the more successful the real estate agent is, meaning that you will be making the right choice.
Final Touches
Now that you have done everything discussed above, you are ready to buy your perfect home in Florida. But before then, you need to make sure that you have secured a loan. This is important for your payment.
When making an offer, make sure that you understand everything that is required of you. Through your real estate agent, ask any questions that you need and ensure that everything is clear.
In addition, you need to move fast once you get the home that you want to buy. This is because a bigger percentage of Florida homes do not spend more than three months on the market. You also need to get the home inspected.