10 Tips For Buying A House Remotely
Posted by Danny Margagliano on Wednesday, December 8, 2021 at 10:12 PM
By Danny Margagliano / December 8, 2021
2 Comments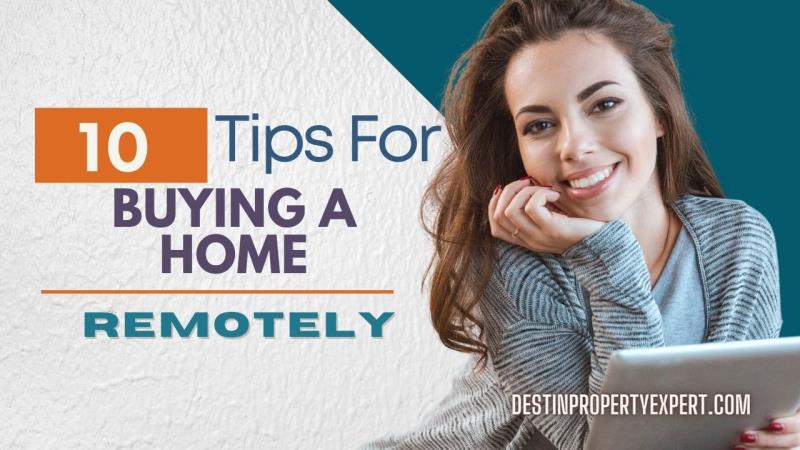 In a real estate deal, it's usual for sellers to skip the closing. They sign the paperwork ahead of time and deposit the sale proceeds directly to their bank account. The position for buyers, on the other hand, can be highly different. Traditionally, buyers were expected to sign documents in person and physically visit houses.
Purchasers nowadays have a more convenient option. Remote buying is now possible for those who don't have time for physical visits. Buyers can complete the entire home-buying process from afar. If you're thinking about buying a property from afar, the following tips will help you get a great deal.
1. Obtain A Letter Of Mortgage Pre-Approval
Buying a property, whether online or offline, is a significant financial investment. You'll need a loan to finance your new home unless you've saved a fortune. The first step is to find a lender who will give you a loan pre-approval. You may submit all papers and sign agreements electronically with several trustworthy online lenders. Ensure your contracts are valid by learning how to sign a Google Doc and similar document applications before sending any letters or contracts.
Bank statements, salary stubs, and other evidence will be requested. A mortgage pre-approval letter will tell you how much money you may anticipate getting if you apply for a loan. It will give you a precise estimate of how much money you can afford to spend on a home. When looking for online home sellers and real estate brokers, this pre-approval form will come in handy.
2. Collaborate With A Real Estate Agent From The Area
A local real estate agent can confirm that the listing photos accurately portray the property's condition and, if possible, take you on a virtual home tour. Furthermore, an agent should help you expedite your home search by focusing on the houses, areas, and school districts that best fit your requirements.
While collecting recommendations from friends and relatives is a great way to find a real estate agent, you may not know anyone in the region where you want to buy. As a result, look for reviews of specific agents on the internet. If you can't find any reviews, the agent may be unskilled or inexperienced.
Please inquire about the experience of two or three agents, as well as the typical price range of homes they deal with. Check to see whether the agent's expertise meets your needs and if the agent is a good fit for you personally.
3. Find The Most Experienced Agent With Remote Selling Experience
Take your time to find the best real estate agent for you, preferably one that has experience selling properties remotely. Because you won't see the home in person, it's vital to choose an agent you can trust who has worked in this area before and is educated about the market and the area in which you are buying.
Make a special note of their client testimonials and reviews, and inquire about any feedback from other people they've helped buy a house remotely. It lays a solid foundation for deciding whether or not they're trustworthy and will be helpful and reliable throughout the transaction.
4. Carry Out Personal Research
Buying a home is a big deal that takes a lot of time and money, so be sure you know everything there is to know about the property you're looking at. To begin, locate a property in a place with a vibrant housing market and a stable economy to ensure that your financing will go through. Compare and contrast the information provided by the office with the information provided by the seller. If you see any discrepancies, talk to the assessor to figure out why.
Another essential element to consider, especially if you're buying in a rural area, is the availability of rural resources. Learn about topics like erosion control, wildlife habitat creation, and pond construction, as well as other challenges that you, as a city inhabitant, may be unprepared for. You can complete these duties remotely by visiting relevant local websites or contacting authorities and specialists via email or phone.
5. Share Your Wish List With Your Agent
Once you've chosen an agent who's a good fit for you, send them your wish list, so they're aware of your specific needs. Make it very clear what you're looking for and why you're making a purchase. A well-crafted wish list will aid your agent in narrowing down the options, thereby speeding up the search process.
However, if you have an excessive number of requests on your wish list, your agent may have trouble finding a match. Concentrate on the most significant factors, such as location, size, housing style, and room count. Leave out simple requests, especially those that are easy to address or update on one's own.
Also, contact your representative right away if there are any items that you really can't live without. As a result, they'll be able to focus on homes that don't contain these deal-breakers.
6. Attend A Virtual Tour Of The House
You should take advantage of the seller's internet video home tour if one is available. If they don't, your agent can show you the property via video apps. Your realtor will take you on a virtual tour of the house through video call in a virtual tour. You may ask your realtor to open doors and turn on lights for you, let you look into closets, and take close-ups of any features of the house that you like.
Request that your agent provide feedback on the home's sounds, scents, and temperature, as it's not quite the same as being there in person. This impression is far more impressive than the seller's agent's listing description, images, or virtual tours.
There's a slight difference between seeing a location in person and seeing it on video, you'll have to put your trust in your agent's judgment. It's why it's crucial to tell your agent about your must-haves and deal-breakers right away. You'll have more confidence when they tell you a house meets your criteria this way.
7. Become Acquainted With Your Surroundings
Listing photos and video tours don't always adequately portray what you'd see from the windows or in the local area. For example, your kitchen windows may look out over your neighbor's wood fence. Request that your agent take photos looking through the house's windows and, if possible, make a short video walking up and down the street to help you get a sense of the neighborhood and surrounding area.
Inquire about the neighborhood and surroundings. Is it noisy with a lot of passing traffic, or is it peaceful and quiet? You can also use map tools to scan the property and its surroundings from the air, giving you a complete birds-eye perspective of your new community.
8. Make An Appointment For A Home Inspection
While a home inspection isn't always required, it's usually a good idea. When buying something online, this is amplified. It's time to go deep into the details of a property to see if any concerns need to be addressed before closing. While it's ideal to be present for the inspection, you're not entirely out of luck if you're buying a house from afar.
Request a home inspector referral from your real estate agent, and request them to join the inspection through video chat. You shouldn't have any unpleasant shocks after the purchase is made if you have a qualified inspector and agent working on your side.
9. Inquire About The Possibility Of A Final Walkthrough
Here's another example of why choosing the right agent is so important. Your realtor will do a final walkthrough for you, including via video conference, to check that any repairs recommended after the inspection have been completed correctly and that the house is in the condition you desire.
If you're worried about buying a house from afar and want further confidence, talk to your agent about including a final walkthrough contingency in your contract. The last walkthrough will help you identify anything that you may have missed during the first trip.
10. Utilize The Due Diligence Phase Wisely
The seller's acceptance of your offer triggers the start of the due diligence process. It usually lasts for two to four weeks. It's designed to give you enough time to review your title documents, think about deed restrictions, and schedule a home inspection. Contact your agent if you have any questions or need clarification on anything. You can also take advantage of this time to negotiate adjustments and price reductions, as well as finalize your financing arrangements before closing.
All of the documentation that you will be required to sign will be sent to you by your closing agent. Take advantage of the time between getting the papers and the deadline to review them. You're likely to find faults that need to be fixed, and you'll have a few questions.
To ensure that your closing takes place on time, resolve any concerns that develop as soon as possible. Sign the non-notarial paperwork when you're ready. The nature of these documents will be explained to you by your settlement representative.
Takeaway
Buying a house remotely doesn't have to be a stressful experience if you go into it prepared. You will be able to complete all of the necessary formalities for home browsing and purchasing with the help of a knowledgeable real estate agent, and you won't even need to be present at the closing. Your experience should be seamless and, hopefully, stress-free, thanks to video conferencing, electronic signatures, and money transfers.