Buying a New Construction Home in a Market With Low Inventory - This Is Why You Should
Posted by Danny Margagliano on Saturday, September 19, 2020 at 2:14 PM
By Danny Margagliano / September 19, 2020
3 Comments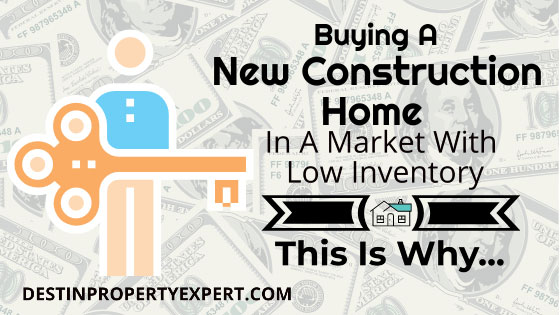 Have you ever been to a huge sale right on the last day it is happening?
Let's say you are in the market for a new pair of sneakers. There is a blowout sale at a large brand store you see advertised. The sale started two days ago. You go and are hopeful to pick out a really great pair. However, all that is left are a bunch of obscure colors like burnt orange, and sizes that are comically too large or small. Then, at the other end of the store, a clerk puts a return back on the shelf. Perfect size and sleek black color. You start to head that way, but three other antsy buyers swoop in and one of them snatches them immediately. Darn. You go back to scouring through the oddball shoes.
This is almost exactly what it can be like looking for a home in a market with low inventory. The good listings are immediately jumped on by lurking buyers. Often by the time you get to see the house, the seller already has strong offers to buy. This can be discouraging. Especially if you really need to find somewhere to live or have a strong desire to become a homeowner.
Using our shoe example, what if a clerk showed you to a room in the back of the store, with a few other buyers and a selection of the newest, trendiest, and most comfortable shoes being made right there for each buyer? This is what new construction homes can offer you.
A market with low inventory, as you will discover, often means rising prices and a frustrating lack of good homes for sale. If you have the patience and the right agent to help you, this kind of market can make new construction an even better option.
Here are 5 reasons why new construction is a good decision in a market with a low inventory of homes for sale.
Getting What You Want
If you have searched for homes in a market without much for sale, you know the feeling. You are trying to like the houses you are touring, but just not getting that feeling of "this is home."
If you have not ever searched for homes in a seller's market (more buyers than sellers), take my word for it: it can be frustrating. You probably had a vision for what it would be like to live in your new home. And you also imagined the proud feeling of being able to show it off to friends and family. If you are searching in a seller's market, making this a reality can be hard to come by.
Sometimes it is a weird layout, other times a weird smell (or a combo of smells), or that many of the houses are not well maintained. Some places may seem ok, but you do not like them, and for a reason, you cannot put your finger on.
This is the challenge of going into a market with low inventory. Everything seems picked over. New home communities and other new construction types offer a solution to the challenge of finding a property. Here are some of the ways you can find something superior in a new construction home.
Design
When you look at brand new homes, it is almost guaranteed that it will have the most up to date designs and in-demand finishes. An older home often would need structural changes to bring it up to this standard, on top of any cosmetic changes.
Builders spend a lot of energy and money to make their homes stand out. This means you get a home that will be in style for years to come, without having to find contractors to do the work on a resale home.
Maintenance
If the home you buy is not well maintained, hidden costs can creep up. In addition to money, unexpected issues in a home can rob you of time and peace of mind. Sleeping under a leaky roof is no picnic.
Everything in a new construction home is, well, brand new. That means your HVAC system, roof, plumbing, electrical, and other maintenance items are just starting their useful life. This will save you on upfront maintenance costs vs buying an older home.
Warranties & Accessibility
Reputable builders offer warranties on their homes. These include different timeframes for structural, mechanical, plumbing, electrical, and appliances.
Not only that but if you buy and find something to be wrong after closing, many builders are not far away. They may still be building your community or homes nearby.
I have found that if something is wrong, a good builder will make it right. They want you to speak highly of them. Although when buying a resale property, these issues most likely will be yours to handle.
Homes Available
One of the biggest complaints from buyers trying to buy during a time of high demand is that it seems like all the good homes sell immediately. This leaves only the homes that are overpriced for their condition and location. You can, of course, lower your expectations.
But many buyers choose to go towards new home builders to see if they can match their budget.
Here are some reasons you may want to do the same.
Less Competition (Just Plan Ahead)
I call it "offer fatigue." I have been in markets when every single resale home priced well, considering the location and condition receive 5+ offers... Every time. In these markets, some buyers get reckless. They will waive the home inspection and appraisal contingencies. In some cases, they will even grossly overpay for a home.
For you, the smart homebuyer, it can be hard to win against such blind aggression. On the contrary, new homes have less competition because they are selling homes often that are not constructed yet.
Many homebuyers may have waited until they are up against a hard deadline. So they do not want to wait for a new home. If you can plan ahead, you can get a contract on a home to settle later.
To Be Built
Builders in both larger communities often have projects upcoming with no buyer yet in mind.
Getting in on one of these "to be built" projects is often much less stressful. You sit down with a builder rep, work out the details, sign a contract, and then you have a future home: no bidding wars, no waiting games, and no rushing around.
Another advantage of this is the builder will often allow you to customize the home. You can pick your finishes and maybe even make some interior changes.
The sacrifice here is that you will have to wait for the builder to construct your home. This can take around a year but could be longer or shorter, depending on other factors.
However, the wait is worth getting what you want. Especially if what you want does not exist in the resale home market.
Spec Builds
Going new does not always mean you have to wait. Visit some new home communities with your agent, or have them reach out to some builders in the area.
Often, builders build a "spec home," which essentially means they began to build without a buyer yet in mind.
They will sell these spec homes to anyone interested. The wait on these homes is, on average, much shorter. When you can close depends on where they are in the building process when you get involved.
Sometimes you can also find a finished home where the buyer defaulted and walked away from the contract. There are many reasons a buyer may walk away and often is unrelated to the home's quality. If you find a home like this, you can close on it ASAP and possibly get a good price because the builder wants to sell to start on the next project.
This guide gives lots of information on the different types of new construction homes, including spec builds, custom, and semi-custom.
Getting Your Plan Set
Once you finally sign a contract on a home, you can start planning. Knowing when and where you are moving is a huge deal. You can sign that lease (or not), know when to pack, and start to research your new area.
Different Timelines
As I mentioned before, new construction homes may be available and built already. Or, they may be raw land. So the timeline for your move can vary, depending on the builder and community.
Builders will give you an estimated "delivery date," which is when you can close on the home. This estimate may change, but usually will be pretty close to when you can expect to get the keys. This may change due to external factors such as extreme weather.
The beauty of having even an estimated date is you can plan accordingly. When you are still looking for homes, that element of not knowing where you will live can cause stress. Signing a contract with a builder, even if it is for a home finished a year from now, means you can make your plan for the future.
Potential to Get a Great Location
One thing that many buyers sacrifice during a competitive housing market is location. I think this is a mistake. Location is often the last thing you want to sacrifice when searching for a home. Because it is one thing, you can never change about a property.
Builders are notorious for buying in good locations. They may build and sell beachfront homes, homes nearby lots of amenities, near commuter routes, or nearby upcoming commercial development.
If you go for a new construction home or community, you are more likely to see more premier lots than bouncing all over the map looking at resale homes.
Using the Market to Your Advantage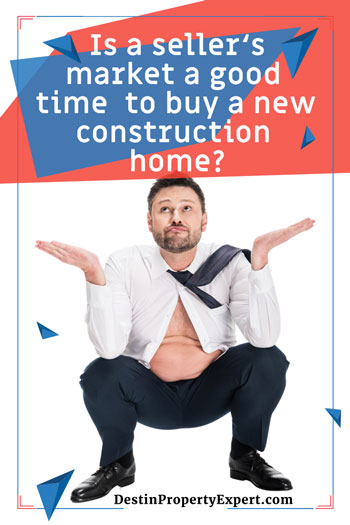 Low inventory markets happen for a reason. Some factors commonly fuel buyer demand that can be good to capitalize on.
A "seller's market" happens when there are more buyers than sellers. The "seller's market" refers to the favorable market conditions to sell a home because multiple offers lead to increasing prices.
But prolonged seller's markets can also be favorable to buyers who can actually get a home. Here are some more reasons why it may make sense to look for new construction during these times.
Mortgage Interest Rates
If mortgage interest rates are low, buyers can borrow more money and/or get a lower monthly payment. An excellent example of this: the 2020 coronavirus pandemic. The rates dropped sharply in response to the pandemic. Although sections of the economy struggled, low-interest rates meant the real estate market roared forward.
Getting a low-interest rate is a big deal, especially when you buy a home you will own long term.
Rising Prices in Your Area
Getting a contract on a new home in a low inventory market gives you a chance to ride the wave of rising values during this time. Rising values are never a guarantee. But the laws of supply and demand say that when supply (homes for sale) is low, and demand (buyers wanting homes) is high, prices will rise.
When you sign a contract with the builder, you are locked in at that price while building your home. This means your home could be worth more when they finish than when they start.
Rising Prices Within New Construction Communities
You may be buying in a community with lots of new construction or possibly an entirely new subdivision. If you get into a community early or midway through the development, your home has a chance to appreciate very quickly.
In a rising market, builders often raise the homes' base prices as they complete more of them. The homes sold in the beginning phase of a community's development often sell for less than the end.
New Construction, Low Inventory: More Info
Frequency of Low Inventory Markets
How often does a low inventory market come about? Real estate markets, just like most things in life, go in a cycle. However, according to Freddie Mac, the frequency of low inventory markets has been increasing in many states of the US.
There is a housing shortage overall in many areas of our country, which contributes to the recurring low inventory.
How can you tell if you are in a low inventory environment? The easiest way is to ask a real estate professional. Alternately, if you hear from friends about bidding wars on homes and how they are struggling to find something to buy, those are classic symptoms of a low inventory environment.
Using an Agent
Builders will not tell you how useful an excellent real estate agent is to the new home construction process. In many new home communities, builders are unlikely to negotiate on price, whether you have an agent or not.
Realtors can help you with the negotiation process to potentially get more finishes and options added, closing cost assistance, and more. They have been through the process many times and can save you from costly headaches. And most of the time, the builder offers a commission to pay your agent.
Find a real estate agent with lots of new construction experience to give yourself the most value. They may even have relationships with local builders and can find out about future projects.
Finding New Construction Homes
Finding new homes in a tight market can be tricky. Lots are online, but many times builders have homes that are still raw land. Visiting model homes with your agent can be the fastest way to determine what they might have coming up on the market.
Conclusion
New construction homes have lots of advantages. Those advantages become even more apparent when there are not many resale homes for sale. Builders are often the solution to a low inventory market for many buyers.
I hope this guide helps you to find out what is the best decision for you. Talking about your goals with a local expert can help you figure out whether resale homes or new construction homes are best for your specific needs.