Buying the Right Condo: 10 Tips on Getting a Good Deal
Posted by Danny Margagliano on Thursday, August 4, 2022 at 2:06 PM
By Danny Margagliano / August 4, 2022
Comment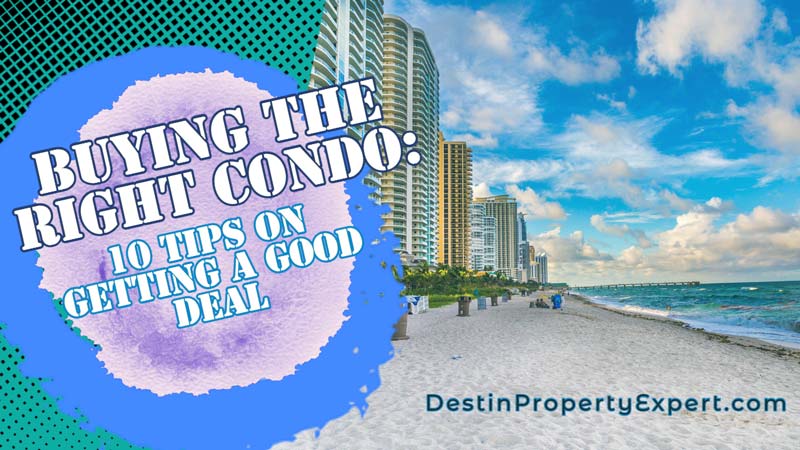 Buying a condo can be a great way to dive into homeownership without taking on all of the responsibilities of a single-family home. Condo-dwellers enjoy amenities like shared pools and gyms, a lower price tag, and less maintenance. Also, you don't have to live in a big city to find a condo - they can be found in smaller towns and some retirement communities. Just because condos come with some built-in benefits doesn't mean that finding the right one is easy – or that you'll automatically get a good deal.
Here are ten tips on how to make sure you buy the right condo and get a great deal in the process:
1. Consider Your Lifestyle
When considering a condo purchase, it's crucial to think about your lifestyle. What are your needs and wants? Do you need a lot of space? Or are you happy with something a little smaller? If you have kids, do you need a place with room for them to play? Is having a maintenance-free property vital to you if you travel a lot?
Once you know what's important to you in a property, it will be easier to rule out unsuitable condos. For example, if you want a large yard but the only condos in your budget are all in high-rise buildings, then it might be time to reconsider your budget. You can consider loft apartments if you are okay with a smaller space. The key is, to be honest with yourself about your needs and wants to find the right match.
On the other hand, if the size isn't an issue for you and you'd prefer to live in an area with more amenities like restaurants and nightlife, finding something downtown may be the better option. Knowing what's essential will help save both time and energy as you start touring different properties.
2. Find a Realtor Who Knows the Condo Landscape
Not all real estate agents have the same level of expertise in condos. When you're ready to start looking for a place, find an agent who specializes in or has extensive experience with condos. They will know the ins and outs of the condo market and any potential red flags to watch out for.
A good real estate agent can also provide valuable insights into different buildings and units, which can help you narrow your search. For example, they may know that a particular building is going through construction or that a unit has been on the market for a long time because it's overpriced.
If you don't have any personal recommendations for agents, look for someone who is a Certified Condominium Specialist (CCS) or a Registered Condominium Professional (RCP). These agents have completed additional coursework and training specifically on condo properties.
3. Get to Know the Condo Board
One crucial step in the condo-buying process is getting to know the condo board. The board is responsible for making decisions that affect all of the residents in the building, so it's essential to make sure you're comfortable with them.
Start by attending a few meetings so you can see how they operate and what types of issues they tend to focus on. This will also allow you to meet other residents and get a feel for the community.
You can also request a copy of the board's minutes from past meetings. This will give you an idea of what kinds of decisions they've made and how they've handled different situations.
4. Decide What Amenities You Want to be Included
A condo can offer a lot of different amenities, from a gym to a swimming pool to a concierge service. But not all condos provide the same amenities, so deciding which ones are most important to you is vital.
Some people might be willing to forego a few amenities to save money on the purchase price, while others might be willing to pay a little more for a condo with everything they want. There's no right or wrong answer here – it all comes down to personal preference.
When working with your realtor, address the types of amenities that are most important to you so they can help narrow down your search. You're buying access to the amenities and the property, so ensure you're getting what you want.
5. Find an FHA-Approved Condo
If you're looking for a condo that you can finance with an FHA loan, ensuring the building is FHA-approved is essential. This means that the building has met specific safety and financial requirements set by the Federal Housing Administration (FHA).
You can check if a building is FHA-approved on the U.S. Department of Housing and Urban Development's website. Just enter the building's address or name, and it will tell you if it's approved.
If you're considering a condo that's not yet FHA-approved, keep in mind that it may take some time for the building to go through the approval process. It can be a lengthy process, so be prepared to wait if that's the route you decide to take.
6. Get a Good Understanding of the Financial Situation of the Condo Association
When you buy a condo, you're also purchasing into the financial stability of the condo association. This means that you should have a good understanding of how healthy the association is financial.
One way to do this is by requesting a copy of the condo association's financial statements from past years. This will give you an idea of how much money they have available to cover expenses like repairs and property taxes.
You can also ask the board questions about how they manage their finances and how much money they typically reserve for emergencies. By understanding the association's financial health, you can avoid any potential surprises down the road.
7. Ask About Potential Risks Involved With Buying a Condo
When you buy a condo, you're also taking on certain risks. For example, if the property values in the area go down, your condo could be worth less than what you paid for it.
It's essential to ask about any potential risks involved with buying a condo before you make an offer. This way, you can decide if the risks are something you're comfortable with and factor them into your decision-making process. Some of these risks include:
The possibility of special assessments if the condo association runs into financial trouble
The risk that rules or regulations could change after you purchase your unit, which could affect your use or enjoyment of the property
The risk that your mortgage lender could foreclose on the property if payments are not made
These are just a few examples, so asking your real estate agent about any potential risks involved with buying a particular condo is essential. They should be able to give you some idea about how likely these things will be and what kind of impact they would have on your investment.
8. Have Your Finances in Order Before You Start Shopping
Before you start shopping for a condo, it's essential to have your finances in order. This means getting pre-approved for a mortgage and knowing how much you can afford to spend.
It's also a good idea to save as much money as possible for a down payment. The larger your down payment is, the lower your monthly mortgage payments will be. And if you can avoid paying private mortgage insurance (PMI), that's even better.
Working with a financial advisor or loan officer before you start looking at condos can help you better understand the different financing options available to you. They can also help you figure out how much you can realistically afford to spend.
9. Consider the Resale Value
When buying a condo, it's crucial to consider the resale value. This is the amount of money your condo will likely sell for if you decide to sell it in the future. You can do a few things to help boost the resale value of your condo. One is to make sure the building is FHA-approved. This will show potential buyers that the building has met specific safety and financial requirements.
Another thing you can do is make sure the condo association is financially healthy. By doing this, you can avoid any potential surprises down the road. It would help if you also tried to choose a condo that's in a desirable area. If the property values in the area go up, your condo will likely be worth more. And lastly, make sure your mortgage payments are affordable. If your fees are too high, potential buyers may be turned off.
10. Hire a Home Inspector
When buying a condo, it's a good idea to hire a home inspector. This person will look for potential problems with the unit or the building. Some of the things a home inspector will look for include:
Water damage
Mold growth
Structural issues
Fire hazards
Electrical problems
Home inspectors can be expensive, but they could save you a lot of money in the long run. If they find any major problems with the unit, you can use that information to negotiate a lower purchase price. Or, if the seller is unwilling to make repairs, you can walk away from the deal altogether.
Buying a condo can be a great way to invest in property without dealing with all the maintenance and upkeep that comes with owning a single-family home. But it's important to do your research and know what you're getting into before signing on the dotted line. By following these tips, you can help ensure you get a good deal on the right condo.