Common Concrete Overlay Issues You Might Encounter
Posted by Danny Margagliano on Tuesday, April 20, 2021 at 2:48 PM
By Danny Margagliano / April 20, 2021
Comment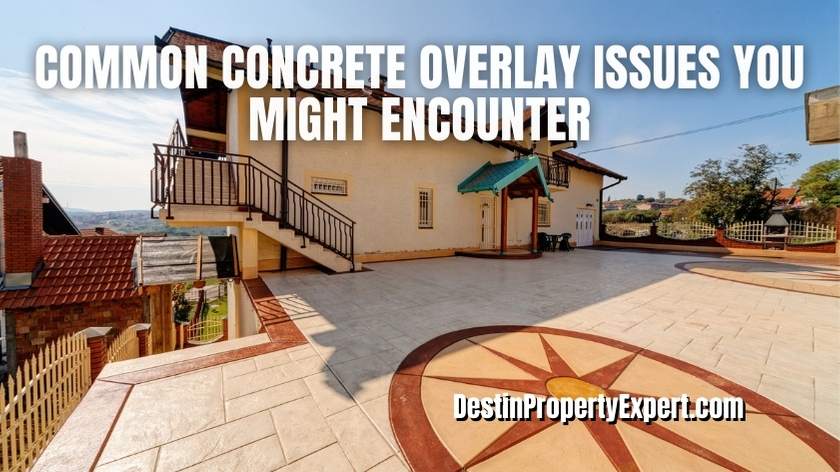 Most commercial and residential property owners consider concrete overlays as among the best ways to improve flooring surfaces. Overlays uplift a floor's function and aesthetics. However, these improvements are not damage-proof. Especially if the installation goes wrong or if workers take substandard materials to use. So, for today, we will tackle the various issues you can encounter with concrete overlays. We will also discuss the ways you can prevent such matters.
Concrete Overlays: What Are They? And What Can They Do?
Do you have any idea what concrete overlays are at all? A concrete overlay is a method of concrete restoration. The process involves a thin sheet or coating of concrete that goes over a pre-existing surface. Plus, the overlay acts as a protection for the structure. You may install overlays for decorative purposes as well.
Overlaying Options
Who says that there is one overlaying option? There are numerous overlaying options available. These will work for both interior and exterior settings. Here are some of them:
• Stamps
If you want to create that natural effect on your surfaces but do not wish to use raw materials, stamps are for you. This overlay option results in the natural look that wood, stone, bricks, and other materials can showcase.
• Micro toppings
Micro toppings are versatile concrete products. You can set them on almost every surface – from pool decks to commercial showrooms.
• Polish Overlays
Polishing overlays provide that seamless and polished finished for your surfaces. This type of overlay does not cost a lot to install.
Common Overlay Issues
Here are the overlay issues and problems you might find yourself having a hard time with. Read on to find out more.
• Discoloration And Flaking
Free-thaw, weathering, and heavy traffic affect your concrete surfaces a lot. And such factors lead to your structure flaking and suffering from discoloration issues.
• Sinking Pavers
Home and commercial owners love having concrete pavers for a flooring solution. The pavers create a sense of style and charm to a place. The best part? They are not expensive and are easy to apply. However, the ground underneath these pavers can suffer from many natural occurrences. Erosion, water penetration, and heavy usage can make the earth sink. And this makes the pavers sink and unleveled.
• Cracks Around The Overlay
Cracks are the most ordinary affairs when it comes to concrete overlays. They can happen anywhere and anytime. It could be due to uneven foundation, lack of preparation, or use of improper coating materials.
• Shadowing
Shadowing is the result of stains and water getting into the overlay. This aspect causes a portion of the structure to darker permanently. Shadowing can get worse quickly if you don't do anything to make it stop.
How To Avoid These Issues
Now you know what overlaying and resurfacing issues you are up against. So, it is high time that you arm yourself with smart solutions to prevent such problems.
• For Discoloration And Flaking
You may opt to use resurfacing mixture to get rid of flaking and discoloration. The mix creates a coat that renews the overlay. And the compound also protects the surface from any further damage.
• For Sinking Pavers
The best solution for sunken pavers is to remove them altogether and apply a gentle amount of all-purpose sand. The sand will act as a foundation for the pavers. Don't fret – the process is easy to do, and it can take less than a day to finish.
• For Overlay Cracks
One of the best ways to stop cracks from forming is through the use of a high-quality sealing product. The sealer prevents any other cracking from happening by sealing the structure.
• For Shadowing
You must first locate the area where moisture, stains, and other liquids enter the overlay. Once you find it, apply flexible caulk to the structure. As a bonus, you also have the option to apply a sealer after using the caulk. The sealer provides additional protection against not only shadowing but other issues, too.
Can I Do The Problem Solving On My Own?
Why, of course. Facing these overlay problems can be a fun DIY you can do anytime. You can take it easy and research further on these issues. Doing so will surely equip you with the skillset and materials you will use to handle the job. You also get to control the expense over the entire undertaking.
How About Hiring A Local Contracting Company Instead?
Professional concrete contractors, concrete floor installers, and local firms, such as Concrete Overlays San Jose, are available. They are ready to fix your surface overlay troubles on your behalf. It would be best to hire one if you do not have the time to repair and maintain your concrete. These companies can get the job done faster and more efficiently – for the right amount, of course.
Conclusion
No matter how hard you work on your overlays, there is always something going on with them. Natural elements take their toll on the structures – affecting them in ways we can't always anticipate. So, knowing about these overlay issues will keep you one step ahead. It allows you to prepare for them once they do occur. If the matter is too much to handle, let the pros get down to business and work on it for you.