Common expenses when buying a home
Posted by Danny Margagliano on Thursday, September 16, 2021 at 4:54 PM
By Danny Margagliano / September 16, 2021
1 Comment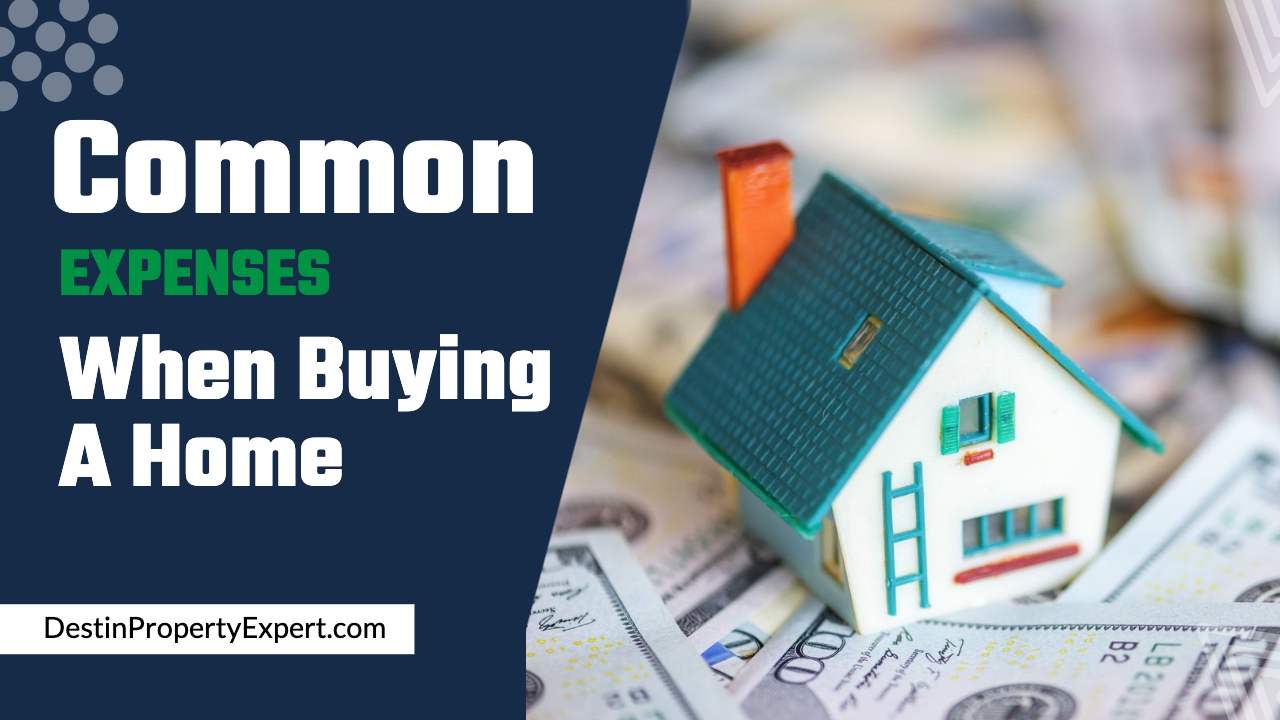 Buying a new home is simultaneously exciting and overwhelming. You have to do a lot before buying a home. Planning your finances is one of the most crucial things to do here.
Financing a home is not only limited to paying the down payment or applying for a house mortgage. It also involves choosing a mortgage plan, paying for the home inspection, etc. The list of expenses when buying a home is long. You must address it carefully to avoid deviations from the master plan.
For that, we bring you a complete list of expenses you have to incur to buy a home. Here is that list for you.
Note: The list items mentioned here could vary in your region except for a few common expenses.
List of Expenses When Buying a Home
This list of expenses will help you manage your finances while buying a new house. It will also help you find smart ways to save costs.
EMD Deposit– (Earnest Money Down)
It is a one-time cost you pay as a show of good faith. The deposit is usually delivered within 3 days of the seller's acceptance of your offer. It will become part of your down payment and reduce the overall interest you pay on your mortgage. Once the title company or closing attorney receives your earnest money down they will deposit it into an escrow account. The deposit amount completely varies between communities, cities, and states. Although, it can be as low as $500 and cash offers can sometimes be in excess of 10% of the purchase price.
Down Payment
While the deposit is not always mandatory, the down payment usually is. It is the cost of a home you pay to put towards the purchase of a home. The down payment could go as low as 5% of the total house's value. However, the preferred down payment is 20% of the home's market value. If you don't put 20% down when purchasing a home or condo you will be required to pay mortgage insurance or PMI. Depending on your financial situation, the location you are purchasing, and other variables you may qualify to get down payment assistance from numerous state, local, and national programs.
There are some benefits and relaxations for first-time homebuyers in several regions. Do ask your realtor to help you get them.
Home Inspection
This small cost could save you from big troubles. A home inspector will analyze your new home from top to toe and give you a complete list of items requiring your attention. Depending on the home size, build, and age, the home inspection could cost you between $300 to $1,000.
While buyers generally pay this cost, there could be arrangements where the seller agrees to pay the sum or share part of the amount. Also depending on if you're purchasing your property as-is or non-as is your home inspection is equally important. If you're purchasing a property in the as-is condition you want to see the extent of repairs needed and if you are okay with it. If you're purchasing a home non-as-is the seller will make certain repairs on broken items. The amount of repairs is negotiable but generally starts out at 1.5% of the purchase price.
Land Transfer Tax
It is the tax you pay to the province or territory when buying a home. It is calculated as a percentage of property value. In some areas, there is also a municipal land transfer tax above land transfer tax (LTT). The land transfer tax usually ranges between 0.5% to 2.5% of property value.
The tax rates will vary in different regions. Some regions are exempted from this. Do consult your realtor before buying a home.
Property Taxes
Property taxes are charged annually. Generally, a property tax is calculated by multiplying the house's current market value with the local applicable property tax rate.
The current average tax rate in Florida is 0.83%, which means for a property of $1,000,000, you need $8,300 to pay the property tax rate for the current year.
Miscellaneous Title Charges
You will typically find a list of miscellaneous fees when you get the closing statement that may surprise you. For example, here are some real examples of a condominium in Florida with a purchase price of $725,000. The title company charged a courier fee of $25, lenders endorsement fee of $50, an additional endorsement fee of $400, lender's title policy of $300, Lien search fee of $150, title search fee of $525. The best way to know about any of these fees is to ask for an example closing sheet from your realtor. They can then ask the closing attorney or title company to list out all the fees you will be responsible for. That's the best way to make sure there are no unpleasant surprises.
Land Survey
It is not always a mandatory cost to incur while buying a home. Mortgage lenders often require homebuyers to get a land survey to define the property's boundaries. It mitigates any confusion with neighbors in the future. The typical land survey cost is between $1,000 to $2,000.
Appraisal Fees
Sometimes, the mortgage lender might ask you to hire an independent home appraiser. The company or individual will evaluate the home's current market price. The typical home inspection cost is between $350 to $600. The appraisal fee is not tied to the home price or home value. Although the price may be affected by the size of the home.
Legal Fees
A real estate lawyer will prepare all the necessary legal papers and ease your burden to buy a new home. They are experts in preparing legal documents and could charge a legal fee of $900 to $1,000.
New Construction Warranties
Warranties come only with new homes. They are not mandatory everywhere. New home warranties cover work and material defects, in addition to structural abnormalities. Essentially this home buying expense saves you from paying any repairs due to builder error. The typical cost of new home warranties ranges between $300 to $1,800.
Mortgage Options
When you're ready to make a home purchase you will have to make a decision on what type of loan will work best for your finances. For the lowest down payment people typically choose an FHA loan which can be 5% or less for the down payment. However, VA loans offer 100% financing with no down payment. The most common type of home loan is a conventional loan. This is because they require a little bit larger down payment but do not have any type of PMI or MDI. There are also many first-time home loan programs for people purchasing their first house.
Mortgage Default Insurance
When you pay a down payment of less than 20% of the home's value, you could be asked to pay mortgage default insurance or private mortgage insurance (PMI) - it protects the lender if the buyer defaults. The cost of mortgage default insurance depends on the percentage of the down payment. It may also vary in different parts of the world. A typical estimation gives us a cost range of 2.8% to 4% of the mortgage value.
Mortgage Life Insurance
This type of mortgage insurance protects homebuyers. If the buyer passes away before the mortgage term expires, the insurance provider will clear off the remaining debt owed to the lender. The deceased family will not have to pay anything to the lender. But will not get anything from this insurance.
Title Insurance
Often sellers will ask you to buy title insurance. This type of insurance protects you from title defects, omissions, or errors. The cost of title insurance depends on the type of property, its location, value, new home or older home, etc.
Homeowners Insurance
When you are buying a house, you may have to purchase several insurances. The home inspection, as the name sounds, covers damages related to your home. Its cost depends on your details, home features, and the amount of coverage. Your homeowner's insurance is one of the most important things you have to pay every month with the exception of your mortgage. The last thing you would want is to have your homeowner's insurance get canceled and have your house get damaged or even worse, totaled.
Sales Tax
When buying a new home, you are likely to pay different types of taxes, including the goods and services tax (GST), the harmonized sales tax (HST), or perhaps both. In some regions, this sales tax could go as high as 15%. GST is also applicable to the services you acquire during the home buying process.
Closing Costs
Closing costs completely vary depending on many things. The closing date is something that will alter the amount of money you're responsible for like HOA fees, taxes, insurance, etc. These fees will be prorated depending on the closing date.
Various things already discussed in this article are part of the closing costs for home buyers. If you looking to have the lowest possible closing cost the only way to really make an enormous difference is by paying cash. Being a cash buyer eliminates some of the bigger expenses such as mortgage insurance and other fees. tied to the mortgage loan itself. no matter whether you purchase your home with cash or with a loan there. will also be attorney fees. This also is a fluctuating cost depending on location. If you are concerned with any of these fees your realtor should be able to give more clarification.
Utilities
It often happens when a previous homeowner pays utilities and property taxes beyond the closing day. Here the new owner has to pay off the charges paid by the previous ones and settle their accounts.
This cost is merely a settlement between a buyer and seller. It is usually not legally binding.
Moving Costs
When you buy your principal home, you also need to keep in mind that there would be some relocating or moving costs. The moving cost will vary and depends on renting a truck, buying packing boxes, moving on your own or hiring a team, and so on.
The average moving cost is about $1,400.
Homeowners Association (HOA)
A home in a community generally requires you to pay a homeowners association (HOA) fee. This monthly cost will depend on the association and usually covers security, car parking, pool, gym, etc.
Additional Costs
There could be some other costs associated with buying a home, such as:
● New appliances
● Renovations or repairs
● Service hook-up fees
● Condo fees
● Landscaping expenses
● Snow clearing equipment
Conclusion
Now that you have a list of expenses to incur when buying a home, you also need to consider saving as much money as you can. That could only be achieved if you are working with an expert real estate agent. An expert realtor will not help you buy your dream house but will also help you save your buying costs. Finally, is very important to realize that the above expenses will vary from location to location. Furthermore, not all of these expenses will apply to everyone. Now that you have this information get out there and start looking for a home that is perfect for you and your family?