What a comprehensive home warranty should cover in Destin
Posted by Danny Margagliano on Friday, June 19, 2020 at 3:23 PM
By Danny Margagliano / June 19, 2020
Comment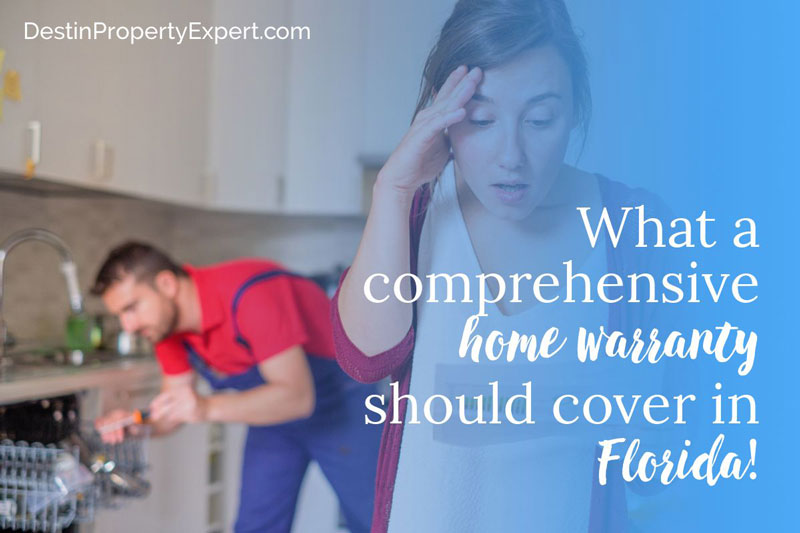 Many homeowners worry about expensive repairs to their homes. Air conditioning repair, for example, can put a dent in your budget. One way to alleviate those concerns is to have a home warranty, a service contract that covers repairs or replacements to the major systems and appliances in your home.
You can purchase this contract at any time. Typically, the warranty is good for one year, but you can often renew the contract if you desire. Many sellers purchase a home warranty for the homebuyer as a way of offering confidence in the new purchase.
What your Destin home warranty should cover?
Your home warranty can be tailored to fit your needs. A comprehensive plan will generally cover the major systems and appliances in your home, including the following:
Air conditioning, heating, and ductwork
Electrical
Doorbells
Smoke detectors
Ceiling fans
Plumbing, water heaters, garbage disposals, and water dispensers
Central vacuums
Refrigerators, ranges, ovens, and cooktops
Dishwashers
Washers and dryers
Built-in microwave ovens
Trash compactors
Freestanding ice makers


You may also be able to purchase optional coverage for a home with a swimming pool full spa, a second refrigerator, and a chest freezer.
How does a home warranty work?
When a component in your home breaks down, you would call the home warranty company. If the breakdown is included in your plan, you are set up with a licensed and pre-screened service provider, such as an HVAC contractor.

The technician assesses your situation and gives you the information you need to make a repair. You pay the service fee associated with your home warranty. The rest of the cost is covered by the home warranty company. It's peace of mind for your home.
Benefits of a home warranty in Destin
The biggest benefit of a home warranty is that you don't have to worry about major repairs. You only pay the service fee, which ranges from $75 to $125, depending your home warranty plan. The monthly fee is a fixed price that protects you against the unexpected. When owning a home or condo in Destin or Santa Rosa Beach Florida things like your air conditioning unit outside takes a beating from the salt air. Knowing that if anything goes wrong you won't be out of pocket much more than $100 is nice to know.
Home warranty plans offer customer service 24 hours a day, 365 days a year. You don't have to price compare between contractors when you're looking for heating repair. You know exactly what your fee will be. The home warranty company sets up your appointment and has already screened the contractor.
When purchasing your home warranty, you'll want to make that there are no age restrictions on the home, systems, or appliances. Some companies don't require a home inspection. Most home warranties are transferable to a new owner. If you're selling, the buyer can enjoy the same benefits that you do. It can really make your home stand out in listings.
What to know about buying a home warranty plan
Purchasing a home warranty plan can be daunting. You have a lot of choices. You may already be covered and not realize it. If you have a newly built home, the builder may have to warranty the home for up to 10 years. Most home appliances and systems have a warranty, too, although it may only be one year.
You may want to compare the age of the covered items on your home warranty against its average life span. For example, your refrigerator has a lifespan of 14 to 17 years, assuming you get proper maintenance. If you have older appliances that will need to be replaced in the next few years, a home warranty may save you money.
You should read the contract and know what is covered and what isn't. You will most likely have to maintain the systems and appliances to make sure you're covered if something breaks down. The home warranty may not cover incorrectly installed appliances or appliances that weren't maintained. Some brands might not be covered because of pre-existing problems.
Home warranties can be very beneficial to homeowners who don't have a big bank balance to make repairs. However, you do have to do your homework to know what you're purchasing. You should also ask if you can cancel the policy and how many service calls you can make each year.
The real estate industry is booming Santa Rosa Beach, Florida. Home warranties protect your home against the costs of expensive repairs. It's a good way to maintain your home without worrying about your budget. Look for a home warranty that is comprehensive.