8 Things To Consider When Hiring A Custom Home Builder
Posted by Danny Margagliano on Tuesday, August 23, 2022 at 5:32 PM
By Danny Margagliano / August 23, 2022
Comment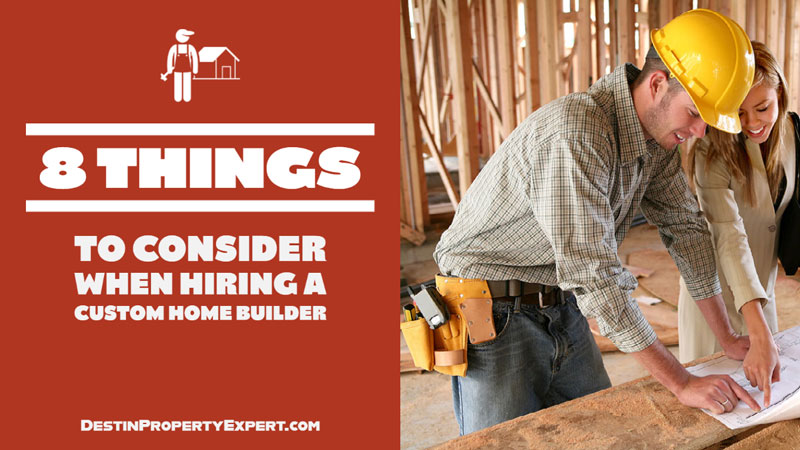 If you are preparing to build a home that is unique, special, and luxurious in every way you will require the services of a custom home builder. A custom home builder is one who will work alongside you to bring your personalized home to life for several months if not longer so he/she needs to understand you well and have the utmost expertise and work ethic. Not all custom home builders are alike so here are a few things to consider when hiring one for the best results.
1. The Many Tasks A Custom Home Builder Undertakes
Custom home builders have a vast knowledge and wealth of experience when it comes to building materials and techniques and they will work closely with your architect to decide how to bring your vision to fruition.
As time goes on they will educate the homeowner about all the building products being used and the best materials for tasks such as roofing, tiling, flooring, and so forth. Home builders can also help a homeowner obtain paperwork like the certificate of occupancy and they are useful for aiding in loan requests and communicating to the bank the approximate cost of the project at every turn.
2. Finding A Uniquely Gifted Custom Home Builder
A custom home builder as the name suggests is no ordinary builder. These builders are often experienced in more luxurious building concepts such as a stone fireplace for example and finding one who specializes in the materials and techniques you will require can sometimes take a while. Certain organizations in every country do provide a database with the information of the registered home builders in every locality such as Pittsburgh custom home builders but you will still need to individually single out the ones that suit you and create a shortlist.
Once you have shortlisted some builders you can go on to interview each one by one determining whether they have specialized experience in the style of home you are trying to build for example a Victorian style home, Greek Revival, or French country to name a few. Whether their portfolio of work includes projects in that style or not is also a good indicator. When interviewing look for a personality that clicks with yours as you are likely to be in daily contact with the builders for the next several months.
Go online to forums and websites and check client testimonials about the builders you like and let them be a guide regarding the one you choose. Lastly do not forget to carry out a thorough background check including credentials, licenses, formal education, and the years of experience they have backing them up. Organizations like the Better Business Bureau have records of whether any complaints have ever been registered against any business or builder and it is a good idea to check there before you enter into a contract.
3. Understanding What Goes Into An Estimate
If you are a first-time aspirer to a beautiful luxury home you may fall short of accuracy when it comes to knowing the approximate cost of a colossal project. An experienced custom home builder will be adept at figuring out the approximate cost which undoubtedly helps in securing funding or loans or deciding on which assets you need to repurpose. Furthermore, accounting for inflation is a major component of the process of building a home as every item (especially if there are imported materials) may change the price as the build proceeds and get more expensive depending on how your currency is fluctuating.
In the general cost, you will also need to account for extra, miscellaneous costs that affect the critical path (a pathway designed by managers that outlines the steps needed for the completion of a project within a given timeline). Lastly, the employee costs, designer costs, taxes, and the builder's own fee are a vital component of the overall sum that will need to be paid. It is worthwhile to know that there are rarely lump sum payments in house building (apart from the purchase of land perhaps) and the money has to be paid over a period of time.
4. No One Man For The Job
While a custom home builder may indeed be a man of many talents and considerable expertise, it is a common mistake to assume that he/she can undertake all the tasks required for building a home. While a custom home builder may offer references and recommend people for the job that they have worked with before, generally you will need specialists for different aspects of building. You may need a commercial painting contractor for example when you reach the stage of painting and finishing up your walls, the same applies to other tasks such as flooring, plumbing, and electrical.
Furthermore, as the amount piles up, most homeowners have to make a tough decision regarding letting their dream of oak flooring go for example in favor of better appliances or a more stylish roofing style. As discussed above, costs are always more likely to increase rather than decrease so be prepared to compromise on some level and know your home will still look amazing if you have successfully hired talented people to work on it.
5. Clear Contract Specifications
Before work is started on your house, you will undoubtedly need to draft a comprehensive contract with your main contractor or custom home builder. For legal reasons as well as personal preference and comfort level make sure everything is outlined carefully in the contract because, in the case of non-compliance, a lawyer may be able to use the 'read between the lines' argument.
Even factors like estimated time of completion should feature in the finished contract, and be wary of negotiating terms on your own especially if you've never had a house built before. As far as possible try to have a professional practicing attorney draft the terms of the contract and be present as a witness when you sign.
6. The Qualities That Make A Brilliant Custom Home Builder
Building a home is just as much about focus, drive and work ethics as it is about expertise and skill level. A custom home builder needs to have a plethora of qualities that you should look for when you are interviewing your shortlisted candidates.
Great builders need to have stellar organizational qualities and acumen. They should be fond of sticking to a schedule, keeping lists, and generally being responsible with the funds allocated to them. Record keeping of expenditure also falls inside good organizational qualities.
Management skills are a huge part of running a team successfully when working on a project of high stakes (as custom homes generally are). Try to deduce how well your shortlisted builder works with others, how they communicate information, and how they ensure a solid team effort and bring out the best in their employees.
Time management is key as weather, financial problems and a score of other concerns can halt or slow down projects. When external funding is obtained for building a house, there is a definite timeline of repayment so delays can be costly for a homeowner especially when you account for interest otherwise known as the cost of borrowing.
Understanding directions and the homeowner's vision is a part of good communication which is indispensable for a project like a home build. The custom home builder you choose should understand and take note of what you are looking for and provide useful solutions if problems arise.
7. Pay Special Attention To The Roof & Other Structural Elements
Inexperienced homeowners may only be interested in how impressive or aesthetic the exterior of a house looks. However, structural concerns such as the quality of concrete or drywall used, the roofing material, and even the plumbing are extremely important and affect the quality of life in the house on a day to day basis. Employ experts like a roofing contractor to advise you on the best roofing material to use, for example, bearing in mind the climate and the environment surrounding your home. Incorrect decisions in this regard can be very costly in the long run as water can seep into rooms and even cause pest infestations to take hold.
8. Some Red Flags To Watch Out For
Here are a few red flags to watch out for before you decide on a custom home builder:-
Does the builder lack any kind of liability insurance as far as their work and employees are concerned?
It takes a minimum of 5 years for a construction business to be truly profitable, has your builder been in business for less than that?
Is the builder charging a larger fee than others in the same area?
Is he/she averse to having a formal contract drawn up that outlines their responsibilities and fees?
Is your builder keen to use your house for marketing purposes on their website or social media without prior permission or payment?