Construction Essentials for a New Home Build
Posted by Danny Margagliano on Monday, March 22, 2021 at 11:08 AM
By Danny Margagliano / March 22, 2021
1 Comment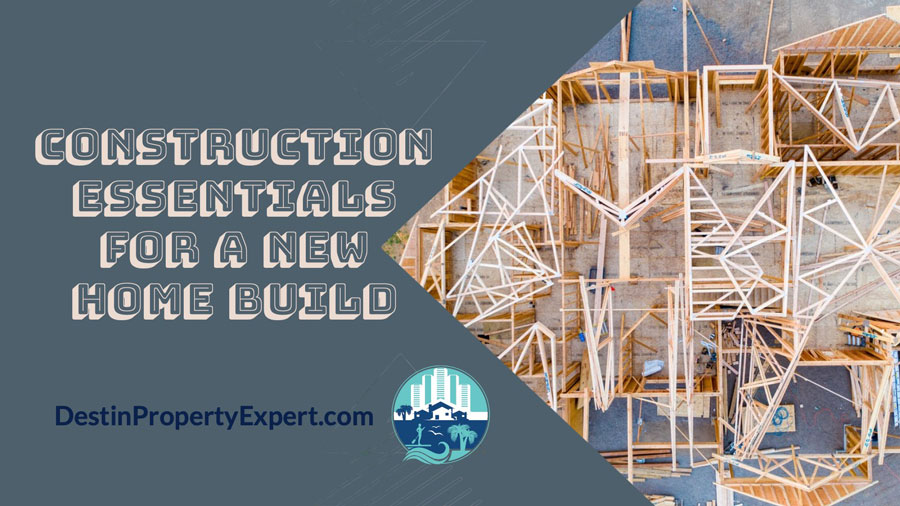 Whether it's a self-build or contracted to one of the many professional building companies, new home builds involve many construction steps that need to be followed in a structured manner. From site preparation to the final hand-over, construction essentials are required to ensure that the home build is completed within time and budget limits, complies with regulations, and, above all, safe and with minimal environmental impact.
Ensuring Compliance with Building Regulations
Before the first sod is turned or concrete poured for foundations, obtaining regulatory approval and permits is essential for activities across the entire home build, including site zoning and grading through later phases such as electrical and plumbing work. This is a time-consuming process, but it's essential to get this done upfront to ensure that the construction site is not closed down midway by the regulatory authorities.
Minimizing Environmental Impact
Local government authorities have a regulated responsibility to ensure construction sites minimize their impact on the environment. They also have the authority to close down an environmentally-hazardous site. There's also growing public pressure for all industries, including home construction, to be eco-friendly. An environmentally irresponsible construction company will quickly lose customer trust and goodwill.
Site Management Plan for Environmental Impact
To fully control your construction's environmental impact, it's advisable to develop a site management plan to ensure that construction activities don't contaminate the surrounding environment. For example, heavy rainfall can result in sediment runoff, which can leak contaminants such as bits of concrete and plaster and paint off-site.
It's also important to include proper waste management on-site into the site plan. An emphasis on recycling site waste is a fundamental principle of a 'green' building operation.
Other 'polluting' issues that need to be managed are the traffic to and from the construction sites. Even for home builds, heavy construction equipment and vehicles are required and, if not managed properly, can cause damage both to the site itself, as well as to the surrounding road network and footpaths.
Site Safety
It's important to remember when hiring a contractor for a home build that both parties are required by law to ensure that all reasonably practical steps are taken to prevent harm to the personnel on-site. This means that hazards must be identified and removed, isolated, or minimized to the best extent possible.
Health and Safety Site Plan
As with the environmental impact plan, it's important to have a health and safety site plan regarding regulatory compliance. The potential homeowners should request a copy of the plan before entering any contractual agreements.
The plan should include defined roles and lines of responsibility for the site's health and safety. Whether the new home build is a small bungalow or a large, extravagant villa, there will be numerous sub-contractors working on-site at various times. Therefore, clearly delegated, consistent, and uniform oversight and responsibility are essential to maintain health and safety throughout the construction activity.
The plan should also identify potential safety risks and hazards, as well as specify control measures. These include displaying warning signs and notices emphasizing the importance of wearing personal protective equipment, such as gloves, safety glasses, helmets, hard hats, and boots, and controlling site access.
Safety Information
Informed construction personnel are safe personnel. Therefore, providing guidance on how to make the working environment safe and ensuring that it stays safe at all times is crucial. Ongoing reminders, safety meetings, and displaying safety tips are important.
Vehicle and Machinery Safety
A major cause of accidents on-site is careless behavior around vehicles and machinery. While there are various types of machine accidents, the most common are when a machine or vehicle runs over or pins a worker or knocks or drops its load onto a worker. These can occur when the operator loses control, but it's also due to other workers in the vicinity not maintaining a safe distance.
Addressing this issue is an essential component of safe construction activities and should cover how to operate machinery safely and how to work safely in the vicinity of operating equipment.
Loading and unloading equipment on-site can also present a hazard, and construction workers would be made aware of the importance of the correct procedures. These include making sure loading and unloading is done on level ground to avoid rollovers.
Site Access
It's essential in a construction site that only authorized people are allowed access to the site. Potential homeowners often make the mistake of bringing their own private contacts onto the site, unaware that it will not be the builder's responsibility if one of the private contacts suffers an injury. It will be the homeowner who will be held responsible.
Site Fencing
To ensure controlled access to the site, it is important to ensure that it is fenced off properly. However, there is a further advantage to fencing off the site as fence mesh wrapping and banners are widely available from reputable suppliers, meaning the fencing can be used productively for displaying various signage and information.
Fence signage from banner mesh provides high-quality and visible printing of information and graphics, from safety signage to details regarding the development and contractor. Therefore, it provides a convenient way of displaying signage and can also serve to hide messy construction activities from the public and help prevent debris and dust from polluting the environment outside of the site.
Protecting Your Materials
Building Materials Storage
The proper care and storage of building materials is a further important consideration. Badly stored and handled building materials present a safety hazard and a potentially huge loss in terms of wastage. For example, uncovered timber drenched by heavy rainfall will be unsuitable for framing.
Insurance Cover
Insurance cover for materials stored off- and on-site is advisable to protect the homeowner's investment against theft, as well as in the event the builder goes into liquidation.
You must be very excited while building your new home, but you can make your project more of a success by considering all these measures so you can make the construction process safer for everyone.
Additional Real Estate Resources
When building a new home to live in, not everyone can purchase a custom-built property. This can lead to new construction looking similar. Alex Capozzolo goes over every reason why many new homes look the same in one of his blog posts.
So you are looking to build a new house. Most people are not in the position to have the money lying around to pay cash. Petra Norris has written a great article about getting a new construction loan. These types of loans are much different than getting a loan for a pre-existing house. See what she has to say.
Kevin Vitali has put together a nice article about what to look for when buying a new home. It's not all about price when buying a new home. Find out the top things to look for in Kevin's article.