The Costs of Patching, Replacing or Repairing Your Roof
Posted by Danny Margagliano on Sunday, May 16, 2021 at 11:36 AM
By Danny Margagliano / May 16, 2021
Comment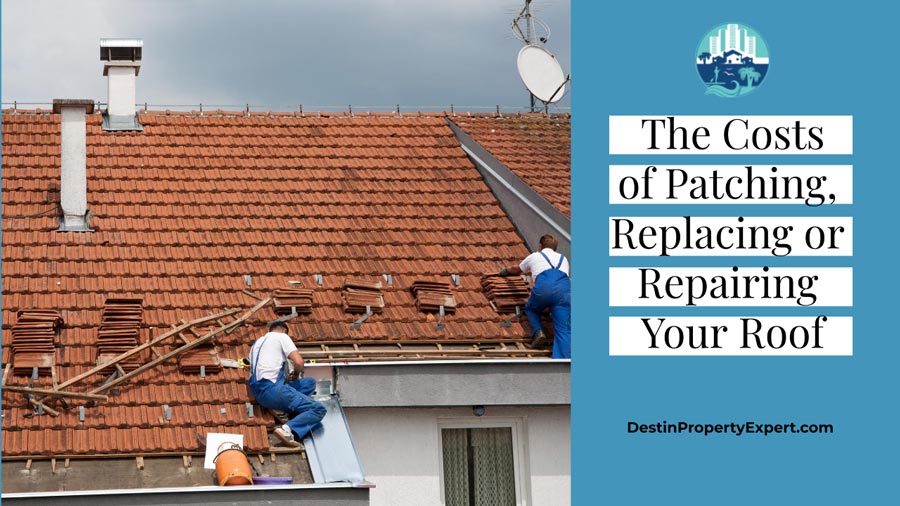 When water is dripping from overhead and trickling down into an office area or living space, there is little question that a roof repair is needed. Whether this involves a patch or if replacement is required depends on the extent of the damage. The question often concerns the cost versus holding off or making do by patching up the leak. It's a gamble that every homeowner will need to make at some point.
The roof has a big responsibility. It protects the contents and the structure of the home or building, including the occupants. Wind, rain, snow, and even intolerable heat from the sun, the roof is always there to protect while taking a silent beating. Regular inspections, maintenance, and repairs are necessary.
Investing in quality roofing adds value and curb appeal to a home. Regular attention and care are essential. Typically, time and weather cause damage creating leaks that only get worse if they are left unattended. Fixing small leaks is prudent before the problem gets more complicated - it's important to address roof issues right away.
Most roof leaks result from tiny cracks, water infiltration, and roofing seams, which might challenge identifying what kind of repair is needed.
If the roofing is more than 20 years old, it may be time to replace the old shingles. If the total cost of the roof repair will reach or nearly have the same price as the complete replacement, maybe replacement is a better investment.
Signs That You Need a Roof Repair
While the roof might not show any significant signs of damage, it doesn't mean that it doesn't require a roof repair. Most of the roofing experts recommend a regular inspection to ensure that it is in good condition.
Be sure to focus on these signs during the roof inspection to determine if it's time to have a roof repair
Signs of the presence of mold or water stain
Presence of algae or moss on the roof
Cracked, curled, or missing shingles
Rusted components on metal roofing
Sagging
The demand for roofing installation and repairs has increased over the past few years. And because of that, manufacturers have increased the price of materials as well. The price has risen by 10% in the last year alone and long delivery times are becoming the norm. If you plan to have a roofing repair or installation, start as soon as possible to avoid further price increases and allow extra time for materials to arrive.
Average Cost for Roof Leak Repair:
Average national cost: $750
Average range: $400 - $1,000
Minimum cost: $150
Maximum cost: $8,000
The national average for standard repair work is $300 to $1,500, with most homeowners paying $750 for leak repairs and patching.
Nevertheless, pricing varies depending on the situation and the required work. Repairing two or three cracked shingles can cost on average about $50, but the total replacement of tile shingles for a colossal roof can cost up to $10,000.
Auto fireplace
Roofing materials impact the cost of the repair. Solar panel roofing replacement or leak repairs are usually in the warranty. Cedar shingle roofs typically cost from $250 up to $800 for replacement and repair. The type of roof material impacts the overall cost of the repair.
Slate Roof Leakage Repair
The cost of roof leak repair for slate material is about $250 per job. Some will pay up to $1000 for repairs. Usually, the work is to cover up/replace the missing or broken shingles caused by weather and shingles worn out over time.
Leak Repair for Asphalt Shingle Roof
This repair will cost from $150 to $500, with most homeowners paying $350 for a leak repair job, depending on the damage and the work required. This type of roof is also tricky to diagnose because the pattern of shingles can hide the broken parts. Typically, vertical slits and damaged shingles are common problems with this roofing material.
Leak Repair for Metal Roof
The average cost of a metal roof leak repair is about $700. And again, the actual price will vary depending on damage severity and accessibility of the repair. However, the restoration of this roofing material is not frequent. Metal roofs mainly develop leaks due to rust, gaps formed by shrinking, and debris. Homeowners tend to prefer this type of roofing because it has more longevity and it is durable and requires less maintenance.
Leak Repair for Tin Roof
A tin roof repair is typically less expensive than a metal roofing leak repair, costing an average of $600. The repair cost will also depend on how severe the damage to the roof is. Accessibility will also impact the cost. The advantage of tin roofs is that they require less maintenance and more longevity than other materials.
Leak Repair of Clay Roof Tile
Clay tile roof leak repair will cost an average of $500 and range from $300 up to $700 to repair a specific section. Repairing this type of roofing is a bit costly, but on the other hand, this clay roof offers more longevity. This roofing material doesn't require a lot of repairs because of its durability. But they can be easily damaged or cracked by the elements. If there are leaks in this roofing, most homeowners require a replacement of the entire section of the damaged area, which can cause much more extensive work than any standard leak repairs.
Leak Repair of Composite Roof
Composite roofing uses two types of material to have a relatively affordable finished product and inexpensive costs. An average roof repair is usually about $300. The repair cost will also vary depending on the type and severity of damage involved and whether poor seals, damaged shingles, compromised joints, and flashing issues. These factors impact the final project cost.
Leak Repair of Wood Roof
Wood roofs need regular maintenance and repairs. The average cost to repair cedar or wood roofing material is about $800. The type of wood material, the severity of the damage, and accessibility will impact repair costs. Mostly a cedar or wood roof will have leakage around the chimney. It usually involves the replacement of valleys of the roofing or shingles. Wood rot spreads quickly, so it is a must to address the issues of the wood roof as soon as possible to minimize the damage.
Leak Repair for Solar Tile Roof
Solar tile roofing is very new and does not have standard pricing yet for roof leak repair. This unique fresh design roofing option is not as readily protected compared to other roofing materials. You need to ask the installer or the manufacturer how to handle the situation if any leaks are found. Mostly these roofing tiles have a 25-year warranty from the manufacturer, so leak repairs are covered.
Does Your Insurance Company Cover Roof Repairs?
Typically, homeowners insurance covers some of the roof repairs. Most of the insurance policies cover things like fallen trees, high wind, and hail damage. Usually, insurance doesn't cover leaks caused by wear and tear, lack of maintenance, or age. Each insurance company has its policy, so it is best to review and read the policy carefully.
To learn more about roofing product materials tips and guides for the best roofing styles and the best roof hatches designs, come and visit us at https://bestroofhatches.com/.
Additional Real Estate Resources
Kevin Vitale has put together an excellent article discussing what it's like to sell a home with solar panels. Find out if it's going to make it easier or more difficult to sell your home with solar panels.
Alex Capozzolo has put together a type of checklist to go over before selling your house. You will find that there are things you need to do to both the interior and exterior of your home. Some may seem obvious but there are also other not-so-obvious items that you don't want to miss.