Deal Breakers to Avoid When Staging a Property for Sale
Posted by Danny Margagliano on Thursday, June 18, 2020 at 9:15 PM
By Danny Margagliano / June 18, 2020
Comment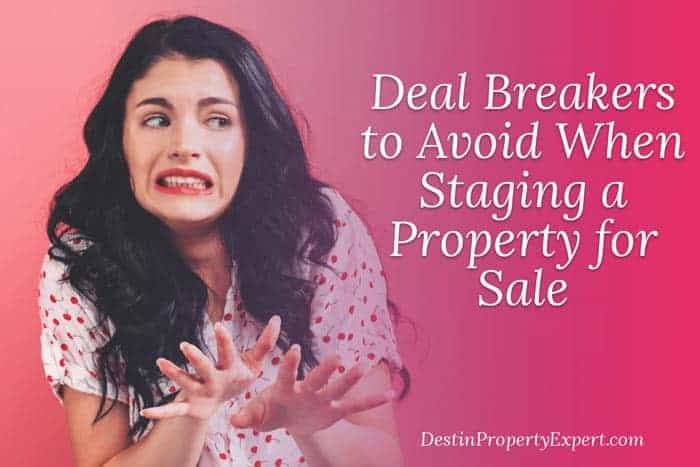 A crucial step in the home selling process is staging. When done correctly it can help a great deal by making it all go faster and very often for more money than initially anticipated. Staging is an important element of your home marketing and it should be given due attention.
It all comes down to presenting your home to potential buyers in such a way that they can imagine themselves living there. Good home staging needs to grab buyers' attention immediately and appeal to them on an emotional level. If you're planning to stage your home for a sale, here are several common deal breakers you'll want to avoid at all costs.
Don't personalize your home too much
As previously mentioned, personal aesthetics can get in the way of successful home staging. You might love pastel colors everywhere, but to a potential buyer of different tastes, your home may look too bland and boring which makes it difficult to notice its potential.
The same can be said of personal trinkets, treasures, ornaments, and collectibles. Not all of your favorite collections need to be displayed. Instead, pick one or two most striking ones and leave more clear spaces. Too much of your belongings can be off-putting.
Do declutter
It's imperative you declutter and minimize when you stage your home, but don't overdo it so your home appears cold or empty. It needs to be welcoming and inviting so the potential buyers feel comfortable. A room that is too empty and sterile would dissuade people and if it's too packed, it'll be distracting. A cool hack to use so you can have everything looking neat and tidy is having around a few attractive, decorative baskets. If there are any toys scattered around, just chuck them in minutes before the open house begins.
Don't forget about the outdoors
First impressions are everything in home staging, but it'll all go in vain if the buyers see a messy backyard. Don't forget to spruce up the outdoors, both at the front and at the back of your house. Rake the leaves, add gravel and mulch, prune the shrubs, and refresh the driveway. You could also rely on a professional landscaper to make your greenery more appealing.
A key element in your backyard is the patio. Everyone likes a backyard oasis where they can kick back and relax, and that can't be done without comfy outdoor furniture tastefully arranged with a stylish outdoor rug, luminous lanterns and colorful cushions. This will surely help buyers envision themselves enjoying outdoor living.
Don't skip the area rugs
Area rugs can also do their magic indoors by enhancing the already impressive hardwood floors. Strategically placed, area rugs help define the open concept layout by making them appear more polished and pulled together. Even in bedrooms, area rugs positioned over neutral carpets add more warmth and texture to a room, whereas in sitting areas, your living space seems more intentional and inviting.
Don't go too trendy
Modern décor is fine, but leaving only sharp, clean edges and countertops can make a home appear too sterile and cold. You definitely shouldn't overdo it with decorations, but a few cushions, curtains, and a mix of square and rounded furniture pieces can make your home feel warmer, more welcoming, and inviting.
Don't forget about plants
You can never make a wrong move by adding greenery to a room. Potential buyers love seeing plants as they add vibrancy and freshness that make rooms appear more welcoming. Place succulents and small vases with flowers as centerpieces on your tables and counters and orchids in bathrooms for a touch of elegance.
Don't use artificial air fresheners
Besides pleasant appearance, the smell in your home can also play a major role in the home selling process. Your home smell should certainly be crisp and clean, but it definitely shouldn't be overwhelming which general happens if you use artificial fresheners.
It could easily happen that some buyers have allergies to certain fragrances so it will put them off. The best course of action is to air your home before showings to have the indoors smelling fresh so you wouldn't feel inclined to use too much fragrance. If you still decide to use some, use a small amount of diffused citrus or vanilla essential oils sparingly.
Don't overdo it with art pieces
Having artwork displayed around your home is a great design tool that can help bring variety, character, and class to any space, but having it too much can be distracting to buyers. Moreover, people generally have very different tastes so it could easily happen that an art piece you find impressive seems offensive to someone else. When you stage your home, try to pare down your collection and place it strategically throughout your home. Pick the right pieces and the right spots so they appear attractive to potential buyers.
Don't spend too much money on renovations
Finally, don't overspend by doing major renovations. It will only slow down the selling process rather than add more value. Go with smaller updates instead such as giving your kitchen and bathroom cabinets a fresh coat of paint, replace the hardware, update light fixtures, and put up wallpaper to create a feature wall.
Do work with an agent
It's quite obvious that no one knows your home better than yourself, but on the other hand, no one knows the market and buyers better than a real estate agent. They are the ones who understand the best what buyers want and what you should do regarding home staging to assist the process.
An experienced and successful realtor will tell you that buyers can't have an objective view of a home if it's cluttered with family memories and personal items or if it's interior and outdoors seems shabby and neglected. This is why not relying on expert opinion when it comes to staging your home is the biggest mistake you can make.
When marketing your house for sale, staging it is instrumental in making a sale and reaching the desired price. Hopefully, these tips and the help of a creative and experienced real estate agent will help you do a great job, add value to your home and sell it in the shortest time period possible.
Additional real estate resources
Take a look at these affordable staging tips from Kyle Hiscock. You will find them refreshing after finding out what not to do in the article above.
Eileen Anderson shows us how to prepare our home prior to getting our real estate photography taken. This can be one of the most important aspects of your listing. Pay close attention to her tips.
Karen Highland does a fantastic job showing us common staging mistakes in one of her recent posts. She points out everything from artwork being hung too high to not having enough lamps.