Deep Cleaning And Organization Tips Before Selling Your Home
Posted by Danny Margagliano on Thursday, January 19, 2023 at 10:15 AM
By Danny Margagliano / January 19, 2023
Comment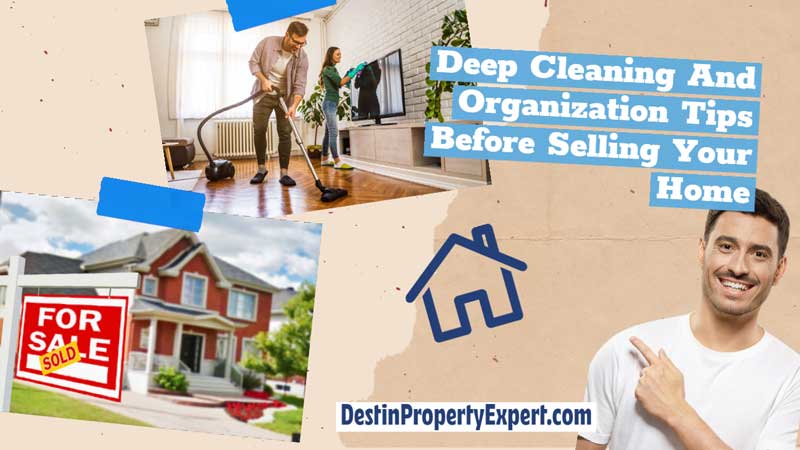 If you're considering selling your Florida home, you'll likely find a buyer in no time. According to a report on Bankrate, as of September 2022, there was only a 2.5-month supply of single-family homes. This means there aren't enough homes to meet the growing demand for property. While demand for homes is high, selling a house in Florida isn't as simple as it seems. It entails more than posting a listing and analyzing offers as they roll in.
You need a game plan to maximize your profits and reduce the timeline for closing a deal. You need to research and implement effective tips on how to sell your home faster. Start by checking if your property needs upgrades, if you have clutter that needs to be thrown out, and if every room is clean. If you're a first-time property seller, below are deep cleaning and organization tips before selling your home.
Remove Clutter
Any reputable realtor will advise you to get rid of clutter in your home before listing it for sale. Naturally, unnecessary household items reduce the chances of selling property at the requested prices. After all, no one wants to buy a home filled with random items.
Prospective buyers want to see the full potential of the property. Therefore, clear the countertops and cabinets in the kitchen, remove old toys and clothes from the closet, get rid of clutter in the bathroom, and clear your garage. You can store old items in storage units or donate them to charity. Decluttering will not only make your interiors stunning but will also simplify your deep cleaning task.
Deep Clean Room by Room
The next step to prepare your home for sale is deep cleaning each room from top to bottom. In the bathroom, for instance, wash shower curtains, clean soap scum on walls and doors, polish fixtures, and clean behind sinks and toilets. When deep cleaning the living room and bedrooms, start with the ceilings, ceiling trim, baseboard, walls, and lighting fixtures.
Spruce up window treatments, clean surfaces near the floor, vacuum upholstered furniture, and wash throw blankets, cushion covers, and rugs. Don't forget to clean the floors thoroughly; if the tiles, grout, or hardwood floors look dull, call in a professional to add a shine. Deep cleaning isn't as complex as it sounds when you follow the proper steps. However, you can hire services offered by experienced house cleaners if you are too busy to clean. Experienced cleaners evaluate your space and develop a cleaning strategy to get rid of dirt and sanitize your space within a short time frame.
Deep Clean the Bathroom
The bathroom is one of the most important rooms in your house, and prospective buyers want to see it sparkling clean. If your toilet bowl looks dirty and your tub has stains, or the bathroom drain is clogged, prospects will look at your home as unhygienic and hesitate to close the deal. When deep cleaning your bathroom, start by decluttering the cabinets, shelves, and countertops. Shake off rugs, and remove the clothes basket, trash can, and other items sitting on the floor to make room for mopping or sweeping. Next, dust from top to the bottom, using a dry rug to wipe off the dirt from the ceiling fans and vents, windowsills, ledges, and shelves.
You'll also want to wipe shower rods, rings, walls, faucets, sinks, toilet bowls, shower heads, and light switches with a wet, soapy rug. Remember to dedicate time to scrub shower doors, walls, and floors to get rid of mold, mildew, and discoloration. To get a perfect shine on surfaces, use bleach and water or a homemade cleaning solution like water and vinegar or a cleaning paste made with vinegar and baking soda. Don't forget to clean mirrors, windows, and doorknobs with glass cleaner and wipe off stains with a paper towel to maintain shiny, reflective surfaces. Giving the boiler a thorough clean adds value to your unique selling point so you can attract the right buyers.
Refresh Furniture
After getting rid of clutter in your living space, you need to refresh the furniture that adds value to your home. Give your coffee tables, sofas, and chairs a little care to ensure they add a sense of elegance to your interior design. Note that each piece requires special treatment when removing dirt and grime. Failure to apply the required cleaning technique for different pieces of furniturecan cause irreparable damage.
As a general rule of thumb, always use a slightly damp cloth to wipe dust and lint from wooden furniture and dry the surface with another dry cloth. Hard stains on wooden furniture are easy to remove with mineral spirits, but take caution, as these products can damage furnishing. Always apply mineral spirits or wood cleaning formulas on a microfiber cloth and test a small area on your furniture. If it works without a problem, you can use it on the entire piece. You may also apply wax on wood furniture to maintain a glossy shine.
Use a vacuum cleaner to remove dust, loose pet hair, and food droppings from the surface for upholstered furniture. Remove cushions from the sofa, clean between the crevices, and launder cushion covers to eliminate dust and stains. If you notice an unpleasant smell on your upholstery, sprinkle baking soda and let it sit for about an hour before vacuuming. Baking soda effectively removes foul odor that sticks on cushions, throw pillows, and blankets.
Deep Clean Carpets
Carpets and rugs are easy to overlook when preparing your home for sale, but they can significantly impact property value. Clean carpets give potential buyers the impression that your entire home is fresh, and they won't hesitate to pay the asking price for your home. With that said, prioritize cleaning carpets and rugs before listing your property for sale. Like fabrics, carpets absorb odors and stain easily.
One way to keep carpets clean and smelling fresh is by sprinkling baking soda and allowing it to sit for a few hours. Then, vacuum to remove dust, pet dander, and lint trapped inside the carpet fiber. To clean your carpets thoroughly, consider using an electric carpet cleaner. This equipment scrubs oil and dirt from the carpet fiber, leaving your carpeting with a fresh new look. Alternatively, hire a steam carpet cleaners to ensure the base of carpet fibers get a thorough wash. Since steam carpet cleaners use hot high-pressure steam, you can easily get rid of dirt and germs lurking in the carpet fibers.
Wash The Windows Thoroughly
Giving a first good impression is key to winning the attention of prospective home buyers. That's where clean windows come in when listing properties for sale. When potential home buyers arrive at your home, one of the first things they look at is the windows. There are several ways to clean windows without streaks. If you're a DIY enthusiast, you can achieve the best outcomes by cleaning your windows with a mixture of warm water and vinegar. Scrub the window glass gently using a soaked sponge, then squeegee the solution from the surface. Use a newspaper to dry the window without leaving streaks of dirt or lint. If you're afraid of heights or have mobility challenges, consider hiring a professional window cleaner to handle the task for you.
Give Your Front And Back Yard Some Attention
If you're fortunate to have a garden on your property, don't neglect it. Gardens, regardless of their size, are an immense bonus to your home's market value. And like the home interior, decluttering your outdoor space is vital to highlight its beauty. Start by collecting and disposing of litter and debris, whether its candy paper wraps, moldy leaves, abandoned toys, and plastic bottles. Although long grass and unkempt hedges don't suggest lack of lawn care, they block a significant amount of visible space in your yard.
Next, mow your lawn to enhance the landscape design and boost the overall property value. Because grass decomposes fast, it's an ideal place for crawling insects to hide. So, dispose of the grass immediately after mowing to prevent insect infestation. If you have trees that require trimming, hire professional tree services to do so. Also, don't forget to tend to your flower beds and edible garden. Your garden shed and garage also need a bit of care to win the attention of buyers. Remove unwanted tools, cobwebs, and dust, give the floors and walls a thorough scrub, and paint the exterior walls to improve aesthetic appeal.
Organize Your Home for Staging
There are many benefits to staging a home, such as increasing property value, helping prospective buyers visualize themselves in the home, and reducing the closing time. When preparing your house for staging, make a first good impression by painting the exterior and enhancing curb appeal. Next, polish the floors, hang mirrors to make the rooms appear larger, remove bulky furniture, rearrange the living room, and organize your bedrooms like hotel rooms. Also, depersonalize spaces by removing personal photos, and increase lighting in every room.
Deep cleaning a home is necessary when listing it for sale. A clean property attracts buyers willing to pay the requested price, meaning your home will sell faster. To ensure your home is clean and well organized, declutter each room, deep clean from the top to bottom, and organize spaces for home staging. Also, scour the bathroom, wash the windows, spruce up the lawn, refresh furniture, and deep clean carpets.