Designing Creative Patios And Backyards For Any Home Style
Posted by Danny Margagliano on Sunday, January 10, 2021 at 10:54 AM
By Danny Margagliano / January 10, 2021
Comment
ThanksIt is thrilling and rewarding to work on your property – you get to polish your skills and go all out with your creativity. Some people prefer to beautify their kitchen, attics, rooms, and even garages. But today's article does not focus on the interior parts of a home. Instead, we will go outdoors. Explore your patios and backyards. These are cool places to amplify your inner designer. Find answers here to questions on everything about dressing up your patios!
The Basics Of Patios And Backyards
A concrete patio is a paved area outside a home that finds its use as dining, recreation, and lounging. While a backyard settles directly behind the property. It has many functions, such as storage and a recreational nook. Further, it can also serve as a purposive facility.
Today they come in versatile materials, including bricks, concrete, stone slabs, glass, aluminum, and wood. You can also set up verandas and other facilities. The outdoors serve different purposes, depending on your desire.
Optimal Designs And Ideas
You have an almost infinite array of choices and possibilities when transforming your backyard and patio into a fine piece of art. Below are some of the popular patio and backyard designs and ideas that you can give a go.
Classic Pergola
A pergola is one of the most common yet intriguing garden features you can place in a level patio or backyard. It is a shaded walkway, passage, or nook. It usually displays flowers, potted plants, and small statues.
Multi-Level Patio With Water Showcase
This idea is for those wishing to have a moment of peace and calmness outside their houses. The water feature adds beauty to the place and does not require many resources to maintain it.
Level Fire Pit Backyard
The backyard becomes an intriguing place to chill and relax. Try to install a fire pit that you can use anytime. It will provide you with a warm and cozy setting. Create a campfire feel without the hassle of venturing into the woods.
Concrete Patio
A concrete patio is one of the best options that you can undertake. Not only is a concrete patio easy to install and affordable, but it also comes in many designs that you can try.
Outdoor Movie Night Setting
If you love movies and like to watch them outside the house, this idea is the sure-fire hit for you. You can install a wooden platform and include a hammock, string lights, and a wide movie screen, and you are all set.
BOHO Patio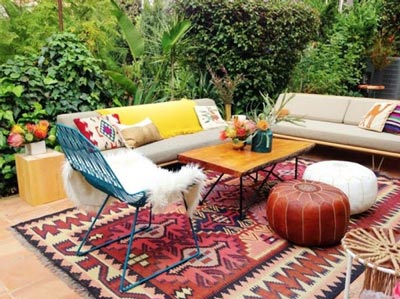 Your summer days will be like no other. Redesign your patio or backyard with a BOHO-inspired look. Play around the area with a coffee table, a rug, and a mini fireplace. You'll get an outdoor lounge perfect for a small gathering with friends and family. A bohemian patio style is perfect for anyone that wants to add a unique, personal, and unconventional backyard.
Herringbone Brick
Do you have experience with do-it-yourself projects and would want to take on a challenge? Then the herringbone patio and backyard finish may be the answer that you seek. Herringbone is a brick pattern, which has a complicated setup. It requires brick-cutting as a part of the process.
Multi-Use Backyard
This idea is best for children and adults alike who want to get interactive with the nature around them. It is an engaging design that also has a sitting and dining setting.
Zen Backdrop
A Zen in your backyard will attract visitors and relatives. It brings you a form of peace whenever you visit it. It includes planting many brightly-colored trees and various plants. The only downside is that you have to perform a lot of maintenance.
Gravel Patio
A gravel patio is a better alternative to a Zen garden as it does not mandate a lot of repairs and maintenance to keep its look. You also do not need to worry about tree roots wreaking havoc on the flagstones, walls, and other surfaces.
Potted Plant And Flower Backyard
If budding flowers, plants, and numerous pots are your thing, then go for this design. Your backyard will become vivid with colors. Attract bees and butterflies with a fantasy garden; the only thing missing is fairy lights.
Stamped Concrete Patio
Do you have a condominium setting and desire a backyard or patio that partners well with your theme? Then go for a stamped concrete patio. This idea allows you to have flooring that mimics many materials like stone, brick, and wood.
Take note that there are other designs and ideas out there that you can pursue. Spend a moment and check out articles, blogs, podcasts, and other media to expand your patios and backyard knowledge.
Doing The Project On Your Own
Many designs and ideas are easy, and you can do them without professional help. Have total creative freedom doing DIY designs. Incorporate things here and there, set lights, rocks, lanterns, and other decorative pieces. Do not let anyone tell you otherwise.
Besides, you control the expenses. You get to oversee which material swells and squares your budget. And you have the liberty to tackle the task whenever you may wish.
One person can do the job, but two heads are better than one, and three is already a crowd. Getting an extra hand or two from buddies or family members will make the experience into bonding moments with them. It is a nice way to make your relationship with them grow tighter.
Leave Things To The Professionals
There may come a time when you cannot manage the patio or backyard on your own. And that is when the experts come in. Getting in touch with a local professional outdoor company is the alternative you may consider giving a shot.
They will handle things from the ground up. They will initiate suggestions and offer sure-hit ideas, budget management, project analysis, and so much more. Transforming your patio and backyard is something that they are passionate about, and will perform with less or no mistakes at all.
The company will get things done and stick to a budget and time frame with precision. You can have more time with family and friends while they set out and get busy with your outdoor space. Or attend to the business you are dealing with at the moment.
Talking About Costs And Other Expenses
Your patio and backyard dream idea and design do not come free unless you have a sponsor who finances your endeavor. Now that would be something.
You have to count numerous costs and expenses that will arise once you start with the project. Getting the job done without any assistance means that you can buy things as you wish. You are free to choose the materials that will go into your location.
You have to pay for everything – from the equipment that the employees will use to the supply and components, they will prepare and apply. You'll also need to attend to time, skill, and labor costs. Watch out for any extra payments that may arise during or after the undertaking.
All of these factors can vary. And it depends on the time frame of the job and the organization or company you will hire if necessary.
One Final Note
While it can get stressful and painstakingly hard to get the result you want, the experience is your take away. You'll find unique processes, learn new things, and expand knowledge. You need these in a field demanding discipline, creativity, and passion.