Home selling – Simple DIY tips for selling your home fast
Posted by Danny Margagliano on Tuesday, June 16, 2020 at 9:51 PM
By Danny Margagliano / June 16, 2020
Comment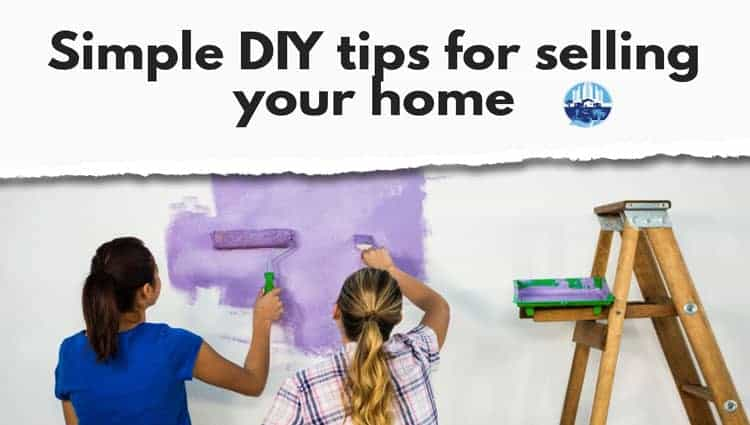 While home staging may look simple and straightforward, there are many cases when taking the advice of a professional to learn some tricks. Professional home staging can cost you between $1,500 to $10,000. Below we walk you through numerous DIY tips for selling your home faster and for more money.
Showcase The Front Door
The first solid object that potential buyers come in touch with is the front door. So it should feel sturdy, reliable, and maintained. If you've repainted your door in a vivid color during the last remodel, consider returning it to a more conservative color now. If the knob is worn out or dated, replace it as well, and make sure the doorbell works perfectly.
Facelift The Exterior
An old home might look like all the life is gone out of it. Therefore, the exterior facelift is quite possibly the most important DIY tip to sell your home faster. So make sure to improve its looks by scrubbing down windows, and if needed, paint the window and door frames. If the siding is older than 5 years the chances are that it needs repainting or power washing. Check the roof for any broken tiles or shingles. A potential buyer will be more interested and scrutinizing about inspecting your home than you would.
Whip Up The Garden And Yard Into Shape
As basic landscaping, you should mow the lawn, clip, and trim back overgrown hedges and trees. Keep the flowerbeds and paths free of weeds. Don't forget to remove any dead plant matter such as fallen branches, dried stalks, and stumps. If you live in a region that is blessed with beautiful autumn colors, make sure you rake the dead leaves regularly.
Easy DIY Tip To Declutter The Hallway
A well-composed hallway sets the introduction to the remainder of the house, so make sure it's free of coats, shoes, umbrellas, backpacks, and so on. If the hallway is narrow, remove any furniture, like side tables. See what you can do to improve the lighting. You can even add new ceiling or wall lights, or hang a large mirror next to the door to reflect the outside light. This isn't a room where you should go overboard with décor, buy a few framed prints, or something else low-profile.
Revive The Living Room
The chances are that this is the room where the negotiations will take place, so make sure it tells the buyer a story of your lifestyle. What is more, many buyers will judge your standard of living by looking at your living room décor. If the hardwood floor looks battered or faded, have it professionally restored and crown it with a beautiful Miss Amara natural fiber rug for added warmth and comfort. Remove the personal items such as family photos and souvenirs, and rearrange the furniture so that the room looks more spacious.
Make Dining Room Great Again
As our chaotic lifestyle often leaves little time for eating together as a family, we often neglect the dining room in our home staging. The buyers want to see where you eat. If you have a separate dining room, it better looks the part, while if you're sharing an open floor plan, make sure the dining space is clearly defined. Dress the table with a table cloth and add a focal point, such as a pair of candles, a flower vase, or a bowl of fresh fruit.
Add usable outdoor space whether you have a roofed patio, a wooden porch, or a spacious garden, keep in mind that usable outdoor space always adds value to the house. Have your outdoor areas looking welcoming and even relaxing.
Hygiene Is King
When it comes to cleanliness, buyers are more sensitive about kitchen and bathrooms than any other area. While deep cleaning a kitchen requires hard work, the result always pays off. Don't forget to wipe down the worktops and scrub the floor. In the bathroom, wipe off any traces of mold, replace the shower curtain, and re-apply any bathtub or shower stall sealant that has peeled off.
Summy It Up
Even if you can't afford to renovate the entire house, keeping it spotless and doing small updates will show the buyers that you invest heavily in the health of the home. To get your home looking its best so that you are ready to sell and get top dollar, it merely takes a little bit of time and elbow grease. Perhaps following the simple DIY tips for selling your home fast that were mentioned in this article will help you to achieve your real estate goals.
Additional Real Estate Resources
This outdoor kitchen DIY tip from Jamohl Dewald is both simple and affordable. There are many improvements you can do to your home while you are living in it that will add value and that you can enjoy.
Eric Jeanette takes us through a step by step process in installing recessed lighting. Once someone enters your home if it's not lit well it's not going to show well. Recessed lighting is a low profile way to install lighting that will brighten up any room.
Staging every bit of your house can make the difference between selling quicker and even selling for more money. David Martin walks us through low cost bathroom staging tips that will help get your home sold faster.