What Is Earnest Money In Real Estate Transactions?
Posted by Danny Margagliano on Tuesday, March 1, 2022 at 11:16 AM
By Danny Margagliano / March 1, 2022
Comment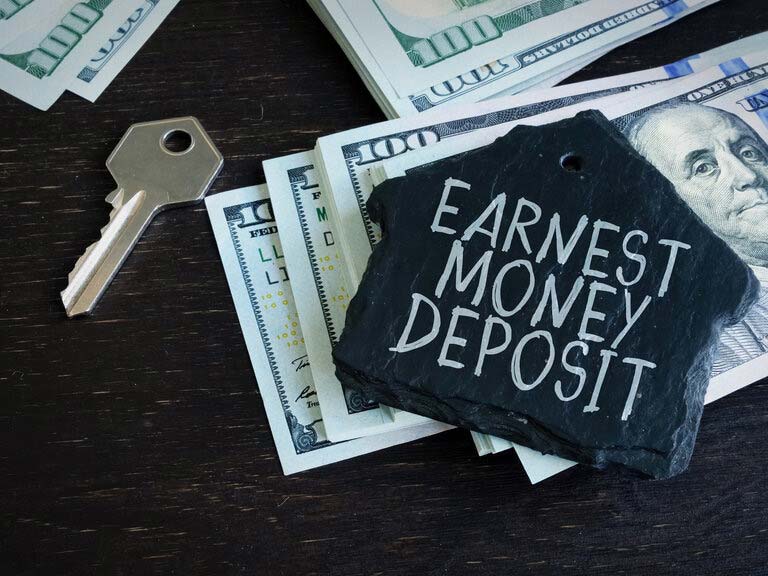 When buying a home for the first time, the financial aspect of the process can be complicated and confusing to deal with. With all the payments involved, it can be difficult to determine whether you need one over the other or whether you should accommodate them all. Typically, in a real estate transaction, earnest money is one of these payments. Although it may be different from other payments, it plays an essential part in the home buying process.
If you haven't heard about this concept before, here's a quick rundown on earnest money in real estate transactions:
What Is Earnest Money?
Essentially, earnest money refers to a payment made by a buyer to show their serious interest in buying a seller's property. When the buyer puts down earnest money, the property for sale will be placed on hold until the terms and conditions agreed upon by the seller and buyer are satisfied.
For instance, the buyer usually gives the earnest money to the title company. The buyer will now go through their due diligence or inspection period, which is usually between 10 and 15 days. At the same time, the buyer will be working on the financing. While waiting for the financing, the payment of earnest money is necessary to ensure the buyer won't submit offers on several properties or walk away from the contract a few days or weeks after the seller takes the property off the market.
Earnest money, also known as a good faith deposit, shows that the buyer has good intentions and will follow through with the purchase. Although earnest money is usually an indicator of good faith, it doesn't always mean a sale will take place. If an agreement on the terms can't be reached between buyer and seller, the good faith deposit will be used as leverage for return.
How Much Should Be Paid As Earnest Money?
Generally speaking, there's no specific or correct amount to be put down as earnest money in a real estate transaction. While some buyers will pay between 1% to 5% of the home's purchase price, anyone who wants to buy a property for sale is free to pay any amount they like, depending on the agreement between the seller and the buyer.
Moreover, it's important to note that determining how much earnest money should be paid in a transaction is never easy. As a home buyer, you may need to strike a balance among different situations. For example, you want to provide enough earnest money to ensure the seller will take your offer seriously. But on the other hand, you also want to put down an amount that you can afford. In these cases, it's best for you and the seller to set and agree on the amount of earnest money to put down and discuss the terms and conditions of the contract to avoid conflict.
Who Holds The Earnest Money?
An escrow agent agrees that both the seller and the buyer hold the earnest money. This escrow agent is usually the seller's attorney, a real estate agent, a title company representative, or a third-party individual. However, if you're buying a property in the state of Florida or wherever you may be, all earnest money deposits are held at a title company.
On the other hand, it's also essential to understand the responsibilities of an escrow agent when there's a dispute. Typically, when there's a breach of contract on the buyer's part, the escrow agent will turn over the money to the seller. But when there's a conflict about the existence of breach, the escrow agent may continue to hold the funds pending the resolution as to who's entitled to hold the money.
Given the circumstances, it may be improper for the escrow agent to give the money to one party when there's a pending dispute. When they do, they may be held liable for the wrongful distribution of the funds involved.
When Is The Earnest Money Due?
In most cases, the time when your earnest money is due varies from state to state. But to avoid further confusion, the standard rule is that the earnest money deposit in a real estate transaction is either due at the time the offer is made or within three days of the acceptance of the offer. Whatever timeline is involved, make sure the earnest money deposit is ready when it's due.
What's The Difference Between An Earnest Money Deposit And A Down Payment?
You probably have heard about earnest money deposits and down payments in real estate transactions. Although these two payments are crucial in the success of a home buying process, they're certainly not the same thing. Hence, to ensure you deal with these two types of payments appropriately, it's essential to know and understand the difference between an earnest money deposit and a down payment.
In most cases, an earnest money deposit is paid to the seller to persuade them that you're serious or committed to purchasing a property. It acts as a security to ensure the seller accepts an offer and takes the property for sale off the market to prevent other potential buyers from submitting offers. Meanwhile, a down payment refers to the amount of money a buyer should pay for the lender to approve their home loan. When the amount is higher, you can also have a higher chance of getting your mortgage approved.
Overall, an earnest money deposit is known as a promise to the home seller, and a down payment is known as a promise to the lender.
What Can You Do To Keep Your Earnest Money Safe?
As a home buyer, losing your earnest money deposit can be a terrible thing to happen. Fortunately, there are ways you can do to protect yourself from the likelihood of losing the good faith deposit when something goes wrong. These unfortunate situations can include financial problems such as mortgage falling through, having too many issues discovered in the home inspection, and other similar concerns.
Hence, to help keep your earnest money deposit safe, you can do the following:
1. Get Familiar With The Contingencies
Generally, contingencies can help you keep your earnest money deposit. They allow you as the home buyer to exit from the contract and get your deposit back upon the occurrence of an event. Some common contingencies can include:
Mortgage Contingency Clause
It's an essential provision when the buyer plans to seek funding to buy real property. Although they can get pre-approval for the mortgage, it may not be a guarantee for the lenders to issue final approval. So, to safeguard yourself in case the deal falls through, you need to include a mortgage contingency clause stating that you may back out and get a refund for the deposit you've made. However, it only applies to a situation when you apply for a mortgage in good faith but is still denied due to reasons not attributable to you.
It's also a necessary provision allowing a buyer to conduct a home inspection and giving them the right to renegotiate or back out of the contract if problems are found with the property. Thus, when the agreement falls through based on significant issues associated with the inspection or on something that's the seller's fault such as failure to get the necessary zoning approvals, then you may consider adding an inspection clause in the contract.
It should state that the deposit should be returned to the buyer. That way, you can protect your earnest money deposit and get it back when something wrong happens during the inspection.
2. Get It In Writing
Purchasing a house without a good faith agreement can be risky for both the buyer and seller. Hence, it's best for your commitment to buy a property for sale to be reduced in writing before giving any earnest money to the seller. Otherwise, you'll have no written proof of your intention to purchase a property, which can be an issue when something wrong happens with the contract.
3. Make Sure To Meet Your Obligations
Your earnest money deposit can be one of the ways to show good faith in buying a property for sale. So, you should ensure to meet all of your obligations or risk losing your deposit in the long run. These obligations can include meeting deadlines and following all of the rules set up in your contract. Make sure to pay attention to what needs to be done, including adherence to all the time frames outlined in the agreement. That way, you can successfully uphold the end of the bargain.
4. Consult Your Real Estate Agent
If you're unsure how to deal with earnest money deposits, it's essential to ask your real estate agent for guidance. Given their knowledge and expertise, they can help go over your options with you to ensure you can proceed with the payment of earnest money successfully.
Bottom Line
When used appropriately, an earnest money deposit can provide protection to the seller and the buyer. It helps both parties involved to gain certainty about a real estate transaction and avoid complications along the way. However, as a home buyer, it's essential to understand the role of earnest money in your transaction.
Therefore, it's best to keep the information mentioned above in mind to familiarize yourself with this type of payment. Doing so allows you to deal with a real estate transaction successfully and without trouble.