8 Easy Home Exterior Improvement Ideas
Posted by Danny Margagliano on Monday, February 13, 2023 at 11:10:31 AM
By Danny Margagliano / February 13, 2023
Comment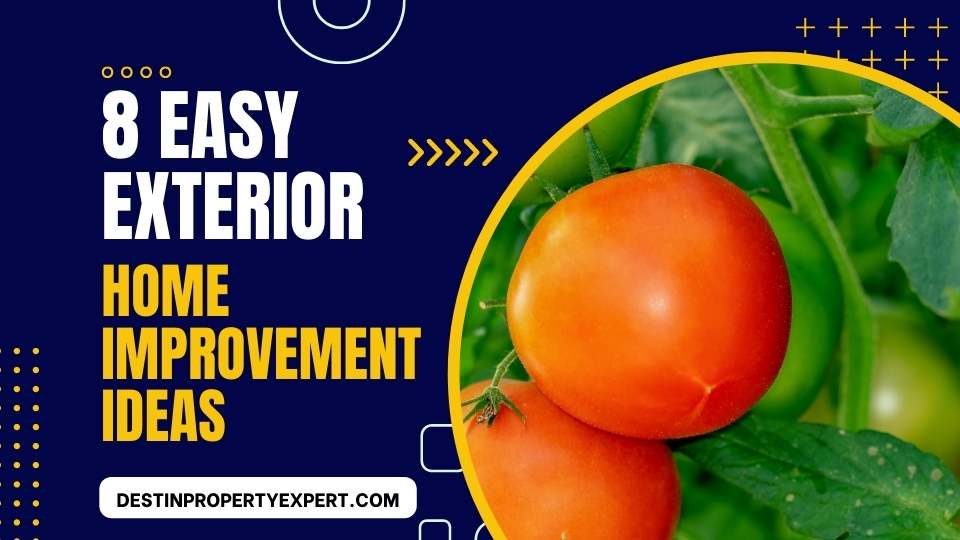 Your home is your castle… that much you already know. However, while you might prefer decorating the interior since that's where you spend most of your time, you should also take time to focus on how it appears from the outside. It doesn't matter whether it's a cottage or a mansion, the exterior of your home contributes a great deal to how you feel when you look at it and how you want others to perceive you. By following some simple exterior improvement ideas, you can make your home into something that embodies your character and makes the entire space more usable. While some of the tips in this post will appear obvious, others will be slightly more obscure (but no less valuable).
Increase The Shade In Your Yard To Increase Its Usable Area
If you've ever desired more space in your garden but are worried about the cost involved with extending your property or simply unsure how to proceed, don't worry. You have plenty of choices…as long as you think outside of the box. For example, you should first consider whether you want to increase the physical area or make what you already have more usable. Well, unless you're flush with cash (and let's be honest, you probably aren't these days), then the latter option is your best bet. One way folks have been increasing the usable area of their yards is via an awning. These are essentially a kind of covering and come in a wide range of options, each with advantages and disadvantages. For example, retractable awnings allow you to choose when you want to use them but tend to be costlier, while fixed awnings are usually more affordable, but you have to live with the fact that once it's installed, you're stuck with it.
Moreover, you will need to think carefully about the type of material that is most suited to the climate you live in. For instance, if you happen to reside in LA, it will need to be strong enough to withstand the beating sun and occasional rainstorms. Conversely, awnings in Pennsylvania will have to endure harsher conditions like snow and other forms of inclement weather. Fortunately, most companies who provide awnings also offer a range of materials to choose from, which is excellent as it also means they are available for all tastes and budgets.
Spruce Up Your Porch With Some Colorful Outdoor Furniture
Ah yes, the old put in some more outdoor furniture and the jobs sorted tips. Well, it's a bit like that, but with a slight twist in the sense that you can use all kinds of exciting colors that contrast with the usual colors of a garden and give it a veritable joie de vivre! Whether it's a bench, chairs, a swinging seat, or even an outdoor coffee table, choose what best fits the style of your home's overall aesthetic and allow yourself room to breathe creatively. For added visual appeal, pick accessories like cushions and pillows with bold stripes or geometrical prints that will turn a humdrum abode into something that looks like they will be right at home in a bohemian cafe (if that's your thing, of course).
Consider Adding A Vegetable Patch To Your Front Garden (Fruits And Veggies Are Just As Beautiful As Flowers)
Everyone and their mum now have a vegetable patch in their back gardens, which is terrific for all sorts of reasons. However, if you want your house to stand out among the many, you might think of adding one to the front. You read that correctly…instead of the usual boring old patch of grass, why not consider creating a little bastion of food that looks attractive and can also provide you with food! You can choose between fruit trees, vegetables, or both, but the idea is to set the font of your home apart from others and do something different. Some might even suggest that ginger is infinitely more fascinating than geranium…
Develop A Wild Garden And Grow Some Of Nature's Most Alluring Plants
When discussing a wild garden, the idea isn't to simply allow your existing plants or lawn to overgrow to such an unsightly degree that your neighbor leaves you a passive-aggressive note on your front door. Instead, it involves dedicating an area when picking the right plants and flowers that grow naturally in your state. During this part, you'll want to familiarize yourself with what plants grow best in each season and climate. That way, you can ensure you get the mix of colors and textures you're looking for.
Hang Some Vibrant Wind Chimes To Give Your Home A Lively And Jovial Touch
Wind chimes are pretty divisive in the gardening community as some people love them while others think they are the work of the devil. However, if your garden is large enough, and your neighbors don't mind, the gentle chinking of metal or wood can bring a positive or even tranquil note to your exterior space.
Incorporate A Few Bird Feeders And Bird Baths To Attract Wildlife
This point follows on from the section about a wild garden, as once you have installed it; you will discover all manner of interesting and exciting creatures grafting to your garden. Moreover, if you are an avid twitcher, a bird box and bath will also make a splendid addition to your yard.
Paint Your Fence With A Bright Hue To Create A Cheerful Atmosphere
Painting your fence in a vivid hue can be a highly effective way to improve the exterior of your home and make it reflect your personality. Nonetheless, if you decide to take this step, you should use paints rated for outdoor use to protect the wood from the elements and maintain its vibrant color.
Invest In High-Quality Solar Lighting To Enhance The Scene At Night
Although solar lighting has come a long way since the bad old days of dollar-store plastic rubbish that won't last through the night, it's still wise to spend a little extra on quality. Aside from the ecological factor (which is always good to consider), they can add an element of beauty and charm to the atmosphere around your home at night. Moreover, if combined with the awning in the first section, you'll turn your dull yard into a party venue your friends will be envious of!
You can take a few simple steps to improve the exterior of your home and make it look more attractive and inviting. It's ultimately up to you how you go about the job, but if you consider some or all of the tips mentioned here, you will have an outdoor space fit for use no matter the weather or location!