Top Factors (Besides Cost) to Consider When Choosing a Roof Contractor
Posted by Danny Margagliano on Thursday, March 17, 2022 at 1:15 PM
By Danny Margagliano / March 17, 2022
Comment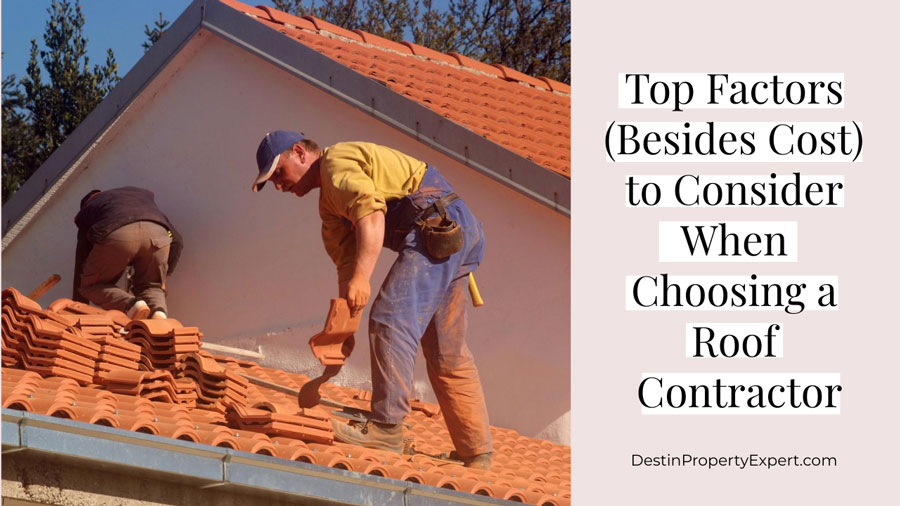 A new roof is an investment and one that you should consider carefully. Researching the best roofing contractor may seem daunting, but it is good to remember that a new roof can make or break the value of your house ten, twenty, even thirty years down the line.
Various factors must be taken into consideration when researching a good roofing contractor. Cost is important but not the only thing to think about when making this decision. Below is a list of topics you should consider when researching roofing contractors.
Experience
Finding a contractor who has experience with roofing is one of the most important factors to choosing a contractor. While it may be easier to look up a general contractor in your area that services roofs, it is probably not the best investment. You are better off looking for a contractor with specific skills.
Roofing contractors specialize in building, repairing, and maintaining roofs. Working with a specialist on your roof will allow for a greater return on your investment down the line. It does take more research to identify good roofing contractors. But in the long run, the effort is worth it.
Most top roofing contractors will have certifications from top manufacturers in the area. If a roofing contractor does not have multiple manufacturers listed on their website, it may be worth taking some extra time to find someone who does.
Choosing a local roofing company eliminates the middleman and allows you to support your community.
Roofing Contractors vs. General Contractors
All in all, hiring a roofing company will give you the best outcome in your home renovation journey. Roofing contractors specialize in roofing projects and have years of experience handling many different projects, issues, and unique situations that may come up. General contractors have an overall knowledge of many different types of renovation projects.
Your first impression may be that working with a roofing contractor is more expensive upfront. Thankfully, in most cases, this is not true. General contractors with no scruples have convinced the general public to believe that installing a new roof is an overwhelming process. But for an experienced roofing contractor, it is a standard job that they've done a bunch of times before.
In the long run, working with a general contractor could cost you much more because their experience does not live up to that of a roofing specialist. A roof built by a general contractor might need significant repairs twenty years down the line, while a roof built by a roofing contractor could hold up for forty years. Their experience means they know how to build a roof that will last.
Service and Repairs
Installing a new roof is not a one-day project. To find the best contractor for you, be sure to research the contractor's policy on repairs and additional service.
The first question to ask is: Does the contractor carry insurance?
General contractors typically do not have liability insurance, whereas roofing contractors have insurance for unexpected issues. Be sure to research the roofing contractor's "About Us" page on their website and read what they say about accountability and values.
Is the contractor available for questions that come up well after the initial construction? Typically, general contractors have a lot of projects on their plate that need attention. On the other hand, roofing contractors specialize in roof work and can concentrate on their relationships with customers long-term. A contractor who keeps the client in the loop throughout all aspects of the project while being available for any future questions or issues is a contractor that will help your home be the best it can be.
It's ideal to find a contractor who will offer follow-up service on any damage during or after installation. No one wants to struggle to contact their contractor about an issue with their brand new roof. A good roofing contractor will provide resources to reach out to should you need them.
Again, a new roof is an investment. Finding a specialized contractor who will assist you throughout this process is highly recommended to get the most out of your home.
Customer Experience
A roofing contractor should care first and foremost about their customers. When researching contractors, it is helpful to keep a list of questions to ask while inquiring about their services. Some of these questions may include:
Does the contractor have insurance and licenses?
Does the contractor provide formal contracts for projects?
Is the contractor willing to provide a detailed project plan?
What warranties or guarantees do they offer?
Are they willing to provide references for previously completed projects?
Does the contractor have examples of their work to review?
Be sure to ask for estimates from multiple contractors, which is important not just to compare prices. Speaking directly with the contractor allows you to feel out how you could work together.
If there are any discrepancies between estimates, do some research to see if each contractor has been transparent about costs. Any hesitations with this can be red flags for the entire project. You want your contractor to be honest throughout the process so you can feel confident that you are getting the best deal and investment.
Remember, these contractors will be working around your house for several hours or days. You want to feel comfortable with the people you will be surrounded by. A new roof shouldn't be an anxiety-ridden process - it should be exciting because you are improving the building you live in on a daily basis.
It is necessary to be patient while doing your research, to ensure that you receive the best possible customer service for your home and yourself. It is good to have questions! A good contractor will not get frustrated when asked about their process. They care just as much about your home as you do.
Materials
If you want your roof to be a good, long-term investment, consider the materials used to build and repair. The longest-lasting material used on homes is slate tiles, lasting nearly twice as long as other durable roofing materials. Other long-lasting materials include concrete and clay tiles. While these options are pricier than others, they may be the best option when the long-term investment of your home is taken into consideration.
Some homeowners prefer a more affordable and versatile material on their roofs. Asphalt shingles, which make up most American roofs today, are a great option. These come in many colors and architectural styles, allowing your creativity to shine. To learn about more material options, click here.
A roofing contractor should be open to your thoughts on the process, but they should also express their professional opinion. For example, if a project would not be successful based on the materials you have asked about, they should not dismiss you because they feel like it but because they want you to get the best investment out of your home.
Investigate the connections contractors have with manufacturing companies. Research the options they offer for different roofing materials. A contractor with more materials available will give you more flexibility to work with your needs.
Roof Style
When looking at materials for your new roof, you should also look at types of roof structures. You want to work with a knowledgeable roofing contractor on the best roof style for your house structure.
For example, some roofing contractors may specialize in flat roofs. While this type of roof can be installed on a residential home, it is more commonly seen on commercial buildings. A hip roof is more favorable for windy area residents. A contractor may only work on gable roofs, the most common roof style in America. You will want to work with a contractor to determine which roof style fits your specific needs.
No roofing job is like the rest. Working with a roofing company with experience with multiple roofing styles ensures you get the most from their service. Professional contractors will provide information on the best roof for your house based on their experience and will answer any questions you have regarding their decisions.
Reviews and Testimonials
A good roofing contractor will have testimonials and reviews of their work easily accessible for inquiring customers to access. Looking through their website, you should find favorable information on past projects and comments from previous and current customers towards the contractor's work. Happy customers almost always want to share their experiences with others to help their decision-making.
Other great resources to read reviews include the ever-popular Google Reviews and LinkedIn. If you are looking at working with local roofing contractors, check out Facebook Local and NextDoor to see if there are any reviews or complaints.
You can also see if the roofing contractors are associated with the National Roofing Contractors Association. This is a great way to better look at their professionalism and craftsmanship. NRCA is an international association that offers informative programs for roofing contractors to continue learning and advancing in their trade. A roofing contractor represented by the NRCA is more likely to be a legitimate option for you.
Conclusion
A good roof contractor can make or break your roofing job. A general contractor won't have the right expertise to do a good job. However, not all roofing experts will do the same job. Some have specific experience and only do repairs or only use certain materials.
If you need someone to repair or install a roof, you need a contractor you can rely on. Contact us today to learn more about how we can help you.