What Home Buyers Want: The 7 Most Important Home Features
Posted by Danny Margagliano on Friday, April 15, 2022 at 10:39 AM
By Danny Margagliano / April 15, 2022
Comment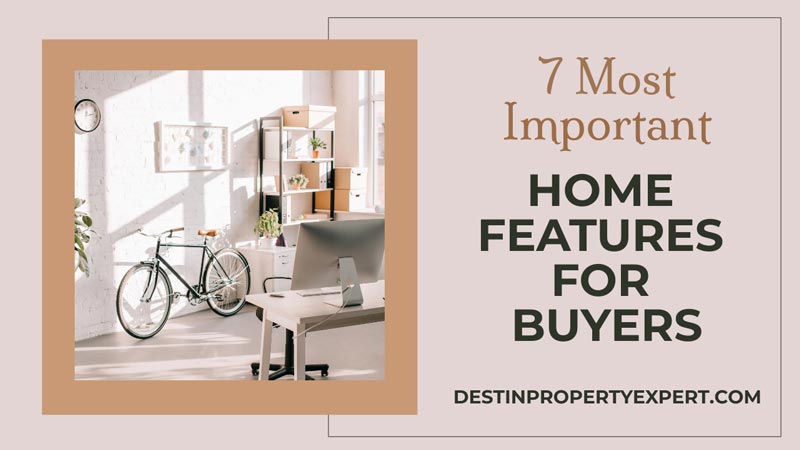 What buyers want depends on the type of property they are looking for. The expectations of someone looking to buy a luxurious condo will always be different than someone on a house hunt. Then there are other factors such as location, local culture, and the buyer's own sense of aesthetics to consider. Keeping those differences in mind, let's look at the seven features most important to home buyers today.
Scenic Views
We take vacations near beautiful beaches, paradise islands, and serene mountaintops to relax. The more scenic a location is, the better it rejuvenates the mind. Given an option, home buyers will always prefer houses or apartments built at charming sites. A piece of luxury property on an exotic island will sell faster than an urban home of similar size. A permanent invitation to enjoy shimmering sunsets from one's own sea-facing porch is enticing. There is also a growing demand in recent years for secluded country homes located near forested trails.
Not all buyers have the big-budget necessary to afford such luxuries. So, they look for other ways to make up. Some lean towards properties with well-maintained, beautiful gardens, others create their own. Even a green lawn that's ready for gardening is a welcome sight and a selling point. If the potential buyer is a gardening enthusiast, they will actively look for more yard space. It will double as a hobby and an opportunity to improve their view.
Furnishings
Real estate agents find it most difficult to sell bare bone apartments. It's true that unfurnished homes cost less, but a complete absence of all amenities is an inconvenience. Surveys show that the modern home buyer sees unfurnished places as unfinished homes. This immediately lowers its chance of getting sold. Lower price tags seem less appealing when you know that you will have to spend more money on furnishings anyway. Loss of interest turns into disappointment if the potential buyer is in a hurry to move in.
Furnished apartments and houses sell fast, but semi-furnished homes sell much faster. Both should provide basic amenities one can expect from any modern house/apartment. The buyer should be able to move in immediately after the sale and add whatever else they may need later. Properties like that sell easily because they strike a balance between "too expensive" and "too much work." The list below mentions what buyers have come to expect in semi-furnished properties:
Working main lights, lamps, and fans (if needed).
Working faucets, showers, and toilets.
Heating and cooling system (varies with local climate).
A few cupboards, shelves, and kitchen cabinets.
A refrigerator, a set of utensils, and basic cookware.
A couch, a few chairs, and a dining table.
A bed in the master bedroom, and at least another in one of the other bedrooms.
Curtains/shutters on the windows.
Customizability
A property only becomes a home after receiving personal touches from its residents. This is something that can be an obstacle for someone trying to sell their previous home. If a property already has a personalized interior and/or exterior theme, that will limit its appeal. An overtly personalized home is harder to sell. Buyers may feel that they are invading someone else's private space. It robs them of the sense of belonging and instead, makes the house feel like someone else's home.
That is not how any potential homeowner should feel in his/her own future home. Neutral paint jobs in white, off-white, and light grey are cheap but effective ways to depersonalize property. People tend to buy homes where design elements are minimal enough for them to change easily.
Minimalist interior décor always appeals to home buyers because it feels like a white canvas. Potential buyers need not be a fan of minimalist décor for the minimalist theme to be a selling factor. The ease of making changes to any minimalist property will always appeal to potential home buyers. When there isn't much to replace or remove, remodeling is a lot easier and cheaper.
Natural Light
Big windows and bright skylights are welcome sights, especially if the house/apartment is of significant size. Large, empty properties without adequate sunlight access look gloomy and uninviting. There should be shutters/curtains to minimize or block sunlight, as needed. Whether consciously or subconsciously, we prefer living in naturally bright homes.
There is scientific evidence that sunlight has a profound, positive impact on the human psyche. It is considered an inherent need. Houses that need artificial lighting even during the daytime can leave a negative impression on buyers. That is not just because of the psychological effects of gloom either. Electricity bills will rise if people are forced to switch on lights even during the day.
Unfortunately, not all houses and apartments have access to sufficient daylight these days. The situation can be remedied with intelligent, augmentative lighting. Installing mirrors opposite windows can help in improving the property's appeal to buyers.
Well-placed smart lights with ambient light sensors provide the most comprehensive solutions. They automatically adjust their luminosity and color to match and amplify sunlight in a room. It keeps daytime gloom at bay, without raising lighting expenses by too much. Dimmer switches are a cheaper option to consider, although they require manual control.
Modular Kitchens
A modular kitchen is one of the most sought-after features in any home. Maximizing limited kitchen space is the biggest appeal here, but that isn't all. For a better understanding, let's go through some of the reasons why buyers like modular kitchens so much.
Modular designs allow more storage space in a kitchen than would otherwise be possible.
All parts are easy to remove, clean, maintain, repair, and replace as necessary.
Homeowners can gradually add new parts to their kitchen if needed.
Modular expandability allows even the smallest setup to gradually grow as big as it needs to be.
Provides constant control over how the setup looks (color, shape, size, etc.).
No hard remodeling is necessary for expanding a modular setup since all prefabricated parts can be self-fitted.
Freedom of shuffling, changing, adding, or removing modules at whim keeps boredom at bay.
Modular kitchens come in four primary varieties or designs. Experienced buyers already know which modular setup is ideal for which kitchen space. They will look for modular setups that match the kitchen space. A brief intro on how to match modular designs to different kitchens based on size should be self-explanatory.
Linear or Straight Modular Layout – The simplest modular setup is a straight, one-sided design. We see them as linear, vertical layouts along any one side of a kitchen. All modular layouts cover both floor and wall space, but straight designs stay limited to just one side. These are perfect for small kitchens, being the easiest to clean, modify, repair, change, augment, and upgrade.
L-Shaped Modular Layout–It's the same L-shaped layout with a sink we see in a contemporary wood and steel kitchens. However, all cabinets of a modular L-shaped kitchen can be easily removed, washed, and replaced. They will cover floor and wall space on one wall first but extend halfway onto another. This extra bit is what creates the L-shape.
U-Shaped Modular Layout –A U-shaped layout is only suited for deluxe kitchens with a lot of space in between two of its longest walls. The layout will cover floor and wall space along the two longest walls, as well as one of the connecting walls.
Gallery Layout–The gallery or parallel modular kitchens are suited for long but relatively narrow spaces. It's identical to the U-shaped modular design but leaves the connecting wall free.
Smart Kitchens
The fact is that an average buyer may not care much about having a smart kitchen. Not that they will complain about a kitchen stocked with the latest appliances, but the added cost could throw them off. High-profile homeowners, on the other hand, tend to look for state-of-the-art smart kitchens. They will also be willing to pay the right price.
Planned kitchen modifications can considerably raise a home's sale/resale value. However, the attraction of a smart kitchen is somewhat limited to luxury real estate. Such buyers are not going to be interested in small or average homes, unfortunately. If a property does belong to the class of luxury real estate, the following appliances are in high demand:
Smart water filter
Smart coffee maker
Smart oven
Smart food processor
Safety
Finally, we come to home safety, which is a broad, multifaceted topic. It would be better to point out the three main safety features which buyers expect from a future residence.
Professionally inspected, verified, and active plumbing system.
All electrical circuitries must be inspected and verified as safe by a certified electrician.
Smoke alarms, sprinklers, and a reliable home security system.
Certificate of fire safety from the local fire department.
Safety is the most important priority for families with children. So, parents will be looking for neighborhoods with low crime rates and easy access to healthcare. The neighborhood quality can practically make or break a deal, so do your investigations before investing in any real estate.