How to Finance Home Renovations: A Guide
Posted by Danny Margagliano on Sunday, October 31, 2021 at 9:14 AM
By Danny Margagliano / October 31, 2021
Comment

A guide to finding a home improvement loan
Thinking of starting a major home improvement project? If so, you're far from alone! In the wake of the pandemic, many homeowners are planning significant renovations, with over 60% envisioning projects that will cost upwards of $1,000.
Of course, when it comes to larger upgrades, it can be hard to figure out how to finance home renovations. After all, how can you get the cash you need to pull off the perfect remodeling job?
If you're feeling a little cash-strapped, we've got you covered. Here's what you should know about your options when it comes to funding your next home improvement project.
Savings
The best way to renovate your home, if you can do so, is to pay for the project in cash. This ensures that you won't have to worry about paying down credit card debt or repaying a loan after you've finished your work. What's more, you won't have to pay extra in interest.
This option, of course, only works for smaller home improvement projects that don't rack up significant expenses in terms of materials or hired help. For larger projects, you may need to take extra time to build up your savings, or you may need to consider the financing options below.
Credit Card
If you're hoping for easy financing for a home remodel—and if your project won't require a ton of extra money—credit cards can help supplement the money you've built up in savings.
However, using a credit card to finance your renovation comes with pros and cons. If you pay down your debt fast, you could end up boosting your credit score while paying little to no interest. If you can't pay down your debt for a while, on the other hand, the high-interest rates may cost you more than the project itself!
Personal Loan
Taking out a personal loan can be an easy way to finance your home, with relatively little risk involved. Because most of these loans will be unsecured, you won't have to worry about collateral if you struggle to repay the loan.
Most banks, credit unions, and online lenders will fund a personal loan for qualified borrowers, with low-risk borrowers earning lower interest rates that make this option more affordable than credit cards. You'll often have between one and five years to repay this type of loan.
Home Improvement Loan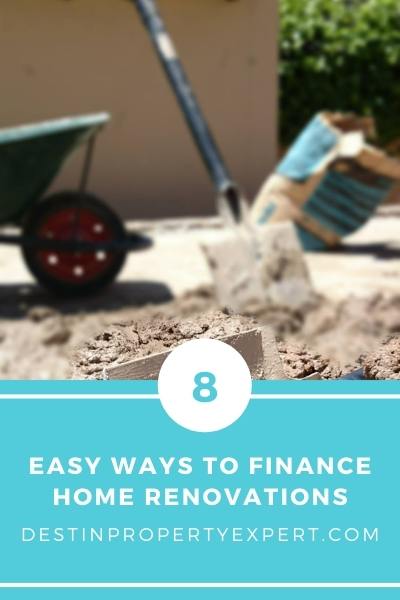 Want to get funding in as little as 24 hours? A home improvement loan may help, especially if you have a small- to medium-sized home improvement project.
If you've never heard of this option before, you may be wondering, "What is a renovation loan, anyway?" As the name suggests, this form of financing allows you to take out a loan specifically for home renovation.
These flexible financing options can be unsecured or secured, though the interest rates will depend on your credit score. Though they tend to have short repayment timelines, most of these loans allow you to choose from a range of loan terms up to seven years.
Home Equity Line of Credit (HELOC)
A home equity line of credit, or HELOC, uses your home as collateral to guarantee the loan.
Depending on the terms you arrange, you may be able to borrow up to 85% of your home's worth. The resulting interest rates may be lower than some of the other options on this list, though the details will vary according to the market.
Note that you'll need to have enough equity in your home for a lender to offer this option. In most cases, you'll need around 15-20% equity or more.
Home Equity Loan
Also known as a "second mortgage," a home equity loan involves borrowing a lump sum using your home equity as collateral. You'll repay this figure with monthly payments over a set period of time.
The fixed interest rates of these types of loans can be a definite advantage for homeowners who are certain they can pay down their debt on time. However, this option may not be best for homeowners who worry about falling behind on their payments, as you can lose your property if you aren't careful.
Cash-Out Refinance
Another option for homeowners who have enough home equity is cash-out refinancing, which you may have heard of as a debt consolidation strategy. However, this option also lets you increase your mortgage balance and get a new interest rate. As long as you have more equity than what you owe on your house, you'll be able to take advantage of this option.
Note that cash-out refinancing comes with a few additional steps: you'll have to pay for assorted costs like an appraisal and closing fees as you work to alter your mortgage.
Government Loan
Government loans can be a great option with solid terms—if you manage to qualify. The U.S. Department of Housing and Urban Development offers loans that help homeowners renovate and repair their properties without having home equity, though it's important to note that there are several restrictions.
First, the entire sum must go toward these home improvements. In addition, some types of home upgrades won't qualify under the terms of the loan, and you may need to work only with a list of approved contractors for the project.
Weigh Your Options to Finance Home Improvements
Whether you're hoping to breathe new life into your outdoor living space or upgrade your kitchen appliances, finding the right funding is a must. As you work to finance home improvements, be sure to consider the options above to see which ones will work best for your situation. If you're struggling to find the right option, don't hesitate to reach out to your preferred lender or financial advisor to see what they'd recommend.
As you work to make the most of your property, be sure to check out our other home and real estate guides for additional insights!