7 locations to find free moving boxes
Posted by Danny Margagliano on Thursday, June 18, 2020 at 9:59 AM
By Danny Margagliano / June 18, 2020
Comment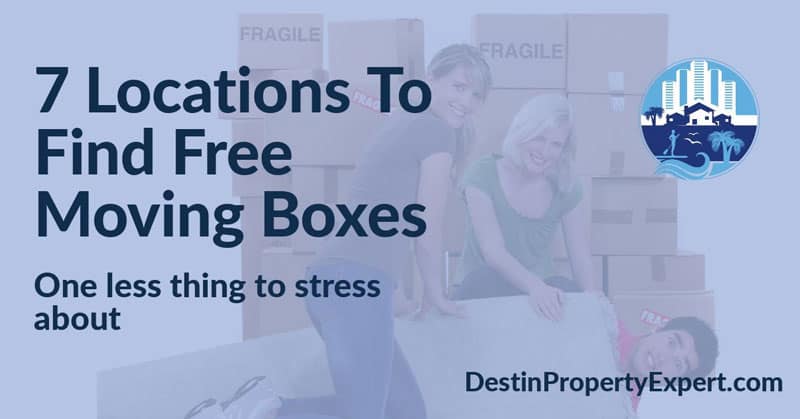 Moving to a new home or apartment is an exciting time.
But, when it comes to the actual process of moving, it can be downright exhausting.
We recommended downsizing your belongings before moving. But even if you throw out half of everything you own, there's still bound to be much more to move than you imagined.
You'll have to deal with cramped stairwells that make it hard to move furniture. Street parking can be hard to come by, especially for a moving truck, so don't expect to have your truck parked in front of your door. And if you're moving in the summer, you'll have to deal with plenty of heat and humidity.
With all those built-in complications you have enough to deal with, finding boxes for packing shouldn't be aggravating.
If you're moving out, here are seven places you can find free boxes for moving.
1. Your Apartment's Recycling Bin
We're not suggesting you sort through the trash to find empty boxes. But recycling bins tend to be much cleaner. Do n ot overlook recycling bins. T hey can sometimes have enough boxes for you to pack all your belongings.
With the staggering amount of things that people order online and have delivered to their homes, you can be sure that empty Amazon boxes are nearby. Check your apartment's recycling bins, and you're sure to find plenty of empty cardboard boxes. Can't find any outside your building? Don't worry; there are lots of other places you can look.
2. A Local Convenience Store or Grocery Store
If you can't bear the thought of digging through a recycling bin, stop by your local convenience store or corner market and ask if they have any empty boxes from recent deliveries.
Grocery stores are also a great place to find empty boxes. And with the bulk deliveries they receive, you have a better chance of finding larger boxes than you might find from a small convenient store.
3. Your Office
Is there a nonstop flow of packages coming in and out of your office? If you're the recipient of those packages, break them down and carry them home with you rather than throwing them away.
If your department doesn't receive a lot of packages, ask your mail room or your supervisor if they have any extra packages you can use. Just make sure you ask, so you're not accused of stealing company property (even if it is considered trash).
4. Craigslist
You can find anything on Craigslist, including boxes. Check the "for sale" category for free items, and you might be surprised at how many empty boxes you can find. You might even be able to find a few other things that you can use for your new apartment while you're there.
5. U-Haul Box Exchange
U-Haul has created a convenient message board that allows people to exchange boxes and reduce waste. They make it easy to connect with other customers who want to sell or give away boxes and other moving supplies.
Typically, these boxes are only used for moving and tend to be rather clean. It's a great way to find moving boxes that you won't be afraid to pack your gear into and move into your new home.
6. Liquor Stores
Liquor stores are plentiful in almost any city in North America. Stop by any liquor store, and you'll find that they're nearly always willing to unload some boxes on anyone willing to ask.
If you collect empty boxes from liquor stores or beer suppliers, be prepared to get some weird looks from people around your neighborhood. They might think you have a drinking problem if you walk in with six boxes with Jack Daniel written on the side.
7. Schools
Schools can also be a great place to find empty storage boxes, but this option usually only works if you have a child enrolled in school.
If you have a child in school, send an email to the administrative staff. If they have empty boxes on hand or receive frequent deliveries, they're likely to help.
Other Options
Do you have a retail store that you frequent often? Do you have a friend or a neighbor that works in a bar or restaurant? Reach out to the people you know and the businesses you regularly visit to find empty moving boxes.
Every business receives deliveries of some sort. If you put the word out there in advance of your move, you have a good chance of collecting some extra storage boxes before you even need them. The trick is to not wait until the last minute. If a move is imminent, start gathering boxes as soon as you decide to move.
Conclusion
Moving to a new home can be a fantastic experience, but physically moving out can be a nightmare. When it comes time to pack and move, you'll have plenty of challenges to contend with, but finding moving boxes shouldn't be one of them.
Check recycling bins and you're sure to find plenty of Amazon boxes. Ask local convenience stores, grocery stores, and liquor stores if they have empty boxes from deliveries. Check your office, look for free boxes on Craigslist, and consult the U-Haul message boards for free moving and packing supplies.
If you have a child enrolled in school, ask your administrators if they can help. If you have a retail store, bar, or restaurant that you frequent often, ask your contacts if they can help you out. With a little ingenuity and some polite asking, finding empty boxes should be a breeze.
Additional Real Estate Resources
When selling a home there is nothing more critical than pricing a home correctly. If you get the price of your home wrong the rest of what you do will be meaningless. See some of the most common home pricing myths and avoid them to be successful! – Bill Gassett
The true answer to "How much is my home worth?" is whatever a buyer is willing to pay for it on the open market. Hiring the right Realtor, preparing your home properly for market, marketing it efficiently and of course, setting the list price in the correct price range are all critical. However, at the end of the day, the prevailing market conditions and how buyers perceive your home will dictate what your home sells for in the end.– by Conor MacEvilly
Imagine if someone revealed to you that there is just one thing that you need to do to sell your home. Just one thing. Well it's true and it's not about taking you on a wild goose chase to get to that one thing either. Quite the contrary, as this Real Estate article authored by Lynn Pineda will tell you the specifics and just how you can get it done.