How to Find the Right Rental Property in Florida
Posted by Danny Margagliano on Thursday, September 15, 2022 at 10:07 AM
By Danny Margagliano / September 15, 2022
1 Comment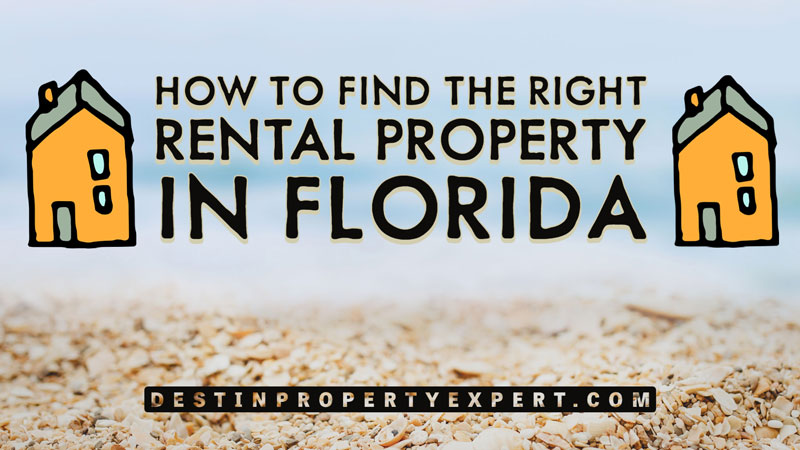 In recent years, the growth of rental property investment has increased drastically and for good reason. Professionals and consumers alike are trying to find new ways to create patterns of passive income. If real estate investing is something that you're interested in, it's essential to consider all aspects of purchasing property when trying to get the most return on your investment.
Finding and investing in the right property is the key to rental property success as it pertains to getting the most return on your investment. ROI is a major component as to why discovering the perfect property is paramount in the rental real estate realm.
If you're just getting started or don't know where to start, review and implement these tips in order to find success in the Florida real estate market.
Location
Finding the perfect property in Florida can be challenging and even seem impossible at times. It's best to consider a desirable location in proximity to Florida's major attractions. When analyzing the Florida real estate market, choosing some of the best places to live in Florida as potential spots is a great way to explore optimal opportunities. Naturally, there are four things that every prospective rental property buyer should consider in order to generate maximum revenue.
Potential for growth - Research and explore the amount of potential passive income that can be generated. Positive characteristics associated with these areas are high income neighborhoods, growth in employment rates, taxes, project developments and transportation improvements. By acknowledging cities that have shown immense growth and interest from consumers in Florida, you'll be able to adjust your price according to the fluctuation of the market.
Seasonality of the property - Consider when renters will need/want to use this type of property. For example, if you invest in a vacation property, consider snowbirds and tourists to generate the most success. Additionally, college rental properties may result in positive ROI if you decide to purchase a home near a college or university.
Target audience - What consumers will gravitate towards your property? Who are you trying to attract? By recognizing what your consumers want from their vacation and their vacation rental, you'll help attract the audience you're looking for.
Complete a comparative market analysis, this will help you learn more about your market performance expectations. In this analysis, you can compare similar properties and evaluate the potential for positive ROI. Understanding how well similar properties do in comparison to your prospective one is a sneak peek into the potential for growth opportunities.
Budget
The second essential step in finding the right rental property in Florida is by establishing and building your budget. Your budget will define your spending, your various property options, and any improvement projects that may impact the projected ROI. In doing so, you'll get a better understanding of the size, age, and overall functionality of a prospective property. Not only will you prioritize the initial cost for the property, but there are also a variety of associated costs with generating a passive income. Some of these include property taxes, utilities, home inspections, accounting fees, vacancy costs, and any home improvements that can raise value.
Additionally, it's essential to consider your savings or any other built-up funding before you jumpstart your search. In some cases, it's best to utilize an added funding option for your property purchase, associated costs, hiring a property manager, and any upgrades to the property.
A home equity loan or conventional bank loan are two reliable ways to fund a new property purchase. If you're a current homeowner, using the equity from your current home can provide funding in a lump sum while having lower interest rates. A conventional bank loan is also a viable option because it can provide stability, transparency, and peace of mind for potential property owners.
Property Conditions
For new rental property prospects, it's best to pick a property that's move-in ready. If you do have residential knowledge or experience, a fixer-upper may not be a horrible idea. However, for beginners, fixer-uppers can feel like a burden because the goal is to make money immediately. It can be difficult to find the perfect home, but if you find one with minimal maintenance to the core infrastructure, a property like that is much more manageable.
Almost every renter expects the best of the best, so keep that in mind when evaluating the condition of a potential home.
It's essential that your property can provide tenants with everything they need in superb condition. Their health and livelihood can depend highly on your property's conditions. There are a few things you can do as a rental property owner to ensure you're doing your due diligence to create a safe and comfortable home. For example, a proper home inspection is necessary to get a better idea of the property's condition and where improvements may need to be made. Evaluating and upgrading essential home appliances, toilets, plumbing, and HVAC is another way to gain confidence in the Florida real estate market.
Make sure to include unique amenities that tenants will care about, as it's essential for generating attraction and future bookings. Some popular amenities to include are a dishwasher, washer, dryer, central air, and more. Items like a pool, hot tub, garden, and fitness center are community-based amenities. Other niche amenities can include quick and powerful WIFI, surround sound systems, Smart TVs, gaming consoles, and other family-friendly games.
If you have any questions, refer to Florida's Housing Compliance along with other Florida legal issues that may impact your protection coverage. There are several laws associated with becoming a landlord and owning a vacation/short-term rental property. Knowing these rules to the best of your ability will help create confidence as you complete your passive income mission.
Property Management
In order to create a reliable rental property, you must consider upkeep through property management practices. Evaluate your home, then try finding the best property management services or manager in order to keep your property up to date and in good working order. Outside elements of owning a rental property can be hard to manage without assistance. That's why property management plays such a large role in generating the results you want.
Short-term rental property managers will assist any of their customers with making sure that they have staged the property to perform its best. Staging is not limited to furniture. It also includes having things to do like board games and cards.
Finding the right property manager or services can be intimidating, but when you find the right one, it's extra worth it. Property managers can provide a variety of services for landlords in Florida. Some of these tasks include advertising and marketing vacancies, collecting rent, handling maintenance, enforcing the terms of the lease, and addressing tenant issues.
Even a lousy-looking house can generate positive results with the right property management. Conversely, a luxurious property that lacks sufficient property management may negatively impact investment. If you don't know where to start:
Research Florida property managers - The best way to find the perfect candidate is by looking up local property managers. In areas where rental properties are popular, finding quality property managers should become easier.
Visit their properties - One of the best ways to understand the quality of services is by experiencing it firsthand and observing any patterns of negligence.
Read their reviews and interview - Check their website for reviews to find the right manager for your property. Creating dialogue is paramount to developing a positive relationship. Getting to know the prospective manager may also make it easier to create a sense of trust.
Insurance Coverage
When you do end up finding the right rental property, it's important to have some form of protection. With the intent to profit, landlord insurance is a reliable way to have legal coverage if, for some reason, you are sued by a tenant. At an additional cost, landlord coverage can also protect your home from physical damage, burglary, rental income loss, damage, or a vacant renovation or construction. However, you'll most likely have to pay your deductible prior to your insurance benefits being implemented.
Because the property becomes a business asset, it has much more risk, which makes regular home insurance practically obsolete. Instead, consider dwelling property insurance, this form of coverage can cover additional risks more than traditional homeowner insurance policies. Furthermore, dwelling property insurance can be customizable to fit your needs. The most ideal time to consider dwelling insurance is if you don't reside at the property, you rent the property out, you use it as a short-term rental, and if your home has unique insurance needs.
Finding the perfect rental property, anywhere, is never an easy task as there are hardships that come with the process. If you're willing to learn the landscape of Florida, the surrounding cities, and the property market, your knowledge can work in favor of your investment.
If you want to take your passion for passive income to the next level, use these essential tips to find the ideal rental property in the Sunshine State. If you do seek additional rental property information, your friends at Destin Property Expert got you covered.