What are First Time Home Buyer Mortgage Programs in Florida?
Posted by Danny Margagliano on Friday, March 19, 2021 at 4:53 PM
By Danny Margagliano / March 19, 2021
Comment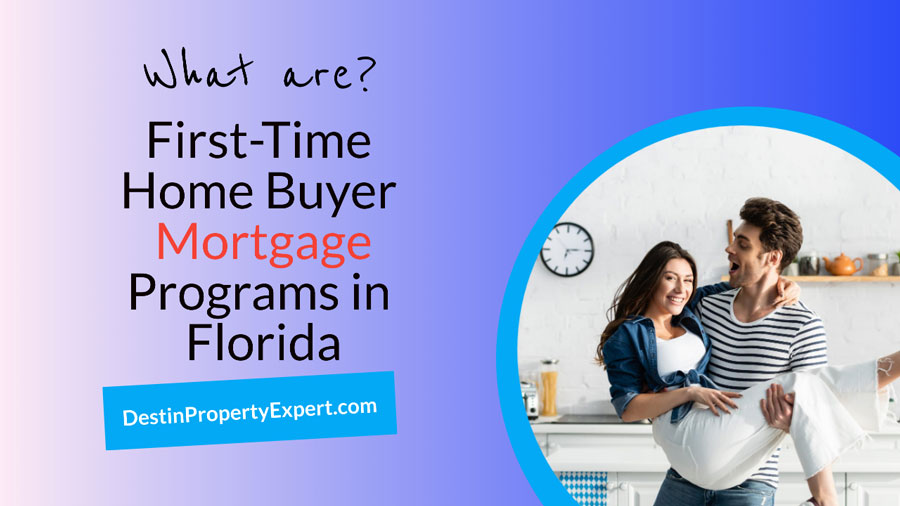 Florida is one of the hottest real estate markets in the country. The median sale price in January 2021 was $305,000, which is a 15.1% increase compared to the previous year. Amidst the pandemic, Florida real estate is one of the most lucrative investments. However, buying a home has its challenges. With a conventional 20% down payment on a $305,000 Florida home, you would have to pay $61,000 upfront. The minimum down payment is just one of the many barriers that first-time home buyers must overcome when getting a mortgage.
Luckily, there are first-time home buyer programs that make mortgages much more accessible. These programs help with down payments, have lower requirements, and maintain competitive mortgage rates. If you are eligible for first-time home buyer programs, you should always consider them because they can provide many benefits with very few downsides.
Florida's first-time home buyer programs are provided through the Florida Housing Finance Corporation (Florida Housing), which is a government-sponsored agency that aims to make housing affordable for everyone.
Mortgage Programs
Florida Housing's most popular mortgage is their Florida First mortgage. This is the same as a conventional mortgage but it is insured by Florida Housing. Since this mortgage is insured by a government-sponsored agency, your monthly mortgage insurance payments and your mortgage rate could both be lower than with a conventional mortgage.
Their second primary mortgage, the Florida HFA Preferred 3% PLUS Conventional Loan Program, is the same as Florida First but you receive a 3-5% forgivable loan to help make a down payment on your home. While this may seem like free money, receiving this forgivable loan could increase your mortgage rate and you could end up paying more money over the mortgage's lifetime. Likewise, using the 5% and 4% options will result in higher mortgage rates than the 3% option. Depending on your mortgage terms, it may make more financial sense to get a Florida First mortgage.
Through Florida Housing's Salute Our Soldiers Military loan program, you can effectively get a Florida First mortgage. If you are active military personnel or a qualified veteran, then you do not need to be a first-time home buyer to get the Florida First benefits.
Assistance Programs
If you qualify for a Florida Housing mortgage, you are automatically eligible for one of Florida Housing's down payment assistance programs, FL Assist and FL HLP. Unfortunately, the grant offered with the Florida HFA Preferred 3% PLUS Conventional Loan Program is considered a down payment assistance program, so you would not be eligible to pick another one with this program.
The FL Assist program offers up to $7,500 as a deferred second mortgage that is ONLY repaid during the sale, transfer, or satisfaction of your mortgage. Conversely, the Florida Homeownership Loan Program (FL HLP) offers up to $10,000 as a 3% second mortgage. This mortgage is amortized over 15 years, so you should only use this program if you urgently need the $10,000.
Mortgage Credit Certificate
In addition to your mortgage and down payment assistance programs, Florida Housing lets you apply for their Mortgage Credit Certificate (MCC) program when taking out a mortgage if you meet certain requirements. MCC's let you use part of your interest payments as a federal tax credit. This means you can directly reduce your tax liability just by keeping up with your mortgage payments. This credit amounts to the minimum of 50% of your paid mortgage interest or $2,000.
Federal Programs
Federal mortgage programs are available anywhere in the U.S. and provide some great benefits. If you don't like the Florida Housing programs, different federal government agencies have their unique programs.
Fannie Mae and Freddie Mac
Fannie Mae and Freddie Mac mortgage programs have lower requirements than conventional loans. The HomeReady program only requires a 3% down payment and the HomePossible program requires no down payment and no credit score.
FHA Loans are targeted toward low-income earners and only require a minimum down payment of 3.5% and a credit score of 500. However, you should only get an FHA loan if you don't qualify for other loans because the mortgage rates are slightly higher.
VA Loans are some of the best loans available and are comparable to Florida First mortgages. They have no minimum down payment and have extremely low rates among many other benefits. If you are a veteran, you should compare the benefits between a VA loan and a Florida First loan because you qualify for both!
USDA loans, also known as Rural Development loans, are meant to help low to medium-income earners buy houses in rural areas. These loans have no minimum credit score requirements, but your eligibility partially relies on your house's location. You should check your eligibility to understand all of your options.
Buying a Home in Florida
When purchasing a home in Florida, there are a few things you should consider. As every real estate enthusiast will tell you, the most important aspect is location, but there are dozens of other considerations to be made. In Florida, home buyers receive buyer representation for free because the seller pays for the commission. Since this commission is factored into the price, it would be helpful to understand how much the Florida real estate commission amounts to.
Once you've found your ideal home, you should select the first-time home buyer program that best suits your needs. This includes your home price, your financial situation, your credit score, and even the county. There is no single best set of first-time home buyer programs because it ultimately depends on you. Selecting the right program can make buying a home easier and save you thousands of dollars.
Additional real estate resources
There are small mistakes and large mistakes that we all be in life. Sharon Paxton has written a great resource showing first time homebuyers what mistakes to avoid when purchasing a home.
Paul Sian has written a very helpful article for millennial first-time homebuyers. He discusses everything from budgeting for a down payment to starting the home buying process.
Luke Skar has put together a complete guide to first-time homebuyer financing. He goes through options like FHA loans, VA loans, USDA rural housing loans, and more.