Home Resale: 6 Fixes You Should Leave to the Experts
Posted by Danny Margagliano on Thursday, April 27, 2023 at 5:52 PM
By Danny Margagliano / April 27, 2023
Comment
Purchasing a home is a huge financial commitment, and selling it may be a fantastic way to recoup a sizable portion of that investment. Yet, there are some repairs you should leave to the experts if you're planning to put your house on the market. These changes can be difficult to complete, and if you don't, you might end up paying more in the long run. The following six house repairs are ones you should leave to the professionals.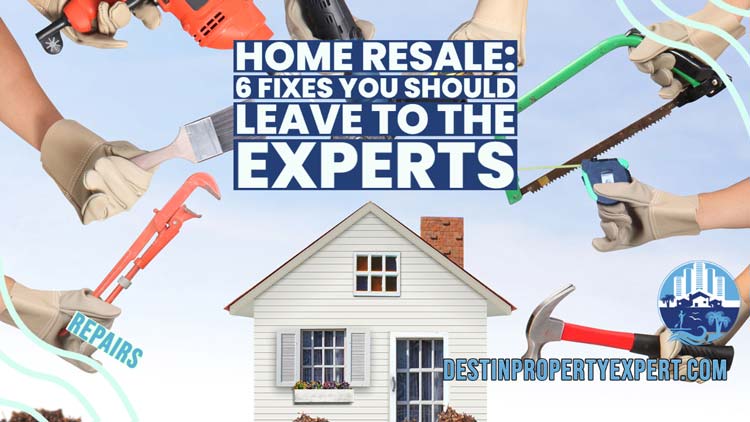 Flooring Upgrades
Your home's value and appearance can be significantly impacted by the flooring you choose. To guarantee that the project is done correctly, contacting a skilled flooring contractor is crucial. It's preferable to leave flooring to the experts if it's outdated, broken, or needs repair. To ensure a high-quality finish, a flooring contractor can assist you in selecting the appropriate materials and adequately installing them. A professional can also ensure that your new floors are properly maintained and sealed, increasing longevity. They can also provide you with a warranty, giving you confidence and peace of mind.
Structural Repairs
It's crucial to remedy any structural problems with your house before placing it on the market, such as a fractured foundation or sagging roof. It's preferable to hire a qualified contractor with experience in this field for these repairs because they require specialized knowledge and tools. To make sure that your home is secure and structurally sound, they can evaluate the amount of damage and develop a solid strategy to fix it. They have the tools and knowledge required to evaluate the harm and create a workable restoration strategy. A contractor can also assist you in staying within your budget and avoiding costly errors.
Plumbing Work
Plumbing problems can be time-consuming and hard to resolve. This work is also intricate and demands specialized skills and equipment. If you're dealing with blocked drains, for instance, it's best to leave it to the professionals. A qualified plumber can identify the problem and offer the best fix. They can safely and effectively unclog drains using the right equipment and knowledge, minimizing potential harm to your home's plumbing system. A skilled plumber can also ensure that the job is completed safely and per the law, avoiding any potential dangers or expensive errors. They can also advise you on preventive measures and uncover any underlying issues causing your plumbing problems.
Electrical Work
Electrical work is challenging and risky; if done improperly, it can result in severe injury or even a fire. It's better to leave updating your home's electrical system, adding outlets, or installing new lighting fixtures to a certified electrician. They have the expertise and experience required to guarantee that the work is completed in a safe and code-compliant manner. Electrical work can often be frustrating and time-consuming. If you don't have any experience in the field, the job could take much longer to do and you might make costly mistakes. A qualified electrician can complete the task quickly and effectively, giving you more time for other activities.
HVAC Systems
Your comfort and well-being depend on your home's heating, ventilation, and air conditioning (HVAC) system. It's recommended to leave repairs or replacements to the experts if your HVAC system is old or not performing properly. A certified HVAC contractor can identify the issue and suggest the best course of action, which may involve replacing or repairing your system. They can also guarantee that the work is completed securely and following the law, providing you with a functioning HVAC system that will increase the value of your house. An expert can also advise you on how to save energy and assist you in selecting the best system for your home.
Roofing Work
One of the most crucial components of your home's structure, the roof, shields it from the weather. A new roof is a substantial investment, so it's crucial to get it right. It's essential to consult a qualified roofing contractor if your roof needs to be repaired or is damaged. They are trained to choose the best course of action and can carry out the repairs securely and effectively. An expert may also provide you with a warranty and assist you in selecting the appropriate materials, giving you peace of mind. They may also aid you in maintaining and extending the life of your roof. A professional roofer can also spot any underlying problems, such as inadequate insulation or ventilation, that may have damaged your roof.
Final Words
In conclusion, hiring specialists to handle these six house resale adjustments will help you save time, money, and aggravation. Professionals can guarantee that a task is completed accurately and safely since they have the required skills, knowledge, and equipment. Experts can also offer helpful tips and guidance on preserving and raising your house's value.