How Furniture Shopping Has Changed for Short-Term Rental Properties over the Years?
Posted by Danny Margagliano on Wednesday, June 7, 2023 at 11:26:06 AM
By Danny Margagliano / June 7, 2023
Comment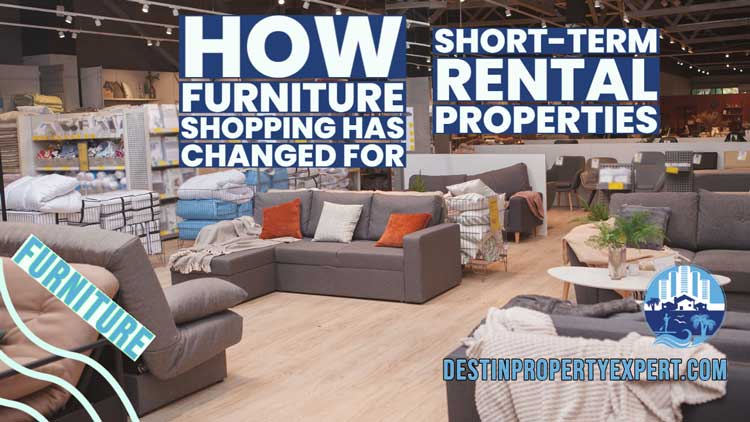 Buying furniture isn't the same as it used to be. Renting houses isn't either. Many years ago, consumers would go into brick-and-mortar stores to browse furniture or properties. Everything is done on the Internet today.
The heavy reliance we have as a society on the internet has made it very difficult for businesses to keep themselves afloat. Now only the strongest with the largest internet presence can survive. Marketing one's business on the web is by no means an easy thing to do.
Big changes have occurred in the rental industry too. One of these changes is the rise in furnished short-term rental properties. Because of our highly transient society, it is common for people to only be in certain towns or cities for a few months or even weeks. Such individuals cannot justify renting houses or apartments and furnishing them themselves.
To answer the demands of transient business professionals or people who're traveling, landlords have started furnishing houses and offering them on short-term leases. If you are a landlord and want to start doing the same thing, this post has you covered. In it, you will learn how furniture hopping has changed and how you can furnish your rental properties.
The Rise In Online Rentals
As mentioned in the introduction's opening paragraph, renting houses is not the same as it used to be. Tenants do not visit brick-and-mortar realty agencies anymore. They use the internet instead. With one simple search, they can find out about all of the properties that are available in a specific area.
Individuals who're interested in renting houses in foreign countries are also able to use the Internet. If you are renting holiday lets out, having an internet presence is important. You likewise need a property if you are renting out short-term lets to domestic business persons.
Building a presence for yourself online can be challenging. It can be particularly difficult if you have never had to do it before. In spite of its difficulty, it is still something you can do as long as you put a little bit of effort into it.
Most experts would agree that the best way to market your properties is by signing up for an already established property marketing platform. By signing up for one of these websites, you won't have to worry as much about building a website from scratch.
When looking for a property platform to sign up for, you must make sure that you find one with good reviews and an active user base. If your chosen platform's user base is inactive, then you won't get much attention on any of your listings.
You may want to hire a professional photographer to help you take pictures of the interiors of your rentals, although that is something that will be covered in the next section. Good photos can do wonders for your listings and help attract a lot of attention to them, increasing their chances of getting taken off the market.
Taking Professional Photographs
If you plan on listing properties on the internet, professional photographs need to be taken. Before you can do this, however, you need to furnish your properties. Ideally, you should enlist an interior designer's support. Hiring an interior designer, according to Flitch, can be an effective way of improving the quality of the photographs that are taken. Interior designers will be covered in more detail in the next section.
Professional photographs are likely not something that you can take yourself. Most experts would strongly advise against individuals taking photographs themselves. If you do not enlist a professional's help, things could go wrong. Taking bad photographs of your rental properties could lead to them actually deterring people from wanting to enquire about them. Good photographs can have the opposite effect.
If you are planning on hiring a photographer, read reviews. A photographer's reviews can help you to make a decision about hiring them. If a photographer does not have any positive reviews, then obviously, you should avoid them. When hiring one, it is a good idea also to check out their online star rating. Star ratings are a lot like reviews.
You should also try and find a photographer whose experience is primarily in interior design photographs. Some photographers specialize in wedding photos, model photoshoots, or nature photography. If you hire somebody who is not an expert in interior design photography, then you won't get photos that are as good as you would if they were.
Hiring An Interior Designer
If the photographs taken of your rental properties are not very good, nobody is going to want to hire them. No matter how good your photographer is, though, they are not going to be able to take nice pictures of your houses or apartments if they are not designed nicely.
Since you are renting short-term properties to people, you need to make sure that they look nice. They should be relaxing, calming environments that inspire peace in all of the people who stay in them. If they are not peaceful and relaxing, then nobody is going to want to stick around in them for long.
An interior designer will be able to help you improve the way that your properties look. When hiring one, going back to reviews, find one with good reviews and a strong online reputation. An interior designer's reviews can help you to decide whether they are suitable or not.
In addition to reviews, you should ask to see examples of properties they have rented before. By checking out photographs they have taken of other properties they have designed, you will be able to figure out what the quality of their work is like.
Make sure you find a designer who can accommodate your property. Different properties call for different designs. You need to find an interior designer who can work on your property for you and transform it into the kind of place that is going to relax and inspire tenants and catch people's eyes.
Buying Furniture for Your Properties
Buying Used Furniture
The first piece of advice this post will give you in relation to decorating your rental properties is to buy used furniture. When you buy used furniture, you don't have to spend as much money. You can still get used furniture that is in very good order, though, so buying used doesn't necessarily mean you have to sacrifice quality.
If you are planning on buying used furniture, then you need to make sure that you buy it from somewhere that's reliable, i.e., an established seller on eBay or another thrift platform. When you buy from an established seller, you don't have to worry as much about getting scammed or ripped off.
The good thing about buying from sellers on platforms like eBay is that your purchases are protected, meaning if there are any problems with them, you can request a refund. If the platform decides your refund request is justified, then they will honor it for you.
If you are going to buy used furniture, you should always read a seller's platform reviews and check out their rating first. Not checking out their rating or reviews can lead to you buying products from somebody who doesn't care about offering users a good experience.
Facebook marketplace is another great place to shop for used furniture. One of the greatest benefits of using Marketplace is that the furniture will be local, and you can go see it before purchasing and not worry about shipping.
Something else to note is that you can get good deals on used furniture by shopping in flea markets and thrift stores. At such places, refunds may not be honored, however. Only buy from these places if you are confident you like the furniture on offer.
Using Property Sites
Finally, consider using established property-selling websites. Such websites are, of course, authorities in their niche and should be given priority if you want to buy furniture that is of high quality and that has not been used.
When you are decorating your houses or apartments, you need to make sure you are buying furniture that suits their exteriors. Do not make the mistake of buying expensive furniture that is not going to suit the interiors of the properties you are furnishing.
If the exterior of the building you are furnishing an apartment in (or the façade of the house you own) is classical, for example, then it's a good idea to shop for antique furniture. Do not furnish older-looking houses with modern furniture, as this can look anachronistic and strange.
It also needs to be noted that if you are furnishing houses, you need to insure the furniture you are buying. If tenants damage your furniture, then it is their responsibility to pay for repairs or to replace it. If you do not include a clause in their tenancy agreements to this effect, though, then getting money can be difficult.
You also need to make sure that you take photographs of furniture before, during, and after tenancies. By recording their condition, you can determine exactly when (and who) caused the damage. Of course, wear will occur over time, but serious damages always need to be reimbursed.
The way people rent houses has changed. Often, houses are fully furnished now. If you are a landlord and want to begin leasing properties, take the information given here into consideration and furnish yours too! Make sure to insure furniture so that it does not get damaged without reimbursements being made.