How to gain more interest to your property when selling it
Posted by Danny Margagliano on Sunday, June 14, 2020 at 4:45 PM
By Danny Margagliano / June 14, 2020
Comment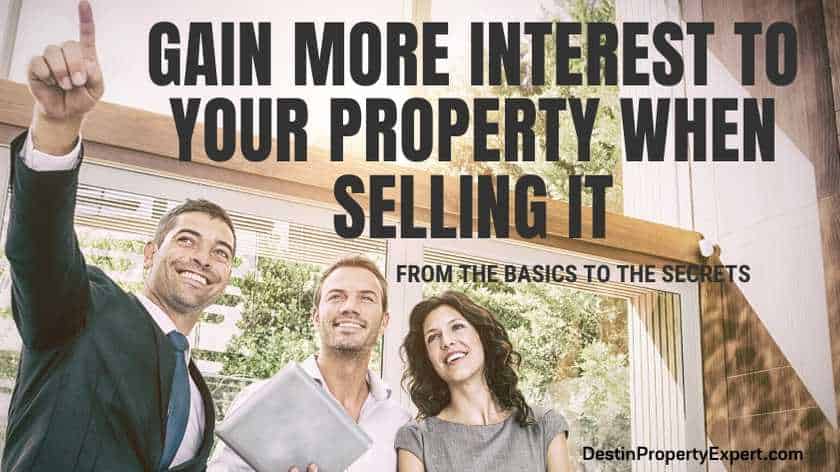 If there is one thing that is definite, it's that property and real estate are good investments. Although the property isn't an asset that's very liquid, it is one of the few assets that mostly appreciates in value over time. Just how good an investment is your property? That will depend largely on your knowledge and strategies while selling it. Getting more people interested in your property will not be easy, since it isn't every day that a person is looking to make such a valuable purchase.
How Can You Gain More Interest When Selling Your Home?
One of the most important things to get potential buyers interested in your property is its value. From your end, when you are trying to sell your property in the market, you want to make the sale worthwhile. Once you have managed to learn the trade, you will be able to play your cards right. Here are some ways you can get the attention of people and attract interest to your property.
1. Hire A Real Estate Broker Or Agent
When it comes to real estate and property, connections matter a lot in the industry. If you are new to the industry and don't know anyone yet, hiring a broker or agent might be helpful. They are experts in the field that can help you navigate the real estate industry.
Furthermore, hiring a real estate broker or agent will give you access to their network, which you can use to your advantage. They can also refer you to their existing roster of clients and highlight the ones who would be interested in your property. This is because they already know all the ropes and need not spend time overcoming the learning curve.
2.Engage In Digital Marketing
With everyone on their phones nowadays, notching up digital marketing efforts is another good strategy to get people interested in your property.
The world of marketing has evolved so much in the past few years. With social media available at your fingertips, you need to seize that opportunity to gain the interest of potential buyers. In fact, many people would say your odds of selling your home will be much lower if you do not have a social media presence.
You can do this by posting your property details on social media websites such as Instagram, Twitter, or Facebook. The best part is that it's all free of charge. There are even Facebook Groups in existence that solely cater to buyers and sellers of property and real estate. After listing your property, it is likely that you will start getting messages from potential buyers straight away.
3.Know Your Target Market And Focus On Them
With advertising shifting online these days, you can create targeted ads depending on your intended audience. At the same time, you can also see who is viewing your ads the most and tweak the settings to cater to that audience. Maximize your marketing budget by focusing on the right people based on your target market and analyzing your ad performances.
For instance, you can tweak and refine your ads' viewers according to their demographics, location, interests, and behavior to display your advertisements and promotions to the right audience. This will drive more relevant people to develop an interest in your property.
4. Make Limited-Time Offers And Advertise
What can I say? People react to promotions and sales. You can also do this with the property. There are no strict rules, so devise a strategy that suits you.
When people are faced with limited-time offers, they are instantly more inclined to want that deal. Before you know it, word would have spread that you are offering a promotion on your property. By making these limited-time offers, you can stoke the interest of potential buyers anywhere, giving you possibilities that are endless.
On the other hand, it also helps to create more advertising materials. These can be in the form of flyers, newspaper features, and such. Any marketing effort to get the word out about your property will pique the interest of your potential buyers. The more views that your property receives, the higher becomes your probability of making a sale.
5. Create Better Shots Of Your Property
Taking a bad-quality photo of your property will reflect incompetence and make people trust you less. However, with Instagram and smartphones, taking a bad photo is almost impossible. Good shots not only increase your credibility but they also attract people to take a closer look at your property.
Aesthetics are very important when it comes to selling. You can take your own photos, but it may be better to hire a professional when you take photos of your property. You just need the right kind of lighting and a smartphone to take a good photo.
Putting more effort into your photos won't cost you an arm or a leg, but it will surely bring more interest to your property. Aside from using Photoshop for editing real estate images, free photo editing apps are available on smartphones. You could also utilize an innovative AI art generator like Picsart to create unique and compelling visual content. With these, you can easily edit your photos to make them look more aesthetically appealing.
With the advancements in technology, you can also add a virtual tour of your property for potential clients. This will get their attention, especially because it allows clients to see your property before they have even set foot in it. It eliminates a lot of questions and will even make your potential customers more interested in seeing the property in person.
6. Don't Leave Leads Hanging
Along with posting details and photos of the property, you must also let your potential customers know how to contact you. So, make yourself accessible by announcing all possible channels through which people can contact you. This includes your email, cell phone number, social media pages, and telephone number.
When you post your property online, you will start getting messages left and right. Remember that every message is an opportunity. It's understandable that you might not be able to receive every call. However, it is best that you reply to each and every message properly, and also return calls from prospective buyers.
Word gets around if you start neglecting your leads. You don't want this kind of bad marketing to be associated with your service. This is why it is important to check your messages regularly. Keep good relationships with your potential clients because you never know whether or not they will make an actual purchase.
7. Invest In Property With A Good Community, Neighborhood, And Location
People get interested in a property that will offer greater value to them. A major factor that has a lasting influence on the value of your property in your neighborhood and community. This plays a significant role in your property's aesthetic and quantifiable aspects. Real estate lead generation can and most likely will vary from neighborhood to neighborhood.
Properties that are in good neighborhoods and communities tend to be priced higher. Additionally, if your property is near schools, hospitals, transport systems, access to major highways, drugstores, and malls, that will also make your property more lucrative. Crime rates and accessibility to the locality under consideration also affect the value of your property.
On the other hand, if you are in a bad neighborhood with high crime rates, the value of your property would simply nosedive. If there is news of any factory hazards near your property, this would also negatively impact its value. For this reason, it's important to stay updated on the latest news regarding developments in the neighborhood so that you can be prepared for the implications.
All of these will form part of the factors that buyers would consider when looking at your property. More so, buyers will most likely check out properties with a good community, neighborhood, and location first before anything else. So, being in a good neighborhood will surely get you more viewings and inquiries.
8. Note Size And Condition Of The Property
The size and condition of your property are other aspects that will gain interest and catch the eye of potential buyers. It plays a significant role in the assessment of the value of your home. Definitely, your property's value will rise as the size of your property gets bigger. This is because the property is usually priced on a per square foot basis.
Moreover, the condition of your property will also play a role in its valuation. A well-maintained property will, of course, sell higher as compared to a property that's not being looked after well. So, if you have property lying around, make sure that you do all the proper maintenance needed for your home before selling. You should also ensure that no one is squatting on the property since making illegal settlers leave your premises will be difficult.
9. Assess Prevailing Financial And Economic Market Conditions
Prevailing market conditions are another factor that will affect your home's value and price and how interested potential buyers will be in your property. However, unlike the ones listed above, you cannot exercise any control over how the market operates daily. Property values naturally fluctuate depending on the economic and financial setting.
For example, if there is an economic downturn, people will most likely need liquidity and prefer to have cash on hand. This could push them to sell properties at lower prices, leading to increased supply. Such a movement would generally drive prices down in the real estate market.
That's why when the economy is not doing well, it is advisable to hold on to your property rather than selling it. If you have additional cash, you can opt to buy property instead. On the other hand, if the economic situation is promising, it would be a good time to sell your property and ride that wave of prosperity.
The more favorable the economy seems the more people will be interested in your property. So decide to sell when the economy is in a better state, and consider the general public's financial situation while deciding the price.
10. Highlight Investment And Renovation Potential
When people look at your property, they are also considering how to achieve greater yields by acquiring and holding that property in their portfolio. This is where investment and renovation potential come in. If your property has this kind of potential, the likelihood of it gaining the interest of potential buyers rises.
The perceived potential to investors is a property's ability to yield rental income if they decide to rent it. It may also prove valuable in terms of capital growth when they decide to sell it in the long run. Regardless, investment and renovation potential is a plus point for you both ways and will generate interest in your property.
On the other hand, renovation potential is the possibility of the property being developed into something different. In each area, there is a set of regulations regarding whether you are allowed to build condominiums, townhouses, or malls. You would need to check your area's regulations to capitalize on that potential and increase the value of your property.
Conclusion
Simply offering a lower price won't grab the attention of the right kind of buyers. In order to acquire more skills and have an in-depth understanding of the market, you can turn to a real estate mentor who will prepare you for the property selling challenges. As a side note, putting your property up for what it's worth is best. Based on the tips above, you don't need to lower your price just to get people interested in looking at your property. There are creative ways to catch their interest, and you just need to be enterprising about it. If you are wanting to gain more interest in your property when selling it make sure to follow all the tips in this article.
Additional Real Estate Resources
Joy Bendor writes about several different tips for selling your home. She explains the 3 P's in real estate – patients, price, and perfection.
Jeff Southworth compiles a list of 20 ways to stage your home to sell fast. These tips range from moving furniture around, getting rid of furniture, even renting furniture.
In this article, we have discussed many ways to gain more interest in your home when selling. There's a flip side to things as well. Luke Skar shows his readers that there are things when selling a home that you shouldn't do.
Jamohl Dewald gets back to basics when discussing what needs to be done before selling a house. The topics that are covered or are negotiations, knowing your market, and prepping your home.
Bill Gassett discusses whether you should sell your home vacant for occupied. There are pros and cons to both options. Some of the reasons may be apparent but may you probably never even knew.