Should You Hire A Real Estate Agent When Selling Your Condo Unit?
Posted by Danny Margagliano on Wednesday, December 1, 2021 at 1:18 PM
By Danny Margagliano / December 1, 2021
Comment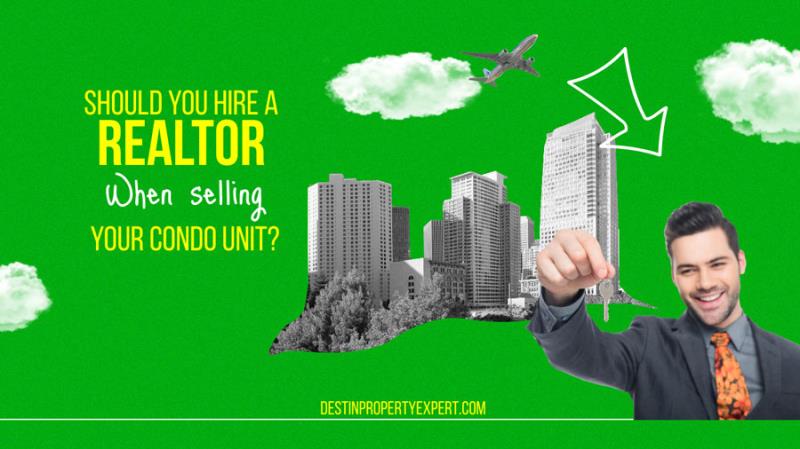 If you own a condo unit that you want to sell, you may consider hiring a real estate agent. And this decision may be a good one because there are many ways an agent can help you sell it much easier. From valuation to marketing to negotiation, a real estate agent makes such processes stress-free.
Whether it's your first time selling a condo unit or not, here are elaborate ways on how real estate agents can help you:
1. Simplifying The Selling Process
If you didn't have the experience of selling a condo unit, you might think at first that everything could run smoothly. However, this isn't always the case. Many would agree that selling a property involves critical steps which could exhaust owners. This reason alone is why you may want to consider hiring a real estate agent.
While you may have to pay them for their expertise, you don't have to worry about such. That's because real estate agents get paid in commission. This means you may only have to pay them after they're able to sell your condo unit. And throughout the process, you won't have to worry about doing some of these time-consuming steps:
Although you may think that your condo is already sellable, if experts like real estate agents visit it, they may think otherwise. During the ocular visit, they'll assess it for proper pricing. If your condo has flaws, it may affect the property's value.
Preparing Legal Documents
Processing papers is one of the arduous steps in selling a property. Your agent will then prepare them for you, allowing you to enjoy your time with other tasks. Instead of going to different offices to prepare the legal documents, the agent will do it for you. This includes preparation of Certified True Copy of Condominium, Title, Transfer of Title, and others.
Instead of you accommodating potential buyers, the agent will also do it on your behalf. This means if you have many potential buyers, you can save your time from doing this task.
2. Better Understanding Of The Current Market
The best person you can rely on when it comes to the current market trends of real estate is a real estate agent. This includes sufficient and up-to-date knowledge about the different aspects of real estate, particularly how different factors can affect the market. These factors include the unemployment rate, mortgage interest rates, and the like.
Furthermore, a real estate agent has a comprehensive understanding of the house-by-house and street-by-street house market while citing either the seller's or buyer's market. It's needless to say that a real estate agent got the best training to identify the ingoing and outgoing activities of the market effectively.
On the other hand, if you're doing the selling on your own, you need to learn the ins and outs of the market. This means you should always check the current listings to know the median selling prices. You should also understand the ratio of list-to-sold condo prices. Furthermore, you must know the current price per square foot of condo units of similar types and structures.
But when you hire a real estate agent, you won't have to do such analysis and monitoring. The latter will have a readily available list of comparable condo units. The agent can use it to set a suitable price for the unit's location and the overall market.
3. Precise Home Valuation
With the agent's extensive knowledge of the market, they can come up with the proper valuation. Moreover, they have a vast network, so they can maximize their current and previous network of clients to get the most accurate pricing for your condo unit.
Moreover, a real estate agent employs a structured system composed of professional networks. These networks are the key to finding the best solution to ensure proper valuation.
4. Wide Network
As mentioned, a real estate agent has a vast network. This also allows them to get the correct information they need. Especially if the agent belongs to a company or group, the former has access to real estate databases. And these aren't open for private sellers.
If you're selling your condo without an agent, you may have to do research and analysis on your own. On the other hand, an agent can quickly do it for you.
On top of that, an agent can use their vast network for marketing your condo unit. Other real estate agents may have buyers looking for similar units, so the chances of selling your property are much higher. Or, if the agent you're hiring has a buyer looking for a condo, they can easily refer to your unit.
Unlike when you're selling it by yourself, you may not take advantage of such benefits.
5. Target Upper-Class Buyers
When trying to sell a property, most upper-class buyers don't like to transact with private sellers because these types of buyers have a unique lifestyle and culture. Most of them don't have the luxury of time and can't deal with time-consuming transactions.
Upper-class buyers will typically use the weekend to do a quick tour so they can immediately buy a condo unit. Naturally, these people will first browse the internet to look for listings. And compared to real estate listings, for sale by owner (FSBO) listings don't provide visibility. Hence, it's rare for potential buyers to check it.
Most importantly, upper-class buyers are more confident to transact with a real estate agent. Thus, you may lose a chance to sell your condo if you're doing it on your own.
6. Negotiation Skills
Even if you have experience in selling a property, selling a condo unit may be different. Moreover, it doesn't end in selling based on its actual price. Potential buyers may still negotiate with you. No matter how comprehensive your experience is in selling a house, there's a good chance that you may fail in negotiating the value of your property.
A real estate agent, on the other hand, has developed negotiation skills. Thus, you can be assured they can do well in conversing with buyers. They have more chances of winning a negotiation. And this is vital because this could mean lesser expenses on your end.
It can be tempting to do it yourself as you can save yourself a significant amount from paying a real estate agent. However, you might end up too exhausted to succeed in the transaction. You can get emotional that you may not be able to make a logical decision. As a result, you may give in to the buyer's demands or low prices.
Considerations When Hiring The Best Real Estate Agent
While the mentioned benefits can make you want to hire an agent, sometimes, you may not receive such. That's because you may have hired the wrong agent. This means they may not have the proper knowledge in selling a condo unit.
To avoid such, here are some of the factors you may have to consider when hiring a real estate agent:
As mentioned, you have to hire someone who has experience in selling a condo unit. Even if the agent is an excellent one, if their forte is another type of property, you may not be able to sell it quickly. Thus, it's necessary to look for their experience.
Moreover, an experienced agent will also know how to market such property. This means they can use the right strategies to find potential buyers. They may also help you become familiar with the selling process because of their level of experience. The more experienced an agent is, the more extensive their familiarity with the condo unit market.
Licenses And Certificates
Another is to hire the ones with licenses and certificates in your state. Being licensed means they've passed the examinations that assess the real estate agent's knowledge and expertise of the industry. And being licensed also means they have to adhere to the code of ethics for every transaction. They know how to deal with you as well as your potential buyers.
As for their certificates, these will show that they've continued to learn about the industry. Since real estate market trends continuously change, they have to keep up with such. And having certificates means they attended seminars or training to keep their knowledge up-to-date.
On the other hand, hiring without checking the agent's licenses or certificates may expose you to risks. These include not having the right network they can market your condo unit to. Or worse, they may even scam you.
Bottom Line
Selling your condo unit with the help of a real estate agent is vital. You can lessen the burden of doing the process on your own, which could be stressful and time-consuming. And if you have other businesses to take care of, you may have to sacrifice them. But with a real estate agent, you can go about your daily activities because they'll handle all the processes. From valuation to marketing, they know and will do it for you. As long as you hire a licensed and experienced real estate agent, you'll be in good hands.