4 Home Improvements That Raise the Market Price of Your Property
Posted by Danny Margagliano on Wednesday, August 10, 2022 at 8:06 PM
By Danny Margagliano / August 10, 2022
Comment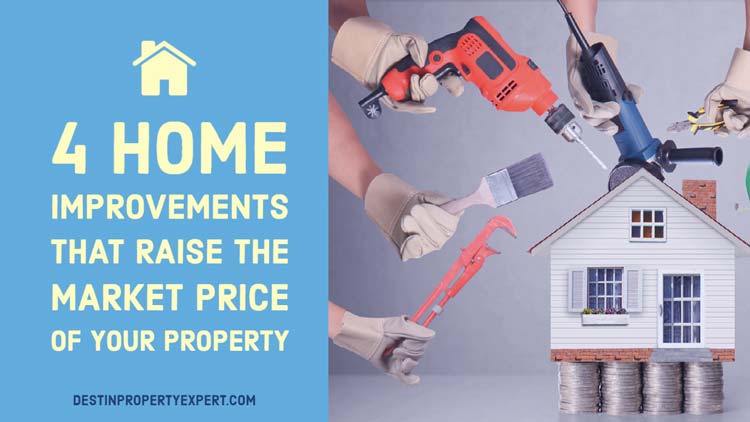 There are many home improvements that you can make to your property that will raise the market price. If you are looking to sell in the near future, it is important to consider which ones will have the biggest impact. This article will discuss some of the most popular home improvements that can increase your property value!
Install A New Roof
As it keeps your house intact and you safe from weather conditions, a healthy roof is surely something homeowners see as a good investment. You can read about this process here and see why it's so important to keep your roof in good condition. If you're looking to improve your home's market value, installing a new roof is a great way to do so.
Your home's curb appeal will be greatly enhanced with a new roof, which can make all the difference when it comes time to sell. Here are the main things to focus on when installing a new roof.
Pick The Right Materials
There are many factors to consider when picking the right materials for your roof. The main ones are the following
The climate in your area
the style of your home
your budget
Roofing shingles come in many different colors and styles, so you'll want to pick a style that compliments your home's architecture. If you live in an area with severe weather conditions, you'll want to make sure that you pick materials that can withstand high winds and heavy rain or snow.
Learn About Roof Anatomy
If you know anything about installing a new roof, you know that one of the most important aspects is learning about roof anatomy. This will ensure that you properly install your new roof and avoid any potential problems down the road. There are three main parts to a roof: the deck, the felt, and the shingles.
Do some research on this subject so that you can make informed decisions. This will ensure you don't make any mistakes while replacing the roof.
Call In Professionals
You should not do this on your own, and you will want to call in professionals that know what they are doing to help you out. This is not a project that you can take on by yourself, and it is important to have experts helping you every step of the way.
They will be able to get the job done quickly and efficiently, and they will also be able to answer any questions that you may have about the process. Calling a professional is always the best option when it comes to something as important as your roof.
Remodel The Kitchen
A new kitchen will surely be attractive to potential home buyers and could be the selling point that gets your house off of the market. A remodeled kitchen can give you a return on investment (ROI) of anywhere from 50-85%, making it one of the most valuable remodels you can do to your home.
There are many things to consider when remodeling your kitchen such as:
The size of your kitchen
How old is your home is
If you plan on selling in the near future
Your budget
Here's how to make your kitchen look perfect.
Focus On Storage
Storage is the most important aspect of any kitchen remodel. It's what makes the space functional and organized, and it's also one of the most visible aspects of your kitchen.
When thinking about storage options for your kitchen, keep in mind what you use the space for. For example, if you love to cook, then you'll need plenty of storage for all of your pots, pans, and spices.
Make It Wide
The wider the kitchen, the better. That's what you want to achieve when making it wide. You want to make sure that there's enough space for everyone to move around freely and comfortably.
The best way to make a wide and practical kitchen is to put an island in the middle of it. This way you can have more counter space and storage. Islands are also great for entertaining guests while you cook.
Fix Up The Outdoors
Your curb appeal is the first impression people have of your home, so you want to make sure it's a good one. If your lawn is overgrown or your paint is chipped, it might be time for a little fixing up.
Not only will fixing up the outdoors make your home look nicer, but it can also increase its value. According to real estate experts, improving your curb appeal can add up to 28 percent to the overall value of your home.
Put Up Furniture
Make your patio and front porch enjoyable places to relax by putting up some furniture. You don't need to go out and buy new pieces, you can probably find what you need from second-hand stores or even online classified ads. Add a table, chairs, and an umbrella for shade, and you're all set for entertaining guests outdoors.
Add A Centerpiece
A focal point is the first step in adding interest to your outdoor space. It can be as simple as a potted plant or a piece of sculpture. By adding a centerpiece, you create a space that is inviting and makes it look like you actually care about your outdoor area. It doesn't have to be expensive either, get creative! Check out your local thrift store or garage sale for interesting finds that can add personality to your yard.
Plant The Right Plants
Carefully choose the plants you want to grow in your yard. Consider the planting site carefully. Make sure you know how big the plant will get and whether it needs full sun, partial sun, or shade. Also, make sure you have the right type of soil and that the pH is correct for the plant you want to grow.
Keep It Tidy
Make sure that your outdoor area is as tidy as possible. This will help to discourage pests and keep your family safe. Be sure to pick up any trash or debris that may have accumulated over time. You should also trim any plants or bushes that may be growing too close to your home. By keeping your outdoor area tidy, you can help to keep your home in good condition and make it a more enjoyable place to live.
Add Some Lights
Proper outdoor lighting adds both security and value to your home while also providing you with a way to enjoy your yard after dark. But adding outdoor lighting doesn't have to be expensive or difficult. You can take some simple steps to add lights around your home in strategic places.
One place to start is by adding motion-sensor lights near entryways. This will deter would-be burglars and make it easier for you and your guests to find your way into the house at night.
Improve Energy Efficiency
An energy-efficient home is not only more comfortable and cheaper to operate, but it can also increase the value of your home. Whether you're planning to sell your home soon or want to make it more comfortable and affordable to live in, improving energy efficiency is a smart investment.
There are a number of ways to improve energy efficiency in your home and these are the most popular options.
Install Solar Panels
Solar panels are the first things that come to mind when you think about making your home more energy efficient. But what are they and how do they work? Solar panels are photovoltaic cells that convert sunlight into electricity. They're usually mounted on roofs and collect energy from the sun to generate power for your home.
Installing solar panels is a great way to make your home more energy efficient and save money on your electric bill. They can power your entire home or just supplement your existing electrical system.
Insulate The House
Proper home insulation is key to making your home more energy efficient. By insulating the house, you can keep heat in during winter and cool air in during summer. This will help reduce your energy bills and make your home more comfortable year-round.
There are a few different ways to insulate your home, including:
Adding insulation to the walls
Installing weatherstripping around doors and windows
Sealing gaps and cracks around the home
Each of these methods can help you insulate your home and make it more energy efficient. Talk to a professional about the best way to insulate your specific home, or do some research online to learn more.
Tune Up The HVAC System
Your HVAC system is one of the most important pieces of equipment in your home, and it's also one of the most expensive to operate. tuning up the system can save you money on your energy bills and make your home more comfortable.
For example, if your HVAC system is more than years old, it may be time for a tune-up. Older systems are less efficient and can break down more often. tuning up the system will help it run more efficiently and last longer.
Fixing up your home is essential for raising its value on the market and the first thing to think about is definitely the roof replacement. You should also remodel the kitchen and fix up the outdoor area to make it look nicer. Finally, make sure to make the house energy-efficient as it's one of the main concerns for people who buy houses these days. Do these properly, and you'll earn a fortune selling your property!