10 Home Makeover Tips For Decorating And Selling
Posted by Danny Margagliano on Tuesday, August 23, 2022 at 5:16 PM
By Danny Margagliano / August 23, 2022
Comment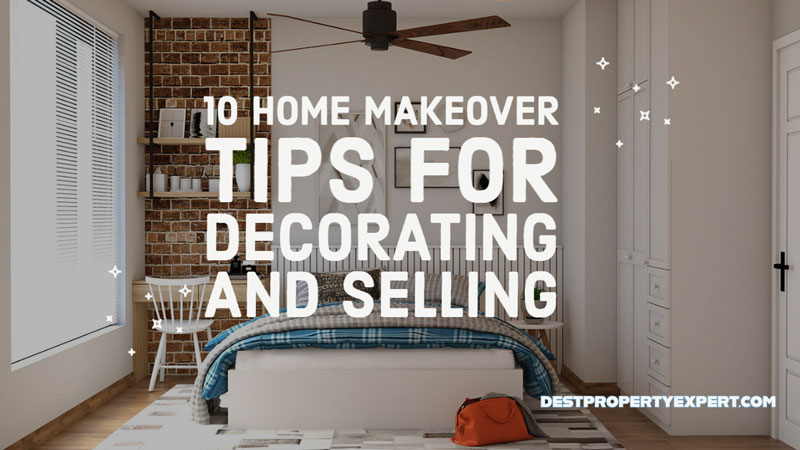 If you are in the process of selling your house you may be concerned about its curb appeal and whether or not it can attract a handsome sum as the selling price. When homeowners have been living in a property for more than a decade, in most cases some changes, updates, and renovations are generally required. Furthermore, the house needs to be decorated semi-professionally so that potential buyers can visualize themselves living there and making the most of their investment.
1. Go Back To Basics
When buyers are perusing a home they are determining how well it fits into their needs and requirements and how compatible it is with their lifestyle. They can get confused and even disoriented by the bright orange wallpaper in your kid's bedroom for example. For best results, makeover your home to be more neutral and toned down so that the potential buyer has an easier time figuring out how their lifestyle fits into the home. If any of the rooms in your house are painted or wallpapered in bright colors, do a fresh coat of paint that is a neutral off-white or beige. The same should be done with curtains and carpets.
Think of how office environments are usually decorated with a neutral palette and try to emulate that because such a backdrop highlights the positive features of a space. As a homeowner looking to sell you want to minimize personal features during an open house and that may mean putting certain types of furniture into storage before you put your home on the market. The key is to make the house look desirable to the maximum number of people. If you must have color, use it sparingly such as on a cushion or rug.
2. The Perfect Entrance
The saying goes 'the first impression is the last impression' and that applies to houses as well. Master the look of the exterior of your house. If you are blessed with a large garden or lawn, take the time to have it landscaped properly and trim the hedges. Some homeowners even go so far as to plant new rose bushes before the house goes up for sale. You can build a rocky path or even have a patio built by contractors to make the entrance look better and while this may seem like a lot to spend upfront, you can charge a higher sales price to cash home buyers later down the road.
Most real estate extraordinaires have attested to the power of a beautiful entrance. It is said that a great looking entryway can get potential buyers through the door and encourage them to make an offer. If the exterior of the house looks worn out, tired, or outdated, it can have a significant effect on the sales price. Paint or mend the outside of the house, have roofing cleaners and experts look into the state of the roof, and also repaint the fence and gate if there is any. Putting some flower pots and a welcome mat at the entrance can all increase the presumed value of the property in the eyes of a buyer.
3. Say No To Clutter
Most people looking to buy a home are not going to be afraid of snooping in closets or the attic and basement when they are looking around. Ensure the house is as clutter-free as possible and remove as many personal effects as you can such as clothes, shoes, photographs, or sentimental décor pieces. Furthermore, never keep valuable items like watches or jewelry in drawers when there's an open house as theft is a real possibility and your realtor cannot keep track of everyone who has entered.
Consider hiring a storage unit for the vast majority of your belongings if you haven't moved out of your house yet. It is important to show buyers that the house comes with plenty of storage space which is why clearing out closets and cabinets is useful. As the homeowner, you can include modern storage options like Phoenix pull out shelves to illustrate the storage potential in your house.
4. Repairs And Fixer-Uppers
A major part of any home makeover is to ensure all the appliances, doors, plumbing, electrical circuits, and so on are in good working order. Even evidence of a slightly leaking roof can plummet the value of your home in the market. Have a contractor examine your house for any possible repair jobs, leakages, and mold or pest infestations. If any issue is caught before you put your house on the market you can deal with it in a timely fashion rather than facing complaints from a buyer later, in which case even a lawsuit can ensue.
5. Mood Lighting
Lighting (light fixtures, lamps) can influence how someone feels when they are in your house. While you will need to clear out personal items, put your lamps to work for you during the open house. Lighting can affect mood and even lift sadness so make sure you have changed the bulbs so they burn more brightly and purchase special projector lights and lamps that change color so your home can appeal to a wider audience. Having spotlights or picture lights on a work of art or lights inside cabinets or to light up countertops can make any home seem more upscale and super modern.
6. Convert The Bathroom To Uber Luxe
Most real estate agents say that the kitchen and the bathrooms are key players and determinants of price when it comes to selling a house. Employ bathroom remodelers to update your bathroom or go the DIY route. New steel fixtures can be purchased and most people have the skill of installing them with just a regular tool kit. Lighting plays a huge part in the appearance of a bathroom so consider putting in vanity lights or updating the mirrors.
Putting in some foliage such as money plants and putting out luxury towels can all impart a deluxe feel in the bathroom. Retiling is also an option but considers your budget before taking on such a project as you will also need to account for contractor costs in uprooting old tiles and then laying down a base for new tiling. Some experts say that installing a bathtub can really drive up the price of your home significantly so if you have ever wondered about that purchase, it is a good investment to go for.
7. Location-Specific Interior Design
Some houses are built in suburban areas, some are constructed in the countryside and some might be urban townhouses built for the busy life of the city. A house sells better if it corresponds with its immediate environment. Someone wanting to purchase a house in the country for example will expect certain rustic elements to say the least and some comfort additions designed for the climate. Take cues from the surrounding environment when considering interior design especially if you are having bigger changes done such as changing the light fixtures and furniture dramatically. Bear in mind you can rent furniture pieces as well if you feel your existing furniture is too personal or too loud in color and style.
8. Professional Cleaners For A Deep Clean
While you may be one of those homeowners who keep their houses fairly clean, a professionally done deep cleaning is a whole other matter. Professional cleaners are trained in the use of tools and chemicals and they can make your floor, kitchen, appliances, bathroom and even windows shine like never before. A thoroughly clean house can be decorated well and makes a good impression on potential buyers and visitors. Deep cleaning also entails cleaning rooms like the attic and the inside of cabinets which may not get done as often as it should.
9. Minimalist Accessorizing
As a first time home seller, you may think having tons of decorative items around will make the house seem nicer but it can overstimulate visitors. Try to opt for a minimalistic aesthetic leaving a lot to the imagination. In certain areas like the porch or the bathroom, adding some homely touches can work to your advantage especially if they are items like plants but in general, the house should be clean and not overly decorated. If you feel there may be confusion about the floor plan (in a larger house), you can have the blueprint printed on pamphlets for the open house or label the outside of doors.
10. Removing Pet Belongings And Welcoming Touches
When getting your house ready for the market, try to move your pet elsewhere including their belongings. Visitors and potential buyers can be allergic to dogs, cats, or hamsters and it could deter them from making an offer on the property. Some people also do not prefer the company of animals and may get discouraged if they see your pet lose on the property. Lastly, in preparation for the open house, lay out some drinks, cookies, chips, dip, or even a grazing platter. This small gesture and attempt at hospitality can encourage top dollar offers for your house.