House Flipping in Destin: Making a Profit in Real Estate
Posted by Danny Margagliano on Wednesday, June 21, 2023 at 1:06:57 PM
By Danny Margagliano / June 21, 2023
Comment
With the real estate market on the rise and Florida's Emerald Coast a great choice for investment, many people are profiting from buying and flipping houses. However, this is by no means a short-term goal. Sometimes, flipping houses can take longer than expected. But the dividends and ultimate payoff make this area a great choice.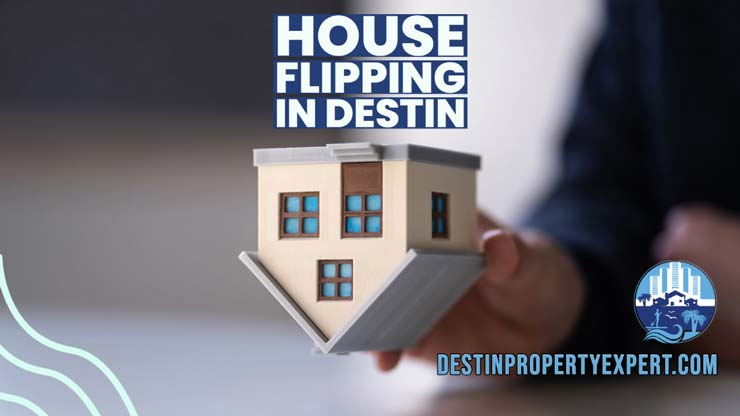 Why Is Destin a Good Option
Destin is an ideal spot for those after a small-town atmosphere and has numerous popular activities. The pristine beaches, golf courses, and fishing spots keep it humming with visitors. Coupled with the beautiful scenery, you also have happy locals who enjoy spending their time outdoors. The town is ideal for families, with four public schools, a private school, and a chartered school. It's also a great choice for retirees who want to live the vacation lifestyle every day.
When it comes to property flips, Desdin is a good choice for residential homes and condos. It's a buyer's market as of May 2023. This means buying at a low price and flipping the house will lead to more significant gains in the coming months. In time, prices will reverse, and the real estate market will become a seller's market once more. Presently, the average asking price for homes in Destin is $800 000. This is a great opportunity for anyone considering making their first home purchase in order to fix and flip it.
Top Emerald Coast Areas to Invest In
As everyone knows, the buying and selling of properties where you make a profit relies mostly on one factor. Location, location, location.
Apart from Destin, there are other highly sought-after areas here. According to the latest Emerald Coast statistics, Walton County and Okaloosa Island are two other prime locations to consider for house buying and flipping.
Investing in an already popular area is a good way to ensure great resale value. This is because you can see that it's a prime location and offers what people are after. Another way to add value to your house-flipping investment is adding in areas of improvement. By doing small touches here and there, you can easily raise the home's price. This will ultimately lead to you making a tidy sum that you can take home at the end of the day. Ensuring you are fully prepared for a fixer-upper means taking into account that there are more things to prepare mentally, outside of just the financial aspect of it.
How to Make a Profit House Flipping
To make a profit on your house flipping investment, you'd do well to ensure you keep your flipping margins low. This will maximize your profits once you resell the home. An easy way to make this possible is to keep in mind the 70% rule.
● The 70% Rule
This rule helps buyers ascertain if a house is of good value to purchase and flip. It states that home sales should only be 70% of the value of the properties after repair value (ARV). An easy way to estimate this is to consider how much the property could sell for after it's flipped. Then, multiply the value by 70%. Finally, you'll need to minus the actual estimated cost of renovations. Once done, you should see how much of a profit you can make.
There are a few other things to keep in mind when it comes to house flipping. These are thoroughly covered in our post on 7 tips for fixing and flipping properties.
3 House Flipping Tips
To make the most of your money and do as little as possible to raise your profit margins, there are several house-flipping tips to keep in mind. Each of these should be considered while you inspect your potential property purchase. If you do so correctly, you can essentially work out how to calculate profit margin upfront.
Proper Inspections Save Money
There's nothing worse than missing structural problems, mold, or sinking floors. This is why paying attention to these important areas pays dividends in the long run. Any highly scented rooms should be thoroughly checked for potential moldy spots, including cupboards and roofing. Likewise, checking the HVAC system and all areas with plumbing thoroughly will ensure you don't pour your hard-earned cash into a money pit.
Small Renovations Add Value
Renovations, while they can be done on a grand scale, are often a source of conflict in house flipping. It can take months to get new house design plans passed. Sometimes, it takes even longer to get a contractor in to fulfill your wishes. This is why it's often easier to look over a prime property and consider the small touches you can do that don't cost too much. Putting a small patio or deck onto a lovely back garden will bring up a home's resale value. Pop in a few veggie beds, and you create the idea of homegrown summer salads or strawberries. None of this costs too much, and it allows people to let their dreams fill in the rest.
Other smaller renovations that make a big impact could be taking out a wall between a living room and a kitchen. This is an easy way to add the element of space into a smaller home and give it an airy, open feel. Putting French or sliding doors onto existing walls can also help maximize the external views. If your flipping budget is small, and you haven't taken out finance for the home, then don't worry. The easiest possible renovation is to change the paint color of some of the rooms. You could also look at retiling the floors in an outdated room.
Decorate for your Target Market
Though you may have a chic, set style, it may not be best for your house flip. After all, modern meets minimalist is great for city living. But smaller-town families may want something a bit cozier. When it comes to decorating your chosen property, you may end up decorating outside of your normal style. While this may feel strange, it's good. Since you should look at decorating the property to suit the target market, you're hoping to sell to.
If you've purchased a family home to flip, look at adding neutral colors and less bold accessories. This allows your target market to picture their belongings in the house. If you've bought a house flip aimed at a retiree, add in a feature that will stand out. Something to make them say 'Wow'. This could be something small like a gramophone and bone china coffee set in the lounge. Or even something grander like a full-on fishing display complete with wall-mounted trophies.
Long-Term Rental vs Selling
A final way to make money when flipping a house is to forget about flipping and selling it as a once-off option. Instead, you should consider offering a long-term rental for the property. Bear in mind this may take a bit more legwork, and you'll need to keep on top of maintenance. However, this can result in a fairly stable source of income for months and even years at a time.
With these tips in mind, you'll be well on your way to making a profit along Florida's beautiful Emerald Coast. Wondering what comes after purchasing your property? The decoration of it! Head over to my post about tips on home decorating and design to fire up your imagination.