How Buyers and Sellers Benefit From a Real Estate Virtual Assistant
Posted by Danny Margagliano on Tuesday, October 18, 2022 at 12:50:26 PM
By Danny Margagliano / October 18, 2022
Comment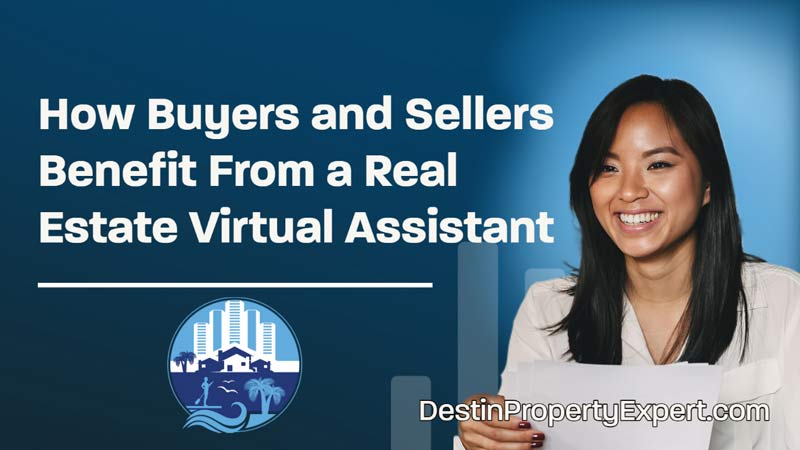 The Destin housing market is almost as hot as the Florida sunshine. This competitive market is known for its valuable properties, its incredible homes, and its quick sales — which means that buyers and sellers in Destin have to work with a real estate agent who can offer them the best available resources.
One of the most innovative resources that are available today is the real estate virtual assistant — and most buyers and sellers do not even realize that this is an option. Real estate virtual assistants are hired by real estate agents to manage their administrative tasks and keep all transactions moving forward smoothly.
What is a Real Estate Virtual Assistant?
A real estate virtual assistant is a professional who is hired by a real estate agent to be an administrative assistant. They work remotely and may be based in a different part of the country — or even another part of the world. While they do not live in the local area and do not work in the real estate agent's office, they often have more flexibility than a traditional administrative assistant with set hours and a routine schedule. Virtual assistants are available on an as-needed basis, making them an affordable option for real estate agents and allowing real estate professionals more time to focus on their clients.
Why Should I Choose an Agent with a Real Estate Virtual Assistant?
When selecting a real estate agent in Destin, you are likely focusing on their professional qualifications. You probably want a real estate agent who has significant experience working in the local area or who specializes in luxury home sales. You will need a real estate agent who has participated in regular training programs and educational workshops. But you may not be thinking about what type of staff your real estate agent has available to them.
By selecting a real estate agent with a real estate virtual assistant, you are choosing an agent who will be more organized, more available to you, and more prepared for your transaction. A real estate virtual assistant will fill in the gaps, ensure that all parties are on the same page throughout the transaction, and will make sure that you get the keys to your new Destin home as quickly and easily as possible.
How Buyers and Sellers Benefit From a Real Estate Virtual Assistant
Both buyers and sellers in Destin will benefit significantly from a real estate virtual assistant. These are just a few of the benefits you will enjoy when you partner with a real estate agent who has a real estate virtual assistant on their staff.
Your Real Estate Agent Will Be More Available to You
Whether you are buying your first home in Destin or you are selling a luxury property that you want to make sure is cared for throughout the entire transaction, you will want to partner with a real estate agent who is going to be committed to you throughout the entire experience. While all real estate agents focus their efforts on serving their clients in the best way possible, only real estate agents who have an adequate staff can offer their full attention. An independent real estate agent who does not have a team supporting them will be wearing many hats throughout the day, and they likely will not be able to devote as much time and attention to the matters that are most important to them.
By hiring a real estate agent who has a real estate virtual assistant, your agent will not have to worry about the hassles that come along with administrative work. Their virtual assistant will be checking their e-mails and voice mails — which means that you will always get quick responses when you need something. This assistant also will be scheduling showings, ensuring that you can get access to the homes that you like the best in Destin.
As their virtual assistant takes care of these tasks on a daily basis, your real estate agent will be more available to you. They will be able to show you homes in the area at a time that is convenient for you. They will be able to come out to finalize the listing paperwork for your property, and their assistant will make sure that it gets on the market in a timely manner. Your agent will be able to give you their full attention, which is ultimately what every buyer and seller needs as they take on the mammoth task of moving into or out of their home.
Your Real Estate Agent Will Be Able to Focus More on Marketing and Promotions
Real estate agents are often driven to the industry because they are creative individuals who enjoy working directly with people and helping them accomplish their goals. The administrative tasks that come along with the job can often seem like a burden. Without a real estate virtual assistant, an agent may feel trapped by those tasks and unable to focus on the larger picture — which includes marketing and promotions.
As you know, marketing plays a critical role in the real estate industry, and an agent's ability to effectively promote homes and market their brand directly impacts your experience as a buyer or seller. When you partner with a real estate agent who also has a virtual assistant, they will be able to devote more of their time, energy, and budget to their marketing efforts.
Some of the marketing campaigns and promotional materials that your real estate agent may use to assist you include:
Creating virtual tours of your property that they are listing in order to attract buyers from a wider market.
Relying on social media and text messaging alerts to stay abreast of the latest happenings in the market, ensuring that you get the first glimpse at the latest homes on the MLS.
Working on flyers, brochures, and other traditional marketing materials for your home. These materials are still in high demand among prospective buyers, who want to be able to use these materials as they make decisions about which homes to submit an offer for and what to include in that offer.
Investing in top technology that will allow your agent to capture engaging images and video content of your property will ultimately attract the most motivated buyers in the market.
Your Real Estate Agent Will Always be Organized, On Time and Ready to Work
Real estate agents tend to be very busy professionals who have a lot of responsibilities to manage. On any given day, they might be working with buyers who want to see homes, preparing to list several properties on the market, and partnering with local businesses in order to plan a community-building event. Without a virtual assistant on hand, a real estate agent may be very scattered and overwhelmed. It may be difficult for them to efficiently manage all of their tasks and, most of all, care for their clients in the way that they deserve.
By choosing an agent who has partnered with a real estate virtual assistant, you will find that your real estate agent is calm, confident, and always on top of their game. They benefit from the fact that their assistant is managing their schedule, completing most of their administrative tasks, and working to keep them on track, which means that they can provide you with the personalized attention that you both need and deserve during this exciting moment in your life.
Your Transaction Will Move Forward Smoothly and Efficiently
When you are first buying your home or thinking about listing your house on the market, the main thing on your mind is that coveted purchase agreement. All parties want to get to the point where they have a signed offer on the property. However, that is only the first step of the process, and from there, you have several more hurdles to move through until the deal is closed.
A real estate agent who works closely with a virtual assistant will have someone behind the scenes always making sure that each deal is moving forward as expected. If something arises, the virtual assistant is the first person to step in and begin to address the issue that has occurred. For example, if there are addendums that need to be made and signed after an inspection, the virtual assistant can work to make sure that is done in a timely manner. You are more likely to close on your new home as quickly as possible when you work with an agent who has a real estate virtual assistant.
A real estate virtual assistant is often promoted as an opportunity for real estate agents to streamline their business and reduce their administrative work. However, these assistants also offer indirect assistance to buyers and sellers who are looking to buy a home in Destin. In some cases, these virtual assistants also are available as an additional point of contact, giving clients added security and more confidence in the process.