How Important Is A Home Inspection
Posted by Danny Margagliano on Friday, April 30, 2021 at 10:16 AM
By Danny Margagliano / April 30, 2021
1 Comment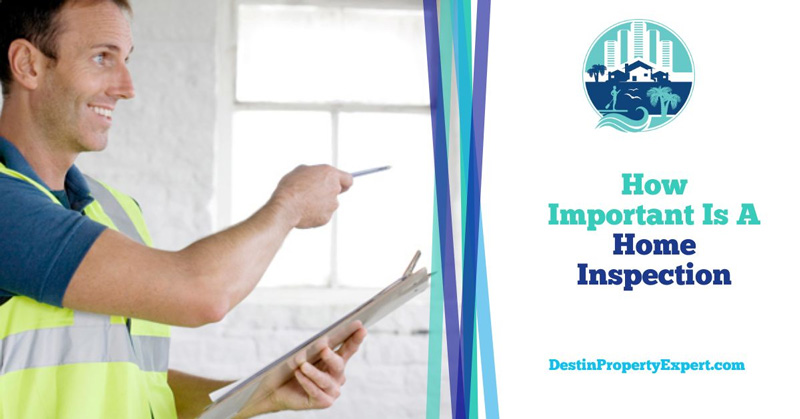 You've found your dream home and you're ready to sign on the dotted line — but, first, the pesky home inspection. Your first question might be — "do I really need one?"
The short answer is yes because, without checking, you could be in for many issues, whether you're buying or selling.
For inexperienced buyers, this critical step of the process can be a bit overwhelming, so it's essential they know what they're getting into.
We'll examine why a home inspection is important. What are common issues an inspector will face? Lastly, if a buyer should waive their inspection contingency or not in a competitive real estate market.
Why do I need a home inspection?
There are many reasons why you need a home inspection, but here are several reasons a buyer should most definitely get a home inspection. It's best to schedule the home inspection soon after the offer gets accepted. Therefore, you will have enough time to get the inspection completed and for the inspector to turn in his report to you all prior to the inspection period lapsing (typically 10-15 days).
Providing an Out for the Buyer
A home inspection is essential because it provides an out to the home buyer. There are many issues that can be revealed about a home's condition in an inspection that you wouldn't know otherwise.
The inspector will take 2-4 hours to complete the inspection depending on the size of the house or condo. The inspector will cover all appliances, HVAC, plumbing, electrical, foundation, windows, hot water heater, and much more. It is a thorough check and even new homes will typically have items that need to be repaired or replaced.
The inspection provides the buyer with an opportunity to back out or at least negotiate for a seller's credit to cover any larger issues. Depending on if the contract is as is or being sold not as is will also determine whether the seller will be paying for some of these items to be fixed and replaced.
Safety
There can also be safety concerns for a home, including everything from radon and mold, to carbon monoxide. A good home inspector will check for all these issues.
If there's anything serious, the buyer will be able to negotiate fixes or money off the price of the home to deal with the issues. However, if the seller won't budge, most states will allow the buyer to cancel their offer.
For Negotiation Purposes
In a buyer's market or a neutral market, an inspection can be used as a tool to negotiate the price of the home. Based on issues that come up, the buyer and their realtor can ask for money off the price of the home.
However, in a seller's market, it's much more difficult to ask for repairs or even have a home inspection contingency. Talk to your realtor to determine if you can have a contingency and if you can negotiate after the inspection.
For Insurance
Many home insurance companies require a home inspection in order to ensure your new home, so you'll need to perform an inspection. They may even require certain certifications which your inspector may be able to provide.
One thing that is very common for insurance companies is to ask for or require a wind mitigation. This is a type of inspection of the roof. It depends on which state you the in whether they are required and if they will give you a discount on your home insurance. Talk to your agent to learn specifics about your area and in Florida.
Determine Future Costs
Getting a home inspection can help you understand your future home better, learning about different systems in the house. Your inspector can check the age and condition of equipment like plumbing, HVAC, water heaters, and more, to help you get an idea of what you'll need in terms of maintenance and replacement.
You can also have the inspector look at the home's structure to see if you'll need any foundation repair or if there will be other future issues.
All these together will help you budget, purchase home insurance, and warranties (if available) for your new home.
Bonus - Home Warranties
Talking about home warranties, typically any time you buy a condo or a home you are able to purchase a home warranty. They run between $450 and $550 and can cover all appliances, HVAC systems, and additional items.
There are typically two or three different plans to choose from and the policies last one year from the date of purchase. Home warranties typically come with a $75 co-pay anytime someone is called for service and repairs. The home warranty company will not charge you any more money whether it's a repair or the item needs to be replaced.
Get the Big Picture
A home is likely the biggest investment in your life. A home inspection will provide the buyer with the nuances of that purchase: issues with the home that they need to really consider.
Instead of just falling in love (as many first-time buyers do), the inspection peels back all the layers for the buyer to see.
What common issues can come up during a home inspection?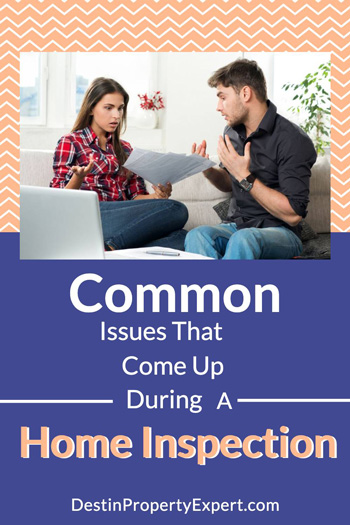 When done properly, a home inspection has the potential to flag any issues. But the American Society of Home Inspectors identifies these six as the most common:
Faulty Wiring
Electrical issues aren't as obvious as the flipping of a light switch.
And if problems like faulty wiring go undiagnosed, they can lead to catastrophes like electrical shocks or fires later on. So it's important that a thorough investigation is conducted.
Do all receptacles have ground fault interrupters? Are there exposed or broken wires? Are all the wires, switches, and circuit breakers up to code?
These are some of the electrical questions that a quality inspector will be able to answer by the end of your home inspection.
Faulty Plumbing
Some common plumbing problems that might be identified during your home inspection are low water pressure, water stains, and leaks.
Your home inspector should be able to diagnose these and other sources of faulty plumbing in compliance with the standards established by the National Uniform Plumbing Code.
Poor Drainage
Failing to identify a problem with your drainage system can lead to flooding and major expenses down the line — yet another reason why a quality home inspection is so important.
What are some of the common signs of poor drainage that your inspector will be looking for?
Ponding water: this telltale sign of poor drainage occurs when water pools for a prolonged period after a rainfall
Mold and mildew: the presence of these fungi is indicative of sitting water or excess moisture, and, therefore, likely a drainage issue
Foundation integrity: exposure to water will cause problems for your prospective home's foundation over time.
Bad Gutters
Gutters are in place to capture water from rainfall and carry it off your house. So they're critical features for avoiding future drainage issues.
Because gutters are outside and constantly exposed to the elements, they'll likely be flagged as problematic during your home inspection.
The International Association of Certified Home Inspectors says the following factors should be considered when inspecting the gutters of your prospective new home:
Are they properly sized for the climate and average annual rainfall?
Are there any openings in them that might be causing leaks?
Are they depositing water runoff at least 4 - 6 feet away from your house?
Thankfully, gutter solutions are not rocket science. And there are plenty of simple and inexpensive fixes once problems are identified.
Foundation Flaws
It may be stating the obvious, but every aspect of a home's structure relies on its foundation. Accordingly, the integrity of your prospective home's foundation must be verified during the home inspection.
Common flaws to be aware of are cracking, uneven, or sinking foundations.
Poor Maintenance
This last category is broad. It means that the seller of your prospective new home neglected general home and property maintenance over the years.
This will be clear to both you and your home inspector when you see issues like chipped paint, worn shingles, or a cracked driveway.
Home Inspections in Destin
In Florida, many buyers only request a "four-point inspection," which just covers HVAC, electrical panels and wiring, plumbing, and the roof. This DOES NOT take the place of a full inspection and really is only useful for insurance purposes.
Because of the hurricanes common in Florida, wind mitigation reports are common to see how a roof will perform in hurricane-force winds. This kind of inspection can reduce the cost of your homeowner's insurance.
If you're buying, make sure to find the important repairs and request the seller make them before you close on your home.
Get Help With Your Home Inspection
Home inspections are an essential part of the home buying process, so make sure to get one, whether you're located in the Destin area, elsewhere in Florida, or anywhere in the U.S.
Your Realtor can assist you in selecting a high-quality home inspector to ensure that these, and other potential problems, are identified and addressed quickly. If any negotiation needs to be done, your Realtor will also be able to assist with that.
Author bio
Reuven Shechter is the Content Marketing Manager at UpNest, where agents compete and you win. Before joining UpNest, Reuven worked as a content writer and marketing strategist who has written about real estate, education technology, personal finance, e-commerce, and more. Reuven's writing has appeared on Realty Times, Mass Real Estate News, Gateway Blend's family of websites, and many other online publications. When he's not writing about real estate, Reuven can be found baking a new bread recipe, taking his dogs for a walk, or planning a trip to Disney World.