How to Become a Destin Real Estate Investor!
Posted by Danny Margagliano on Wednesday, July 22, 2020 at 4:53 PM
By Danny Margagliano / July 22, 2020
Comment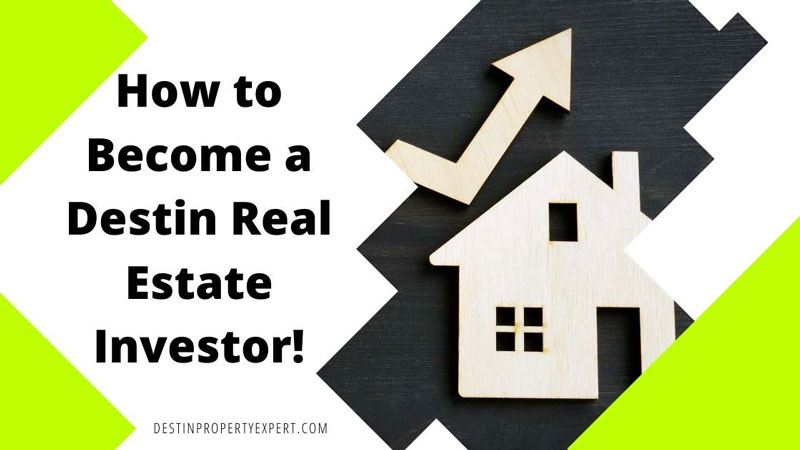 Real estate investment is an industry that holds a great deal of allure for ambitious entrepreneurs and investors. The goal of hitting it big and becoming a real estate mogul on par with the biggest names in real estate is always looming in the distance, ready to be achieved by any investor with the wit and will this is sure to require.
If you're thinking about starting a real estate investment career in Destin FL, we've got good news for you: you've chosen a great city to invest in! With a wide range of investment opportunities at a variety of different price ranges, Destin is the perfect city in which to begin your foray into the wide world of real estate investment.
The city of Destin
Before we delve deeper into what makes Destin such a great place to invest and how you can take advantage of this market, let's take a quick look at the city of Destin itself. Destin is a small but steadily growing city in northwestern Florida, in the region known as the panhandle or Emerald Coast. The city of Destin has a population of just over 14,000 happy residents who enjoy a low cost of living, ample housing, and a thriving job market. Destin is located near other vacation resort areas that offer excellent investment opportunities like Watercolor FL homes, Rosemary Beach real estate, and condos along 30a
The bulk of the city's revenue is generated by the tourism industry. Destin sees over 4.5 million visitors annually, who come to enjoy its immaculate white sandy beaches, crystal clear gulf waters, and charming, laid back city attractions. With tourism thriving, much of the investment market is centered around short term rental homes and condominiums.
As previously mentioned, the city is also steadily gaining permanent residents as well, due in large part to its job market. Annually, Destin sees a 4.2 percent job growth rate, and an impressively low unemployment rate of 2.8 percent. The median household income is also higher than the national average, at around $66,000 a year, more than ten thousand dollars higher than the U.S. average of $53,000 annually.
The median cost of a home in Destin is significantly higher than the national average, at around $420,000, due to rapidly increasing demand in the local real estate market. Home values have increased by 7.1 percent in the past year, and are slated to increase even further in the years to come. This is also due in part to the booming tourism industry.
Becoming a real estate investor in Destin
If you want to become a real estate investor, the process is much the same as it would be in any other city. However, your chances of success are greatly improved by choosing to start your investment career in Destin, due to its thriving real estate market and steady population growth.
In the following segment, we'll walk you through the steps of becoming a real estate investor in the city of Destin FL giving you the information you will need to be successful. We're going to be assuming that you don't have any real estate investing experience, so we can approach this from the perspective of a beginner. Let's get into it!
Get educated
The first step you'll need to take on your journey to becoming a real estate investor in Destin FL is to educate yourself on the world of real estate. Real estate is a fiercely competitive game, with dozens of subtle nuances and hidden intricacies. This being the case, it's hugely important that you have a good understanding of the finer points of real estate investment.
The good news is that you can obtain just such an education at little or no cost. If you are sufficiently well organized and motivated, you can feasibly educate yourself on the subject. If not, there are plenty of affordable online real estate courses available, as well as those offered by community and state colleges.
Work out the finances
Once you have a solid understanding of the world of real estate, you'll need to work out a business plan. You'll need to form a business plan, establish goals, and start working to secure the necessary capital for your real estate investment venture. At this stage, it doesn't have to be a rigid plan, just a framework on which you build further on down the line.
Start networking
Real estate is all about interpersonal relationships. If you aren't able to work with people and develop a network of contacts, advisors, clients, and colleagues, your education will do you little good. A great way to get started on forming this network is by contacting one of the top real estate agents in Destin FL. These real estate professionals will no doubt be glad to help you start making these essential connections.
Strategize
Another key aspect of real estate investment is strategy. Once you have a sufficiently well-developed network of contacts and a good financial framework on which to build, you'll need to establish an investment strategy to determine the next steps you take. This is all about finding your niche in the real estate market, and figuring out how to turn a profit with minimal risk.
How you choose to invest depends entirely on you. Some find great success purchasing homes in a state of disrepair and then fixing them up and selling them for a profit. Others invest in vacation rentals, focusing on renting out their property instead of selling it outright. Every niche has its own inherent advantages and disadvantages; you just need to find the one that's right for you.
Conduct market analysis and purchase property
Once you've put in the hours and done all the legwork, it's time to dip your toes in the waters of real estate investing. This is the most exciting step of the process, the one you've been waiting so long for. You've educated yourself, created a network, developed a business plan, and an investment strategy; now you're finally purchasing property!
When deciding which property to purchase, it's imperative that you understand the local market. Destin's local market is focused around tourism, so vacation rentals and vacation homes are the obvious first choice; however, it's important that you follow the strategy you outlined for yourself. Once you've completed your analysis, you can finally move on to making your first purchase!
Conclusion
With this guide on how to become a real estate investor in Destin FL, we hope you'll be able to use the information we've provided to start a successful investment endeavor. Out of all the cities in the state, this is perhaps one of the best in which to try your hand at investing, as risk is low and the potential for profit is equally high.
If you would like to know more about this city and the investment opportunities it is home to, there is no better way to become privy to this information than by contacting one of the top real estate agents in Destin FL. These seasoned real estate professionals are intimately familiar with the area and have years of experience that will prove invaluable in finding the best investment opportunities.
We hope you enjoyed this article and found it informative and helpful. If you have any input, feedback, or questions, we'd love to hear from you; simply leave us a comment in the comments section below, and we'll do our best to reply as soon as possible! Now get out there and start investing!
Featured Emerald Coast communities