How to create a smart home in 3 steps
Posted by Danny Margagliano on Sunday, June 14, 2020 at 3:31 PM
By Danny Margagliano / June 14, 2020
Comment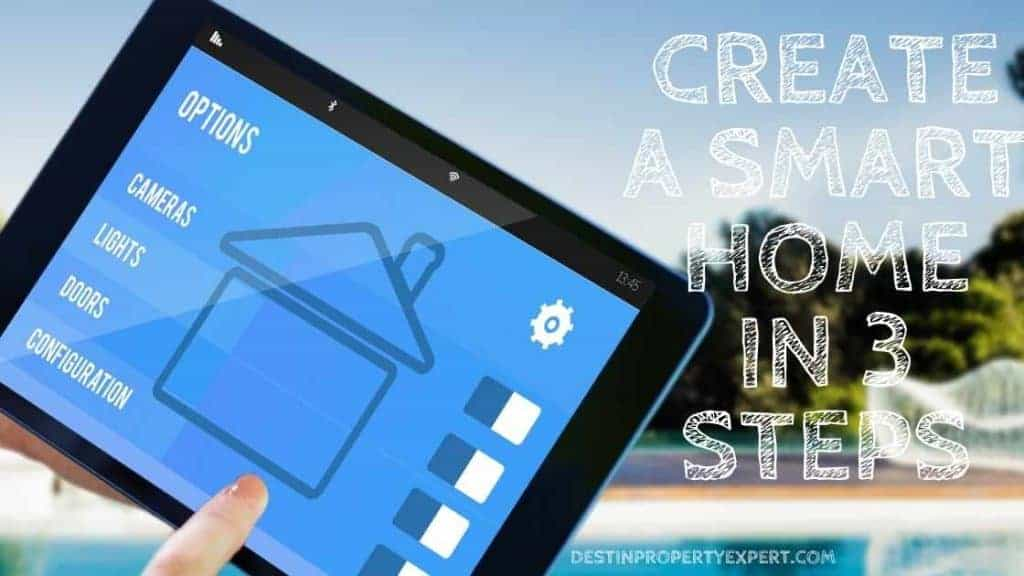 Years ago, smart homes were considered extravagant and luxurious, but today they have become the norm. For many homeowners, the driving force behind creating a smart house is the potential to save money and energy with automated systems. However, the benefits don't stop there.
By developing a house that is compatible with smart tech, you can boost your property's appeal to buyers and increase the profit potential. Whether you're a current homeowner or a seller, here are three ways to turn your residence into a smart home.
How Does Home Automation Work?
A smart home is equipped with a number of gadgets that automate regular household tasks. One of the appeals of a smart home is that homeowners can remotely control parts of the house in real-time. This can be done from a central control system or through app-based devices, such as a smartphone or tablet.
For some, turning a property into a smart home can be as simple as installing a smart light bulb. For others, it can involve linking several devices, such as security systems, smartphones, and appliances. These advanced automations are meant to make homeowners' lives easier, safer, and more enjoyable.
How To Build a Smart Home
1. Choose an AI Companion
Are you ready to build your high-tech oasis? Begin by selecting a voice-controlled smart speaker, which will serve as your command center. These speakers contain virtual assistants that learn and personalize the smart home to the users' preferences and patterns. From Google Home to Amazon Echo, these products make it easy to complete virtual errands. They can regulate other devices, tell a joke, tell you about the local weather, and much more.
These smart speakers also allow remote access to your thermostat, connect to your television, and stream songs from digital music services. You can also check your flight status, track the delivery of a package, and make shopping lists.
One caveat to having a smart speaker: If you want an AI assistant to connect to your other home systems and appliances, make sure they are updated and compatible with your speaker. If you don't have a smart light bulb, for instance, the command center won't be able to link to it.
Typically, you need to get the attention of the voice-assistance platform in order for it to carry out the task. Depending on your needs, some smart speakers might work better for you than others.
2. Swap in a Smart Thermostat
Smart thermostats come with integrated Wi-Fi, allowing homeowners to monitor, schedule, and remotely control the temperature. However, this equipment goes far beyond the basics of heating and cooling. It can learn your behaviors and automatically modify settings to provide maximum comfort and efficiency.
Many smart thermostats offer a geofencing feature, which enables them to automatically adjust the temperature as you leave or return home. These devices can also report energy usage, remind homeowners to change HVAC filters, and link to your smart home speaker.
3. Install Smart Home Security
Investing in a smart home security system is a great idea if you're looking to protect your house. A quality security camera enables you to keep a watchful eye on your property, especially when you're away. Indoor models can help you keep tabs on children and pets. Smart motion sensors are also able to notify authorities if suspicious behavior is detected.
Some models are incorporated into doorbells so you can monitor the entryway and interact with visitors without opening the door. Smart doorbells can also send alerts when guests are at your doorstep, even if you are away or on vacation. This is achieved via the camera and an in-app calling feature that utilizes two-way audio and one-way video.
Additionally, smart locks offer both security and flexibility. Some allow you to lock doors from your phone, while others can give a friend or family member temporary access. This security equipment may require more effort to install, but it can go a long way toward providing you peace of mind.
The Advantages of Home Automation Technology
Connecting the technology in your house to a Wi-Fi network and other smart devices has many benefits, including:
Convenience - Turn on the lights, lock the front door, and monitor security from any location. By simply connecting to Wi-Fi, you can have all your home's functions in the palm of your hand.
Customization - Smart products can adjust to match the preferences and needs of each user. For example, you can customize lights to show different colors depending on the time of day or your mood.
Energy efficiency - Smart appliances, thermostats, and light bulbs can help you save energy, cutting utility costs over time. Some home automation even monitors water usage, which can help prevent high water bills.
Comfort - Many individuals use smart technology to play music throughout the house or record television shows. Plus, connected devices can create a comfortable and inviting atmosphere with adaptive lighting, sound, and temperature.
How Do I Sell a Smart House?
If you decide to sell your house with smart devices, be sure to make them stand out. Smart home tech is especially appealing to millennials, who make up the largest segment of the homebuyer market at 35%[BV1]. Smart homes are also changing the lives of the elderly and people with disabilities and restricted mobility. Automated gear can help monitor their safety, allowing them to remain independent for longer. When household items are interconnected, they can make daily tasks more manageable and greatly improve accessibility for the elderly and those with disabilities.
Showing off your advanced gadgets can help your property sell faster once it hits the market. Consider creating graphics that showcase energy savings or the benefits of timed smart lights. Be sure to mention all of the specific technology in your walkthrough, such as the capabilities of a smart thermostat. Also, make sure it's clear that these advanced products are part of the house and to be included with the sale.
Building a capable, connected home takes a bit of planning, a touch of know-how, and a reliable Internet connection. Following these tips can help you embrace this brave, new automated world.
Additional Real Estate Resources
When looking to increase the value of your home there are many things you can do. Joe Boylan explains the best smart home features to boost your home value.
Anita Clark talks about how home automation affects the value of your home. Learn the benefits of home automation, how to make it practical, the costs, and more in this information-packed article.
Paul Sian discusses the best smart home features to consider for your house. In this article, you will learn how to turn your home into a smart home, the best features including heating, cooling, and smart appliances.
Sharon Paxton gives a rundown of the top smart technology devices for the home in an extremely informative article on her blog.
Author bio: Excited to share her love of home design and décor with readers, Jaclyn Crawford started with ImproveNet in 2016. As a staff writer, she enjoys chronicling the latest trends and ways you can make your home the loveliest it can be. You may also find her in ImproveNet videos, sharing tips and trends for your home.